The toast of the Scottish economy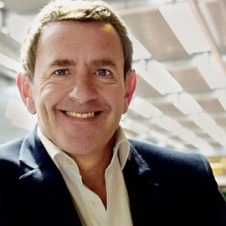 Stephen Jardine
Founder, Taste Communications
Twenty five years ago TV newscaster Martyn Lewis started a campaign for more good news in the headlines. He believed constant doom and gloom was corrosive and affecting the national mood. And that was before ISIS, Brexit and Donald Trump.
If the newsreader was launching his campaign for positive news again today, food and drink in Scotland would be a great place to start. A quarter of a century ago, we were a basket case. Our diet of deep fried everything was a national joke and local produce in my home town of Dumfries meant cans of condensed milk from the Carnation factory down the road.
Spin forward to today and Scotland is a very different place. Edinburgh is second only to London when it comes to Michelin starred restaurants and the combined value of the food and drink industry to Scotland is set to top £16.5 billion by the end of this year. Exports continue to boom. Demand for Scottish whisky and seafood is at an all time high and during 2017 exports are set to pass the £7 billion barrier. With 113,000 working in the sector, food and drink is a brilliant success story. Former Food Minister Richard Lochhead has called it "the toast of the Scottish economy".
But it's more than that. Many of the jobs are in rural areas where alternative employment is scarce so incomes have an acculumator effect on the local economy. In the Highland and Islands food and drink is now our biggest commercial sector. It is also a magnet for tourists. On a visit to the World Gourmet Summit in Singapore a couple of years ago I met lots of Far Eastern food lovers eager to come here to see the landscape and meet the people responsible for their beloved whisky and salmon.
When you put all this together, the importance of food and drink to Scotland can't be underestimated which is also why it shouldn't be taken for granted.
These are worrying times. Farmers fear their sector could be decimated if Brexit leads to export tariffs and the end of traditional subsidies. With the EU providing Scotland's biggest overseas regional food and drink export market, producers from chocolatiers to gin distillers face an uncertain couple of years.
Our biggest country of export is the United States so the Trump Presidency also creates concern about what a trade deal might look like. And the possibility of a hard border with the rest of the UK in the future is a further factor business needs to take into account. Add in environmental challenges around salmon farming and a drop in demand for blended whisky and the headline figures suddenly seem more fragile.
Here at home we also face a major challenge. Despite all the growth and progress, the impact of the food and drink revolution still hasn't reached many Scottish people. Earlier this month new research showed our national sweet tooth is as strong as ever leading to higher rates of ill health and obesity than the rest of the UK. Any aspirations the Government has for us to become a 'Good Food Nation' will have to wait until the obesity, diabetes and heart disease statistics start to back up that claim.
Despite all of this, we are still in a relatively good place. So much has changed for the better and every challenge brings with it opportunities. Brexit will inevitably cause problems but it may also open up new untapped markets for our produce. We're also seeing more industry collaboration with other sectors learning from the trail blazed abroad by salmon and seafood.
I'm confident the growth and expansion will continue but we must never become complacent. Scotland Food and Drink's new roadmap to 2030 will lay out a strategy and outline the prize on offer if we are focussed and work together.
We've come so far in such a short period of time. Going back is not an option.
Stephen Jardine, Founder, Taste Communications
(Scotland's first dedicated food and drink communications company)