Embracing the future – the ICAS insolvency and restructuring conference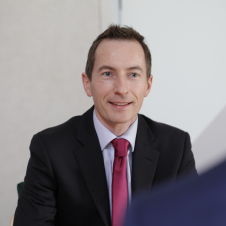 Donald McNaught
Restructuring Partner
It is now November and I find myself looking forward to chairing ICAS' flagship insolvency conference later this month, for the second year running.
When I say "looking forward" it is questionable whether I mean it, as I hate public speaking and not that long ago did a presentation to my fellow JC partners on operating "outside of your comfort zone" principally around roles like this. Chairing an event involving 150 – 200 of your professional peers is certainly an intimidating audience!
What I do look forward to however, is the quality of speakers ICAS are able to secure year after year. 2016 is no different and along with my co-chair Gillian Carty (Partner at Shepherd + Wedderburn LLP) we will be introducing the likes of Trevor Williams, the Chief Economist at Lloyds Bank; Philip McNeil, ICAS' Head of Taxation; James Lloyd, head of Harper MacLeod's insolvency team and Richard Dennis, the Accountant in Bankruptcy, amongst others.
ICAS has secured an excellent strategic partnership with Close Brothers Asset Brothers who continue to support the conference. Additionally we continue to enjoy hearing from speakers from HBJ Gateley who have been long standing supporters of the conference.
The format of the conference changed last year to encourage smaller workshop sessions and we were pleased to see that this encouraged real discussion and the hope is for more of the same this year.
We continue to see unabated change in the insolvency profession and practitioners need to operate in an increasingly challenging environment. Both in terms of the level of competition to win work and then to deliver it cost effectively. On the horizon we have the Insolvency Rules in England & Wales completely changing with effect from April 2017, the prospect of radical changes to the UK restructuring framework and changes to the Bankruptcy Act coming into play at the end of this month. Add to that the spectre of Brexit and another independence referendum, the continually changing tax regime and the hostile environment for insolvency practitioners generally, I cannot think of a time where the profession has faced such change.
Scottish insolvency practitioners are exceptionally well placed to deal with these challenges however and the conference remains a key part of the profession's technical training and networking opportunity.
I look forward to seeing you there!
Event details: The ICAS Insolvency and Restructuring Conference – Embracing the Future, 22 – 23 November 2016, Gleneagles.