Head for the cloud with confidence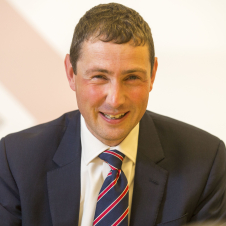 Ewan Bolt
Business Advisory Director and Head of Digital Advisory
With over 500 of our SME clients across Scotland already benefitting from cloud technology to help them to manage their finances, it's becoming clearer that cloud accounting software is a wise investment for business looking to work smarter and faster.
As the major cloud accountancy event Xerocon kicks-off in London today, our Head of Digital Solutions, Ewan Bolt, looks at the benefits for businesses getting ahead of the crowd and heading into the cloud.
With Making Tax Digital on the horizon for businesses – and many having to comply by April 2019 for VAT purposes - there couldn't be a better time to consider cloud solutions.
As the internet has evolved, consumers and businesses alike are increasingly comfortable interacting on the web, using a wide selection of cloud-based software such as gmail, Google Drive and Dropbox. However, there are still a number of reasons why businesses have been reticent to adopt cloud based accounting methods, the biggest of which are data protection and security. Although these risks are real, the benefits which cloud computing brings are too real to ignore and the risks can be eliminated by getting the right advice.
Ultimately, the biggest risk, is being outcompeted by rivals who are quicker to adopt the cloud.
Here are five reasons why your start-up or small business should consider a cloud-accounting solution to stay flexible and competitive.
Ease of use – a number of new providers have emerged who have greatly improved the look and feel of accounting software, making accounting information accessible and understandable to not just the accountant.
Accuracy - not only is manual processing tedious, it is also prone to errors and compliance risks. With cloud-based accounting, duplicated entries, fraud and other discrepancies can easily be detected because the whole process is fully automated. You also save on time that would have been spent on checking or locating errors.
Flexibility – as the software is accessed over the internet, there is no need to install software and you can view information on a range of devices such as tablets, PCs and mobiles.
Low cost monthly pricing – most of the software options for SMEs have monthly billing, with no long term contracts and no user number restrictions.
Better collaboration with your advisers – we are able to view, discuss and work on the accounting information at the same time as our clients, which is ideal for areas such as pre year-end tax planning.
In the SME market, there are a number of businesses who have established significant user bases and we have formed an accredited platinum partnership with one of the leading providers, Xero.
Over the last 12 months we have seen a huge rise in the number of clients subscribing to Xero. SMEs are a critical part of the Scottish economy and using this cutting-edge technology allows them to focus on with running their businesses, no matter where they are located, knowing their accounts are in safe hands.
Got a question? Get in touch with our Digital Solutions team here.