Making Tax Digital - what do you need to know?
It's now under 6 months to go until the first stage of Making Tax Digital (MTD) is rolled out.
MTD is the most fundamental change to the administration of the tax system for two decades. The changes are so fundamental it's necessary to know how it applies to you and what steps you need to take to prepare.
What is MTD?
MTD is a key part of the Government's plans to make it easier for individuals and businesses to get their tax right and keep on top of their affairs through a fully digital tax system.
The initial roll-out of MTD has already started. Every small business owner and individual taxpayer now has an HMRC digital account that they can access to check their records and manage their information.
First stage - MTD for VAT
MTD for VAT is the first stage of the roll out. Pilot testing began for MTD in April last year and a phased roll out will begin for VAT returns starting from 1st April 2019.
Who is affected?
VAT registered businesses (with turnover above the VAT threshold £85k) will be the first group required to report on VAT figures only.
Other taxes will come under the scope of MTD for these businesses from April 2020 at the earliest.
Non-corporate businesses with a turnover between £10k and £85K will not be asked to record their tax digitally until at least April 2020 but they can voluntarily opt in.
Making Tax Digital for VAT - what you need to know from Johnston Carmichael on Vimeo.
How will MTD help me manage my tax and my reporting?
Once rolled out, it's hoped MTD records will offer many benefits by helping businesses manage their taxes more effectively through:
Providing a complete picture of your business – through your digital account you will be able to see an overview of your tax affairs and manage liabilities at the same time.
Near real-time reporting – HMRC aim to collect and process tax information in as near to real-time as possible.
Knowing your tax liability – no longer will you need to wait till the end of the tax year to know how much tax you are due to pay.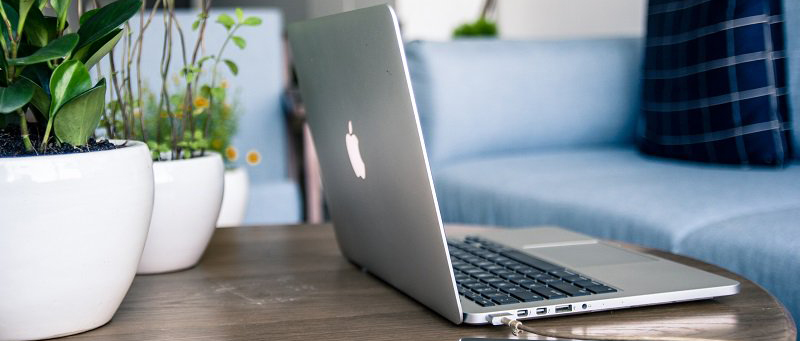 Who is exempt from MTD?
MTD will apply to a range of taxpayers over time, including most businesses, self-employed people, landlords and individual taxpayers, but there are a few exceptions, namely:
Those who cannot engage digitally for religious reasons or due to a factor such as age, disability or location (for example no availability of broadband). These exemptions are the same as the current exemptions for VAT online filing.
VAT registered businesses with turnover of less than the VAT threshold will initially be exempt from MTD VAT reporting but this exemption may be removed from 2020 or later.
When MTD for income tax becomes mandatory there will be an exemption for businesses and landlords with a very small turnover; the suggested level of this exemption is £10,000, but this is still to be confirmed.
What is the MTD timeline?
A high-level timeline for the rollout of MTD is as follows: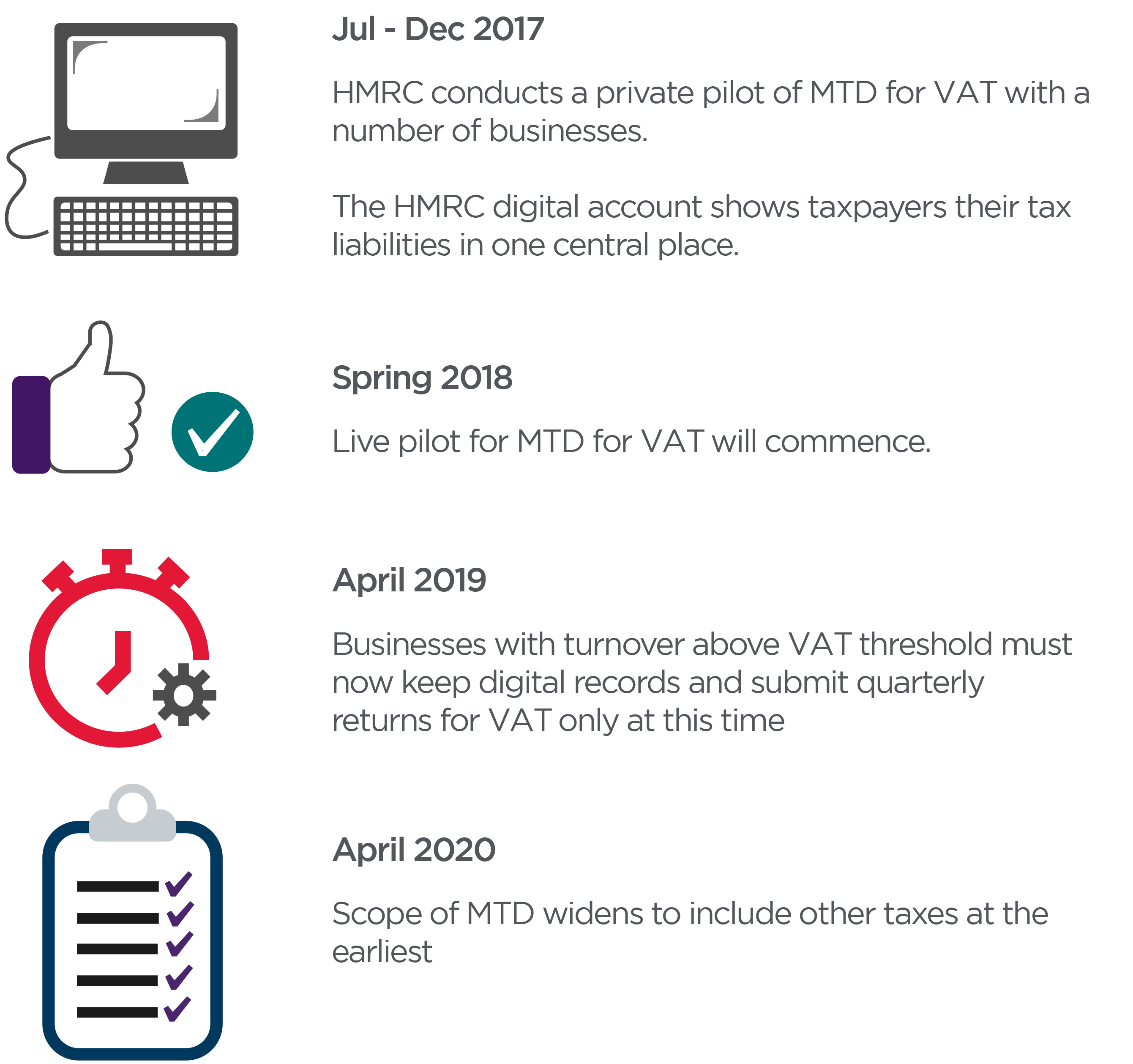 Which software is compliant?
HMRC has issued a list of software providers that can or will offer either MTD compatible systems or API software.
Compliant software should be able to record and preserve digital records and send and receive VAT return information to HMRC digitally via a special link. There are various off-the-shelf software packages available, some which will include the capability to submit returns via a digital link. Where this capability is not available, bridging software can be purchased to enable you to link digitally to HMRC's systems.
What do I need to do?
If you are a VAT registered business with turnover above £85K (the VAT threshold) it's time to review your current record keeping system to make sure it's MTD compliant. You will be required to use software or a spreadsheet (with a compliant plugin) to submit your VAT return each quarter or reporting period. Now is the time to review your system and get yourself ready for the MTD for VAT deadline next April.
Got a question?
We can help you review your system and suggest the best process for you and your business. Find out more about our digital solutions and arrange a free consultation with one of our advisers.
Sharp minds meet at any of our 11 locations
Arrange a free consultation with the team now
Have a general enquiry? Get in touch.