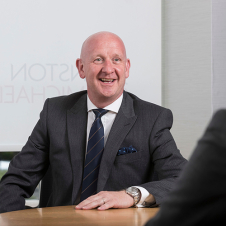 Craig Hendry
Managing Director & Chartered Financial Planner
August started with a bang as the Bank of England's Monetary Policy Committee (MPC) took the bold step of cutting interest rates to 0.25%. As well as cutting interest rates on weakening economic data, the MPC increased its Quantitative Easing (QE) programme to £435bn. Interestingly, QE will now include the purchase of £10bn of corporate bonds and not just Government bonds.
With interest rates at such a low level, there has been an increase in the amount of cash ISAs being transferred into Stocks & Shares ISAs in search of a greater return than the interest rates currently available.
The FTSE 100 finished the month up 0.85%. The mid-cap FTSE 250 has finally breached pre-referendum levels – perhaps a sign that the fall was an overreaction to the outcome. On a sad note, the High Street said goodbye to one of its former stalwarts as the last BHS store closed on 28 August.
In the US, there has been murmurs that a further interest rate rise could be on the way – and sooner than expected. The Federal Reserve meet on 20-21 September to decide their next course of action. It is unlikely that the UK will follow suit in the foreseeable future. Arguably, there is a greater chance we will see interest rates fall further in the UK.
Brent Crude has had a strong month up 7.72% on the back of speculation that the OPEC cartel will look to ease production levels, although the next official meeting is not until 30 November.
FTSE 100 – 6,781.51
GBP/USD – 1.3128
GBP/Euro – 1.1778
Brent Crude – $46.89
Gold – $1,308.97 (per oz)
As at 31 August 2016
If you would like to discuss anything contained in this article, please contact a member of our Wealth Team by email on enquiries@jcwealth.co.uk or your usual local office Financial Planner.
Nothing in this communication constitutes advice to undertake a transaction and professional advice should be taken before investing. Any observations are purely commentary on markets. This material is not investment research and the content should not be treated as an offer or invitation to buy or sell securities. Past performance is not a reliable indicator of future results and is no guarantee. The value of investments may fall as well as rise. Changes in exchange rates between currencies can cause investments or income to go up or down.
Disclaimer: While all possible care is taken in the completion of this document, no responsibility for loss occasioned by any person acting or refraining from action as a result of the information contained herein can be accepted by this firm.