International sport and a great night out? Glasgow economy shows it's up for the cup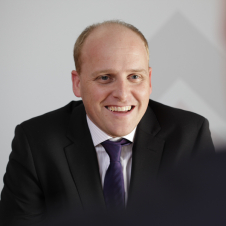 Hugh Boyle
Business Advisory Partner
It's easy enough to make a wisecrack about Glasgow's 'enthusiastic' approach to hospitality, but in recent years the city has seen a seemingly endless stream of top-quality bars, restaurants and hotels cover streets from the city centre outwards.
Two years on from Glasgow's Commonwealth Games, the city's hospitality industry is in a better place than ever before.
We're more than ready for the European Sports Championships in 2018 – Glasgow 2014 gave the city a chance to shine in front of millions, and it injected renewed confidence into the city as an international destination. A number of big hotel chains have moved into Glasgow in recent years including Village Hotel, Travel Lodge and ibis Styles Hotel. This trend is continuing, with more looking to enter the market.
Much was made of the legacy of the Games, and there were fears that we'd see things take a downward trend once the show was over. But that has proven to be far from the case. Occupancy levels are still high, and the hospitality sector has been consistently buoyant since 2014.
The continuing investment in Glasgow from big brands moving in, or looking to move in, is a real vote of confidence for the city. Edinburgh-based Apex Hotels, for example, refurbished the former Marks Hotel in Glasgow and reopened in October of last year.
Another key to Glasgow's transformation is The SSE Hydro. The music and entertainment venue handled more than one million ticket sales last year, making it the third-busiest music arena in the world, attracting the biggest names in music from Fleetwood Mac to Taylor Swift. The 'Hydro' effect has revolutionised Finnieston and the surrounding area – just try and get a table at short notice on a Saturday night in some of the area's most popular restaurants (if you manage, will you let us know?).
The Emirates Arena in the East End is another prime example of Glasgow's regeneration. Last year it hosted the Davis Cup semi-final and this year saw British Athletics host the Indoor Grand Prix, bringing even more people to the area.
Glasgow's love affair with sport is well-documented, and the last couple of years has proven the city's economy has been able to combine the city's other great talent – a good night out.