The Johnston Carmichael Corporate Finance team provided lead advisory services to Altia Solutions Ltd in the acquisition of ABM UK.
ABM Holdings Ltd, the owners of ABM United Kingdom Ltd, a software business supplying predominantly the public sector, sold the company to Altia Solutions Ltd.
The consideration, which is undisclosed, was funded by Santander. Altia is an investigative software business, based in Glasgow, with aspirations to grow through further acquisitions.
The combined business will double the size of Altia Solutions while retaining the staff and operations at the Glasgow HQ and at ABM's Nottingham base.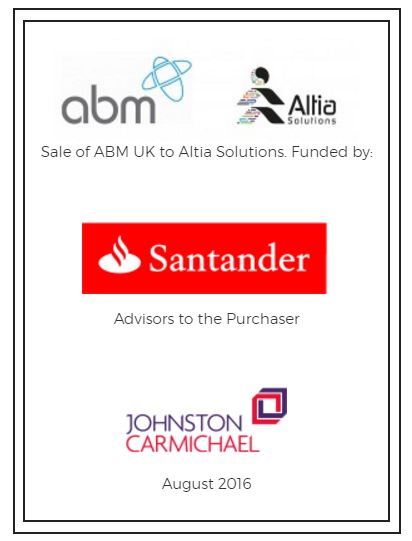 From the first meeting with the vendor to completion of the deal took 4 months – and over the summer period as well. Throughout this tight timescale Johnston Carmichael were excellent both with the work they produced and when liaising with the other professional teams involved. The team ensured the deal stayed on track and that the bank modelling and financial details of the deal were well covered. We relied on their enthusiasm, expertise and professionalism and all sides ended up happy with the deal and process. When we are looking at other opportunities, our first port of call to discuss them will be Johnston Carmichael.
Ian Watson
Managing Director, Altia Solutions