Johnston Carmichael appoints restructuring director in Aberdeen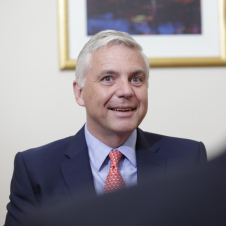 Matt Henderson
Restructuring Partner
Johnston Carmichael, has appointed Richard Bathgate as director of restructuring in its Aberdeen office.
Richard arrives after more than 10 years at PricewaterhouseCoopers, with significant experience in major corporate recovery and restructuring projects in the global energy sector, including the sale of interests including oil fields and large-scale businesses in the supply chain.
He is the latest in a succession of high-profile acquisitions by Johnston Carmichael, following the arrival of six specialists in its tax division in the last month, as part of a series of strategic hires who will play a key role in the firm's ongoing growth.
Matt Henderson, partner and head of restructuring at Johnston Carmichael, says: "This is an exciting development for us, Richard is a flagship hire for our team in Aberdeen. He is very highly regarded in the restructuring business and has been hugely successful throughout his career, with significant experience in the oil and gas sector.
"In the past year, our success in being recognised with the restructuring project of the year title at the 2015 British Accountancy Awards helped to bring an even greater focus on what we can achieve.
"Acting as liquidators to the company established for the 2014 Commonwealth Games in Glasgow, one of the largest solvent liquidations in Scottish history, was also an important milestone in the growth of the team.
"Attracting someone of Richard's calibre demonstrates that those successes are being noticed by others. Our peer group are increasingly looking at Johnston Carmichael with interest, and there is a real attraction to the prospect of working for the firm."
A fellow of the Association of Chartered Certified Accountants and licensed insolvency practitioner by the same body Richard, holds an MSc in Information Technology (Software Engineering) from Napier University and an MA in Physical Geography from the University of Aberdeen.
He moved into accountancy in the energy sector in 2001, and gained experience in the food and beverage and banking sectors before moving to specialise in personal and corporate insolvency, business recovery and restructuring.