Developing my Career - life beyond studies with Johnston Carmichael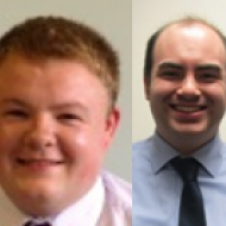 Robert Gray & Steven Massie
Business Advisory Senior & Business Advisory Assistant Manager
In this Q&A we hear from Robert Gray, Business Advisory senior in Huntly and Steven Massie, Business Advisory Manager in Inverurie. Both Steven and Robert started with the firm as trainee Chartered Accountants.
Tell us about your first few months with Johnston Carmichael. Did you find it hard adjusting to 9-5 life from university?
Robert: The first few months were spent in Corporate Accounts and having come from university where we'd studied that recently, it made the transition easier as I had an understanding of what I was being asked to do. The first week back to work after being at university takes a while to get used to, but it was good to get back into a solid routine. What made the transition easy for me was the people I worked with at Johnston Carmichael. They took time to bring me up to speed and give me the training I needed.
Steven: Looking back, it was an easier transition as I was a Robert Gordon University student who did my third year placement at Johnston Carmichael. I got about a three month 'bedding in' period before studies started which, having just come out of university, allowed me enough time to recharge and focus on my CA training.
Now you've completed your studies and you're both Chartered Accountants, what top tips would you give to students who will be looking to complete their CA exams?
Robert: The advice I would give is to set aside time for studying usually at weekends as I found that once I came back from work in the evenings I needed a break before getting stuck into revision! It's also important to communicate with managers and work colleagues and let them know you have exams coming up so they are aware not to pile too much on. The key thing with CA exams is practising past questions and experience in the work place.
Take a chance and say yes to any type of work offered to you. During my studies I had the opportunity to work in a range of business areas and across a variety of sectors.
Steven: This variety of work helped me understand more areas of my CA studies as I had actually worked on these scenarios in a real work environment. This was particularly helpful when it came to TPE level exams as it gave you more commercial awareness of a wider range of sectors.
Also, always ask questions. Ask about anything you're uncertain of as this can lead to a greater understanding of why and what you are trying to accomplish.
What about juggling work and study?
Steven: In terms of juggling priorities it can be pretty easy to say you'll set aside time to stay on top of things but who actually does that when you have work, a social life, hobbies, etc! I would say the best way to tackle the CA qualification is to keep on top of the knowledge you've gained through work and give yourself enough time to practice questions and focus on weaker areas.
Was it a big step up in responsibility at Johnston Carmichael when you both became qualified Accountants?
Robert: I found my responsibilities increased during the final year of my training contract as I'd finished my exams and I was more involved with clients in my change of role within the business. As much as the workload increased along with the responsibility, I never felt under pressure as there were always others you could go to for help and advice.
Steven: Simply put, yes. I have gone from a background role into a client facing role which initially can be a shock, but having the support of my Client Relationship Manager team has helped me become more confident in my abilities. I'm also in the process of taking on clients from other CRMs and actively looking at bringing in potential clients to the firm to add to my portfolio.
Interested in a role with Johnston Carmichael? Every year we take on a number of talented young professionals within our offices around Scotland who each play a vital role in helping Johnston Carmichael grow. Visit our Student Careers page for full details.