Kiltwalk goes for gold thanks to new sponsor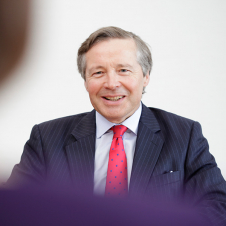 Sandy Manson
Chair and Head of Client Service
Speyside Kiltwalkers can count on a top class event after Johnston Carmichael, were announced as gold level sponsors for the August 14 charity walk.
More than £500,000 has already been sent to Scotland's children's charities from Royal Bank of Scotland Kiltwalks earlier this year in Glasgow and Aberdeen, with the total set to be further buoyed by next month's Moray Speyside event.
The Kiltwalk is one of Scotland's biggest charity events that will see more than 10,000 walkers take part across four locations in Scotland.
The aim of the charity and the events is to fundraise in order to help vulnerable children and every penny of the funds donated goes to children's charities throughout Scotland.
Johnston Carmichael, with offices in Elgin and Inverness among their 11 offices across Scotland, will not only donate to help the smooth running of the event but a large number of employees will also take part.
Paul Cooney, the Kiltwalk CEO said: "All of the team at Johnston Carmichael have been excellent partners and they will really help us raise the profile of the Moray Speyside event. The walk will be beautiful and I am sure all of their employees, as well as everyone else who takes part, will have an incredible day.
"As with all four of our events this year, the Moray Speyside Kiltwalk will allow charities, large or small, to raise much-needed funds for the children in Scotland who need it most.
"100% of the money raised will go to the children's charities of each individual walker's choice. This would not be possible without the generosity of companies like Johnston Carmichael."
Sandy Manson, CEO of Johnston Carmichael, is a huge supporter of the event.
He said: "The money raised already this year for Scotland's children's charities has been outstanding. We are delighted to be in a position where we can help further boost that total.
"The enthusiasm of the Johnston Carmichael team to take part in the event and the vigour with which they are already attacking the challenge to fundraise has been fantastic.
"The Kiltwalk is an event which really helps to bring people together for an amazing cause, that's why we are proud to be associated with it. "
There are three distances to choose from, the six mile Wee Wander, the 13 mile Big Stroll and the 26 mile Mighty Stride.
There's still time to sign up for the Edinburgh and Speyside events at www.thekiltwalk.co.uk.