No pets allowed
When Amanda and Phil moved to Scotland from Frankfurt three years ago, they could only find one rental property within 40 miles of Phil's work that would accept their dog. A familiar dilemma for anyone moving with pets; but for Amanda and Phil, one that turned out to work to their advantage.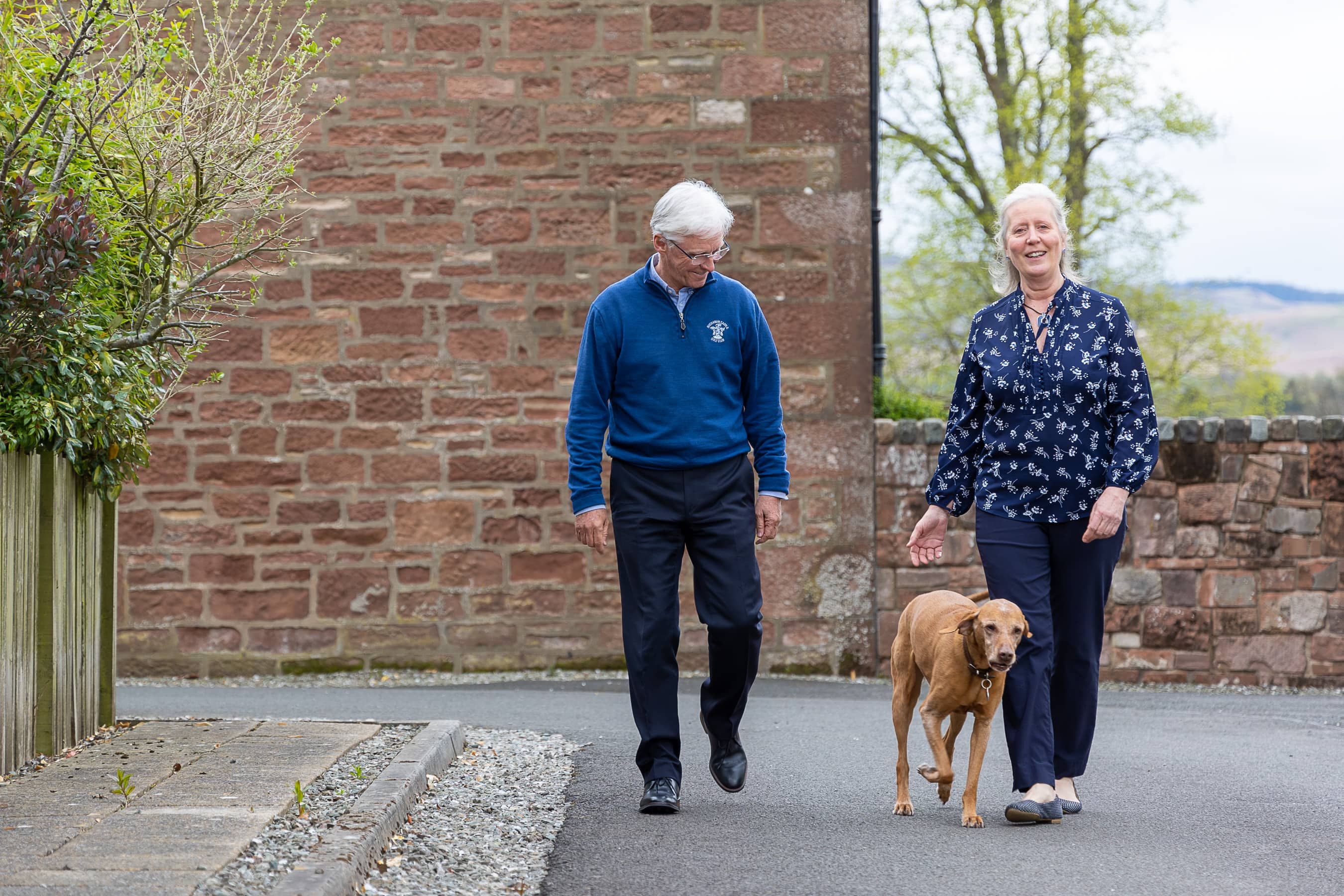 Soon enough, a property came up for sale on the same street and, having decided they loved the area, the couple jumped at the opportunity. Once settled into their new home, thoughts turned to organising their affairs for the future. "Our plan was always to start looking for a financial adviser when we moved to the UK," says Amanda. "We knew that with our situation, we were going to need that support."
The couple asked around for recommendations of a good financial planner, and a golfing friend of Phil's suggested Elaine Finlay from Johnston Carmichael's Wealth team. It soon transpired that Elaine Finlay was none other than the Elaine who lived across the road from Amanda and Phil! "We needed a financial planner and lo and behold, there was Elaine twenty feet away!" says Amanda. "We started to ask her a few questions and she was so helpful. It was interesting to see her reaction to some of our queries, because we knew they were going to be difficult – but we could see that she wasn't overwhelmed, just fascinated. She was so interested and really wanted to do this."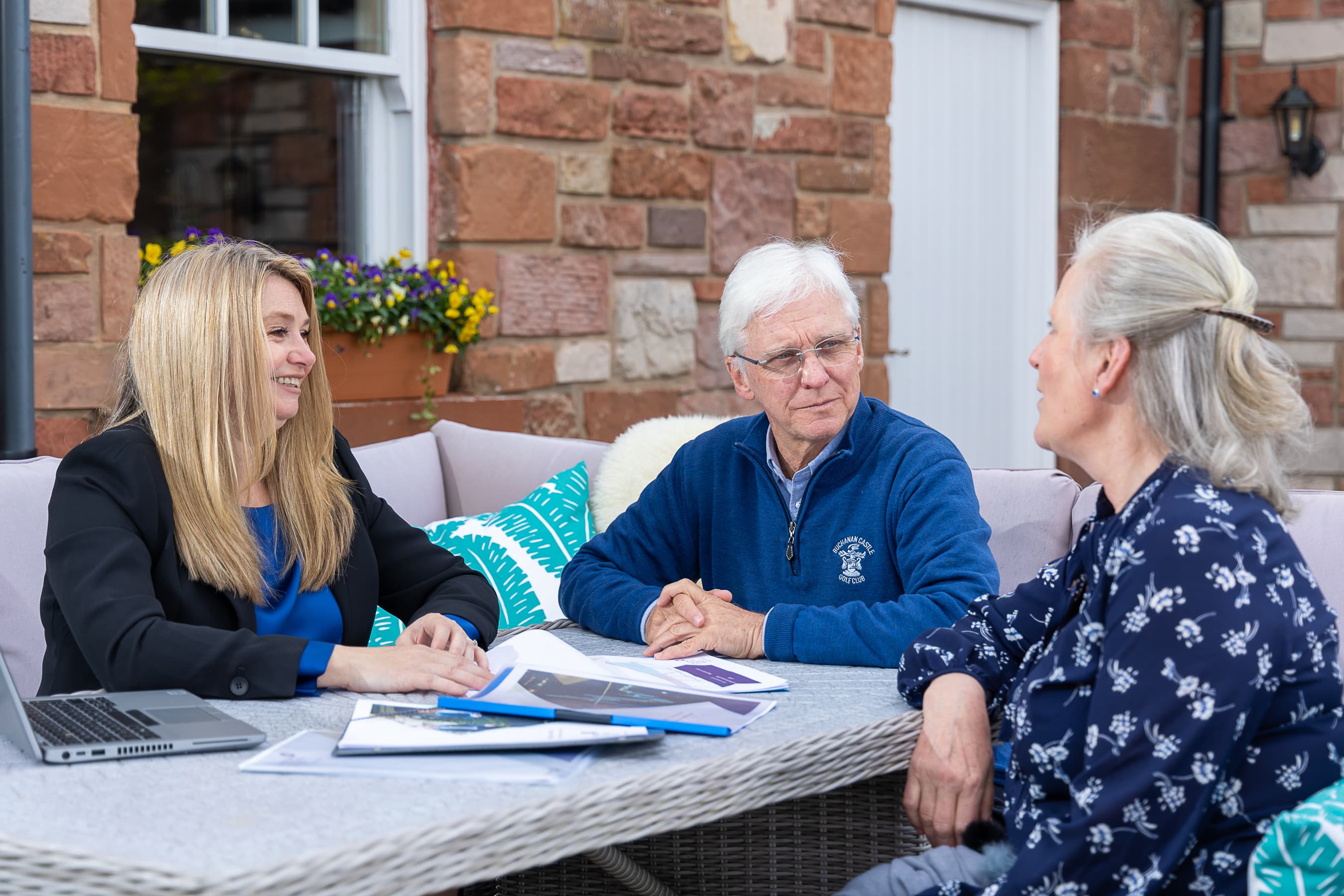 Around the world
The complexities Amanda mentions stemmed from the couple's well-travelled career paths. Having met in the Bahamas, they moved from there to Florida, on to California, to Inverness, then to Switzerland, and latterly Frankfurt.
"Because we've lived and worked abroad, we have investments all over the world. We had pensions with various companies as well as pensions within different countries, too," explains Amanda. "We wanted to look at retiring in a few years' time, and we needed someone who knew what they were doing to sort through all of it and tell us when we could do that."
While many new clients know they have pensions somewhere, finding the relevant paperwork is often a different matter, with the Wealth team's financial planners employing both their expertise and their detective skills to track down the funds! In Amanda and Phil's case however, they had kept their records in excellent order - "We presented Elaine with folders full of meticulously filed paperwork, and she did comment on how impressed she was with our system!"
Surprise surprise!
As Elaine began working through the folders and examining the details of the various plans, her investigations led her to discover that one of Phil's US pensions entailed not only a lump sum, but also an annuity and an income that the couple were not aware of. "We just had no idea," says Amanda. "Really, thank goodness for Elaine. We couldn't believe it when she found that, we were thrilled!"
In addition to reviewing all of the couple's existing financial plans, the Wealth team also put together a cash flow model to provide Amanda and Phil with the assurance that their retirement goals were realistic and achievable. Amanda notes, "Putting everything in plain sight and in perspective really gave us the confidence and security that, yes, actually we can retire when we've planned. At the moment we review the cash flow plan on a monthly basis with Elaine, and it's undoubtedly one of the best tools we've been given."
Tricky taxes
As well as advice on pensions and investments, Amanda and Phil also required support with an unexpected tax situation which arose on their move to the UK, concerning a fund acquired while they were living in Frankfurt. Elaine introduced Billy Cleland, Tax Director in Johnston Carmichael's Private Client Tax team, to help with the couples' tax returns and disentangle the complications around the Investment Bond. Although it wasn't an easy process, from Amanda and Phil's point of view the team interaction was seamless. "It worked really well for us," affirms Amanda. "Elaine and Billy just worked through it bit by bit, and Elaine co-ordinated everything for us. She would call on us if any more information was required, and if we had a question, we got in touch with her and she would pass on to Billy as and when we needed."
Relationship-building in this era of lockdowns can be a challenge, but for Amanda and Phil, they haven't found this to be a barrier. On the contrary, one of Amanda's favourite things about working with Johnston Carmichael has been the ease of access. "The most worrying thing at our time of life is retirement and finances, so it's great to have that reassurance that the team are on call - we can pick up the phone and they always answer, and a meeting is set up just like that. Everything is so well-explained, too. It would be very easy for this to all be quite overwhelming! But somehow they manage to describe it in a way that's very straightforward to understand."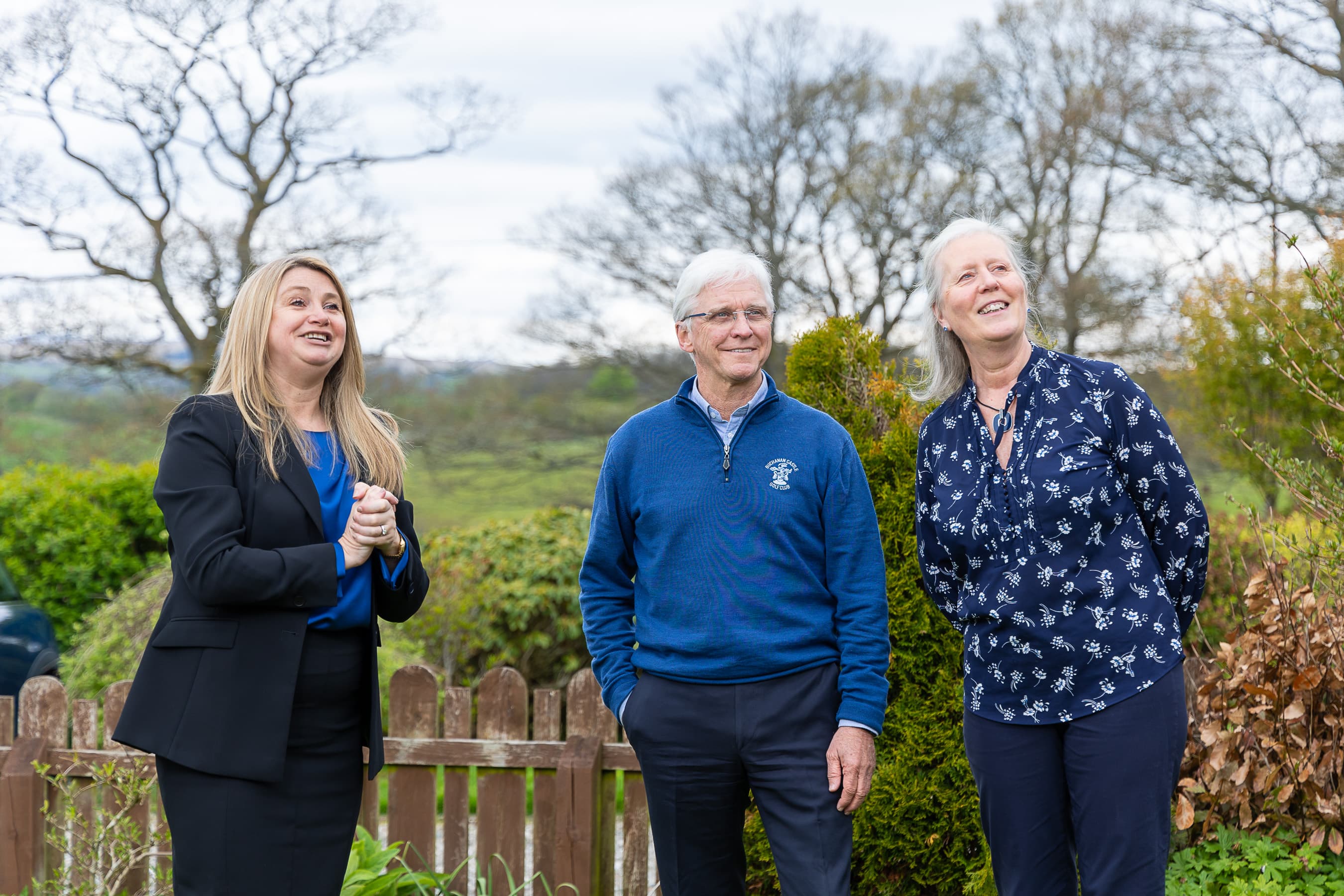 It would be very easy for this to all be quite overwhelming! But somehow the team manage to describe it in a way that's very straightforward to understand.
Amanda
Added value
While the COVID-19 pandemic hasn't presented a challenge for liaising with Johnston Carmichael and Johnston Carmichael Wealth, not all interactions have been so easy remotely. When Amanda needed to switch some investments into her name and change investment manager on a bond, it proved to be much more time-consuming and difficult than she had imagined, requiring a lot of back and forth between the couple and the fund managers. However, Elaine stayed on the case to support Amanda throughout the transaction, and helped the couple set up online signing facilities and proof of signature to ensure the process wasn't slowed even further by having to wait until an in-person visit to an office was possible.
As their working relationship has developed, Amanda and Phil have found Elaine to be not only an excellent financial planner, but also a useful source of local information! "You wouldn't believe the things Elaine has helped us with," Amanda says. "I've never really lived in the UK for any length of time before, and Phil was very young when he left, so there was a lot we just didn't know. Apparently when a car is three years old it needs an MOT – we had no idea what an MOT was, so we called Elaine!"
Planning ahead
Vehicle admin aside, Amanda and Phil intend to keep the team busy for some time yet.
Once the US Consulates in Scotland re-open, Phil intends to give up his green card, at which point the couple's tax situation will change again. In addition, Amanda and Phil wish to look into ISAs and organise their children's inheritance, so there will be further tax considerations to manage. Long-term care is yet another factor for the couple to plan for, in the event that this should be required in the future. "There's a lot to think about," agrees Amanda. "Once we've covered everything on our current agenda, we'd like to do a rolling-check in at least once a year; possibly even every six months. Elaine is going to be in our bigger picture for a long time. It gives us great peace of mind that we can just get on with living our lives in the way that we would like to, knowing that everything is in hand."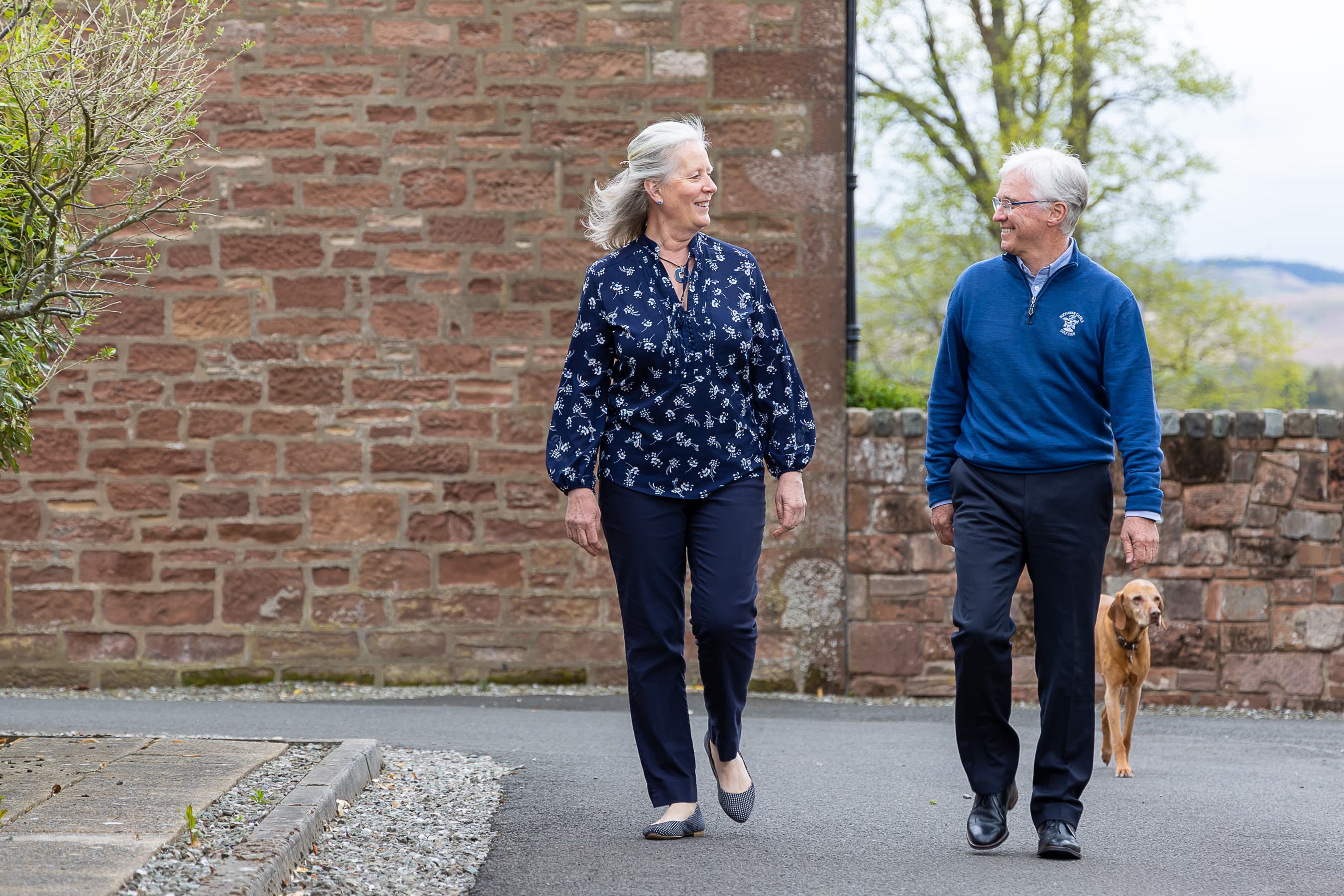 Paying it forward
Having established their relationship with Elaine initially through a recommendation and then discovering they were in fact new neighbours, Amanda and Phil have been keen to pay it forward and recommend the Wealth team to others. "We bumped into some people we know the other weekend, and whilst chatting about what we'd been up to since moving to the UK, we tried to recommend Johnston Carmichael – but they were already clients!"
Johnston Carmichael Wealth Limited is authorised and regulated by the Financial Conduct Authority.