Good clean fun
"I thought he was winding me up," says CEO of Ecoanolytes, Erik Smyth, reflecting on the moment three years ago when Ecoanolytes' Technical Director, David O'Riley, first approached him with the idea of looking into hypochlorous acid. "It's 80 times more powerful than bleach, but it's just salt and water?"
Intrigued by the notion however, Erik promptly conducted some research of his own and discovered that hypochlorous acid was in fact a very real proposition. Produced by passing an electric current through salt water, hypochlorous acid is between 30 and 200 times more effective than bleach at destroying viruses and bacteria – yet it's completely non-toxic.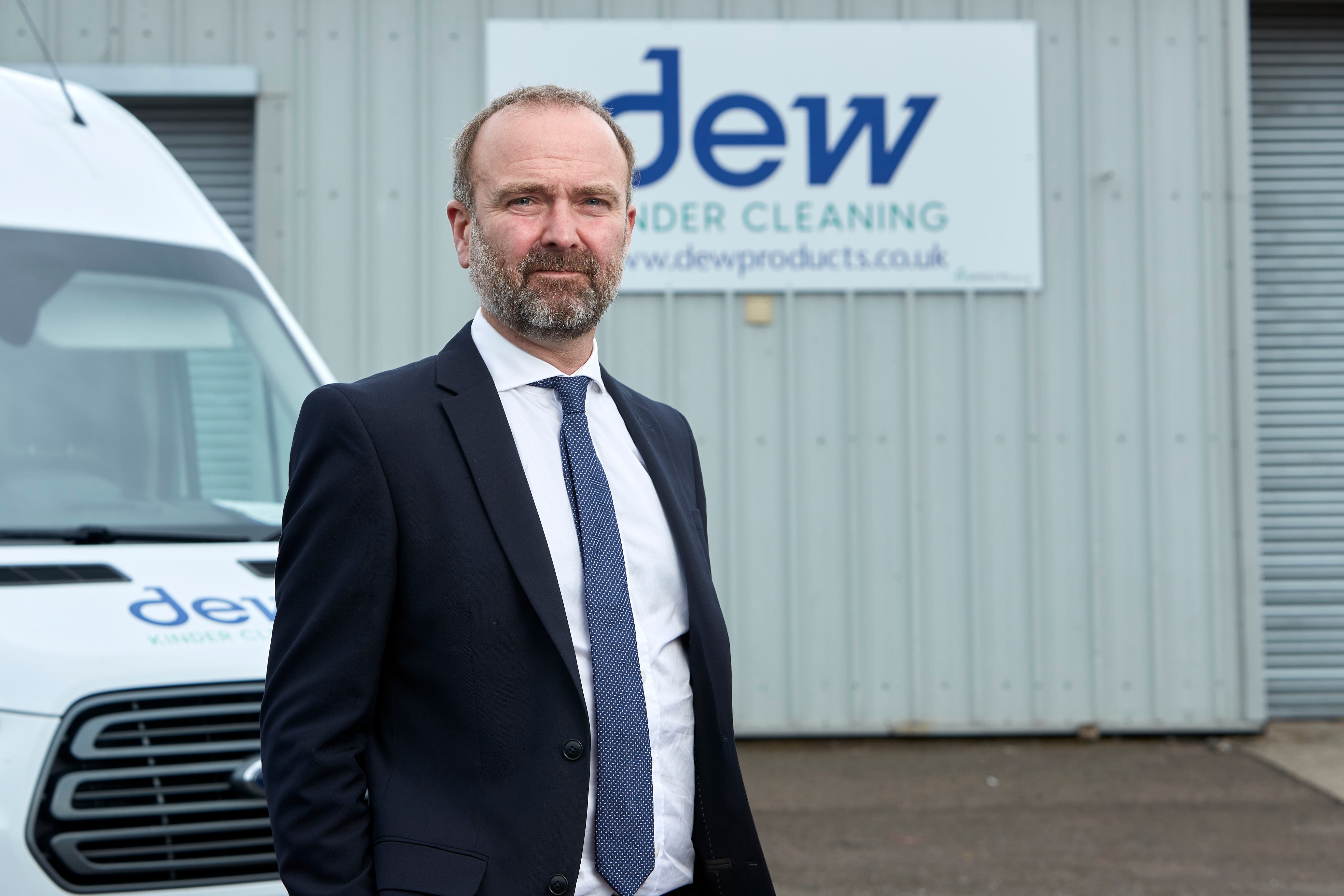 From farmers market to frenzy
Having satisfied himself that David wasn't pulling his leg, Erik ran with the idea and Ecoanolytes was founded in 2018. By 2019 the business was producing a range of cleaning products under the brand name Dew; Dundee Electrolysed Water, named after the business's home town. Trade was steady through online sales and local markets, including the Forfar Farmers Market where Erik first met Ryan Milne, Business Advisory Senior Manager and Ecoanolytes' client relationship manager. "Ryan was one of our first customers!" laughs Erik. "He was very taken with the product, and kept in touch through those early days when we were just starting out."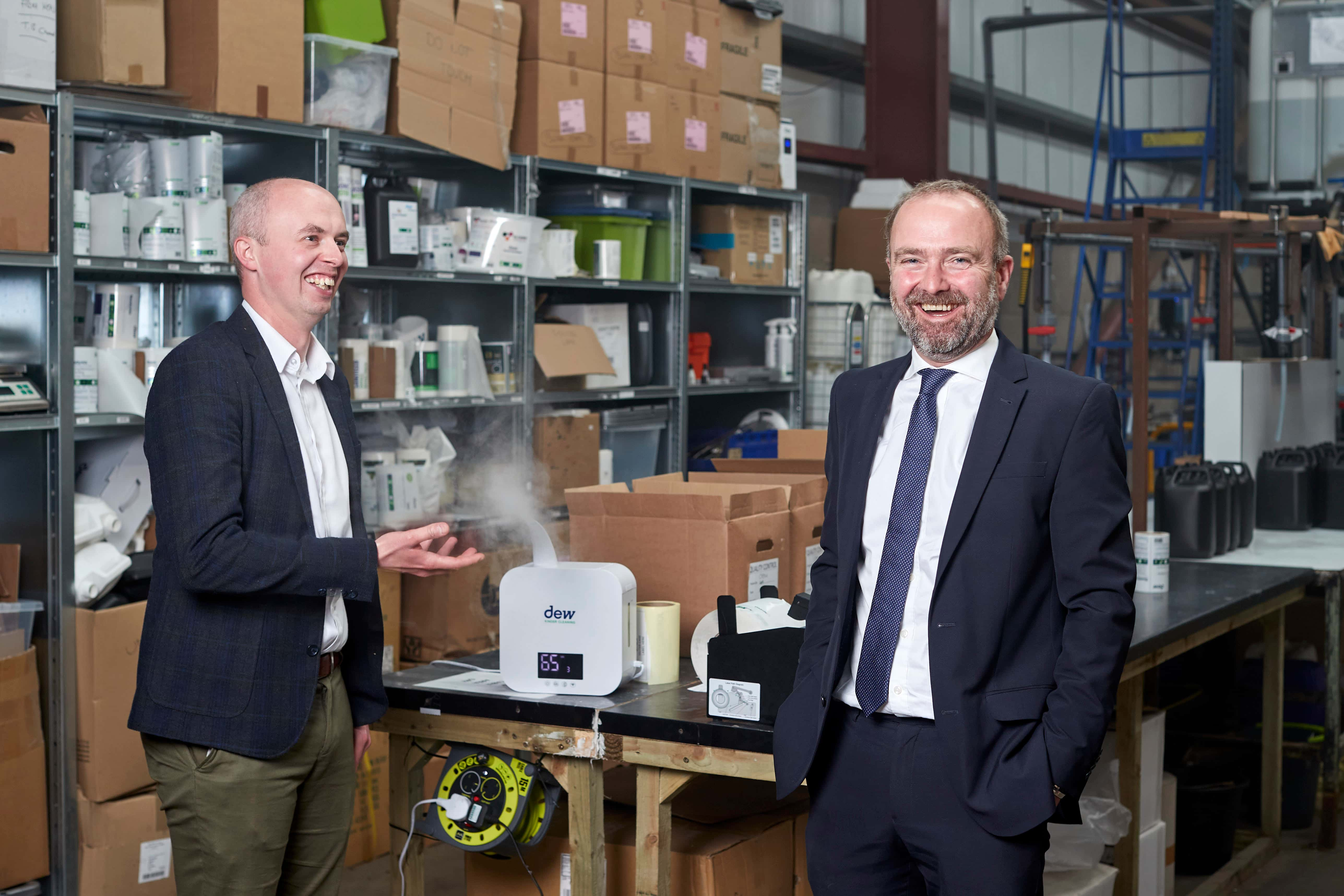 Enter 2020, and the onset of the global coronavirus pandemic.
"I remember looking at my phone one day, seeing over 700 orders from online sales, and wondering how I was going to cope with this. We had one other employee and were working out of a very small unit at the time," recalls Erik.
As demand for sanitising products skyrocketed overnight, the business was suddenly inundated with sales. However, despite a global packaging shortage, the team made it through those first frantic few months and put their minds to the next steps.
"Growing very quickly as a young company, you've got to keep your eye on a lot of different variables and that's challenging," says Erik. "What was great about having Johnston Carmichael there for us, was knowing that you had the wealth and breadth of knowledge within your operation to handle everything. It was a lot of work off my plate."
Ryan, together with Head of Technology and Life Sciences Shaun Millican, worked with Erik to create a business and cashflow plan which Ecoanolytes then used to obtain their first of two loans from Business Loans Scotland. The business invested this funding into its infrastructure and manufacturing capability, allowing the team to move to larger premises and quadruple the company's production capacity.
Water, salt, and a couple of electrodes
But if the liquid being produced is simply electrolysed salt water, surely anyone can replicate the products at home with water, salt, and a couple of electrodes?
"Not so," says Erik. "The difficulty with making hypochlorous acid is its stability. A lot of technology has gone into the design of our manufacturing facility to give us a product that's stable for up to two years, so it can be bottled and made available to all. Having produced a stable solution, much of our research and development has then been on how to create functional and practical products. It's working out how to utilise our hypochlorous acid solution for different applications, and developing the right packaging to dispense it. For example, we have a disinfecting spray which works like an aerosol but there's no gas involved – it's all down to the packaging."
Erik has worked closely with Andrew McMillan, Johnston Carmichael's Innovation Taxes Director, on the business's Research and Development tax claims. With businesses able to claim up to 33p for every pound of eligible expenditure, R&D tax relief is invaluable for companies like Ecoanolytes where innovation is constantly evolving. Andrew and the Innovation Taxes team worked with the Ecoanolytes team to determine not only the extent to which the product development qualified for R&D tax purposes, but also the level of relief available, taking into account the wider implications for the business's accounting and tax position.
The 'clean green' revolution
As a result of their hard work and creative thinking, Ecoanolytes now boasts a range of over 30 products, with new launches continually in the pipeline. "One of our most popular products is our degreaser, Superclean. An oven cleaner that can also double up as a gentle foam hand and body wash – I'm not sure there are many brands you can say that about!" says Erik.
As well as the non-toxicity of hypochlorous acid making it inherently better for the planet than chemical cleaners, the manufacturing process is also exceptionally environmentally-friendly. "There's no by-product or wastage, so from a carbon footprint perspective it really doesn't get any better than that."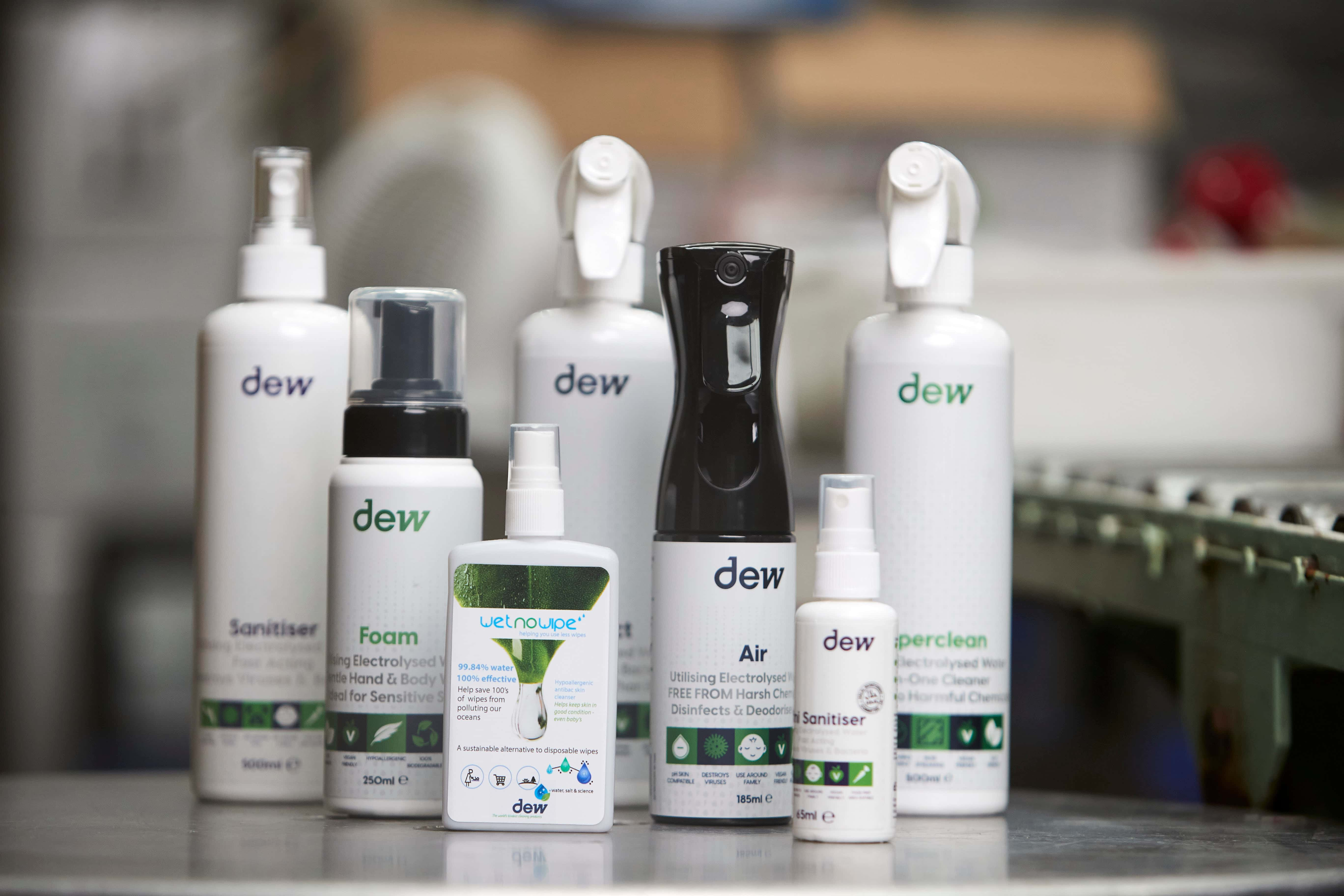 Doubling down on their eco-friendly ethos, Ecoanolytes also actively encourages customers to top up their Dew bottles at refill stations to cut down on plastic packaging; albeit all of Dew's containers are also recyclable. The business has partnered with a number of local organisations, such as Dundee FC, to encourage fans to switch to Dew and use the refill system, with a percentage of the profits going back to the club. Every litre of Dew that is refilled saves one kilogram of carbon, which adds up very quickly to a staggering figure.
The business's passion for sustainability has not gone unnoticed, with Ecoanolytes awarded Good Housekeeping's 'Getting Greener' accreditation in March 2021, recognised for both its refill initiatives and its efforts to reduce waste in its packaging design.
For Erik, the positive impact of making effective, chemical-free cleaners is best illustrated by one particular story from a member of the cleaning staff at a local business. "After 2-3 weeks of using Dew products, the customer noticed that not only was the overall cleanliness improving, but his skin and breathing were also improving – and he didn't realise he'd had a problem with his breathing in the first place," explains Erik. "There are a lot of unsung heroes up and down the country who keep our buildings clean for us, and being subject to harsh chemicals all day, every day, can have a very detrimental impact. To make that kind of difference for someone, that's really what makes it worthwhile for me."
Green ambition
With climate change coming more and more to the fore, Ecoanolytes' momentum continues to build. "People are taking environmental issues much more seriously now," comments Erik. "Businesses are more willing to look at alternatives, and, in fact, realising the cost savings that come with using products like Dew rather than chemical cleaners – you don't have to pay for PPE or waste disposal solutions, or to ensure there are no chemical traces left on your work surfaces. 'Why use a toxic chemical to sanitise your facility when you don't have to?' is a question every business owner should be asking themselves."
'Why use a toxic chemical to sanitise your facility when you don't have to?' is a question every business owner should be asking themselves.
Erik Smyth
CEO, Ecoanolytes
And it appears many are. As well as supplying individual consumers, around two thirds of Ecoanolytes' revenue comes from sales to businesses of all sizes. This is an area the business intends to continue growing - and with a target market that encompasses almost every sector you can think of, there's limitless potential for expansion. In addition to their UK customer base, Ecoanolytes is already exporting worldwide to Ireland, Germany, Greece, Poland, Hong Kong, and - with all Dew products being certified Halal - Kuwait and Saudi Arabia, with Johnston Carmichael's VAT team on hand to help with the customs challenges presented by Brexit.
The Ecoanolytes team has also continued to expand in line with its market reach, with headcount having jumped to 20 since the beginning of last year. To manage share options for senior members of the team, Erik enlisted the help of Johnston Carmichael's Entrepreneurial Taxes team, to implement an Enterprise Management Incentive (EMI) scheme. As well as rewarding current staff, Erik sees the scheme as "vital" as the business goes forward and looks to recruit additional senior management.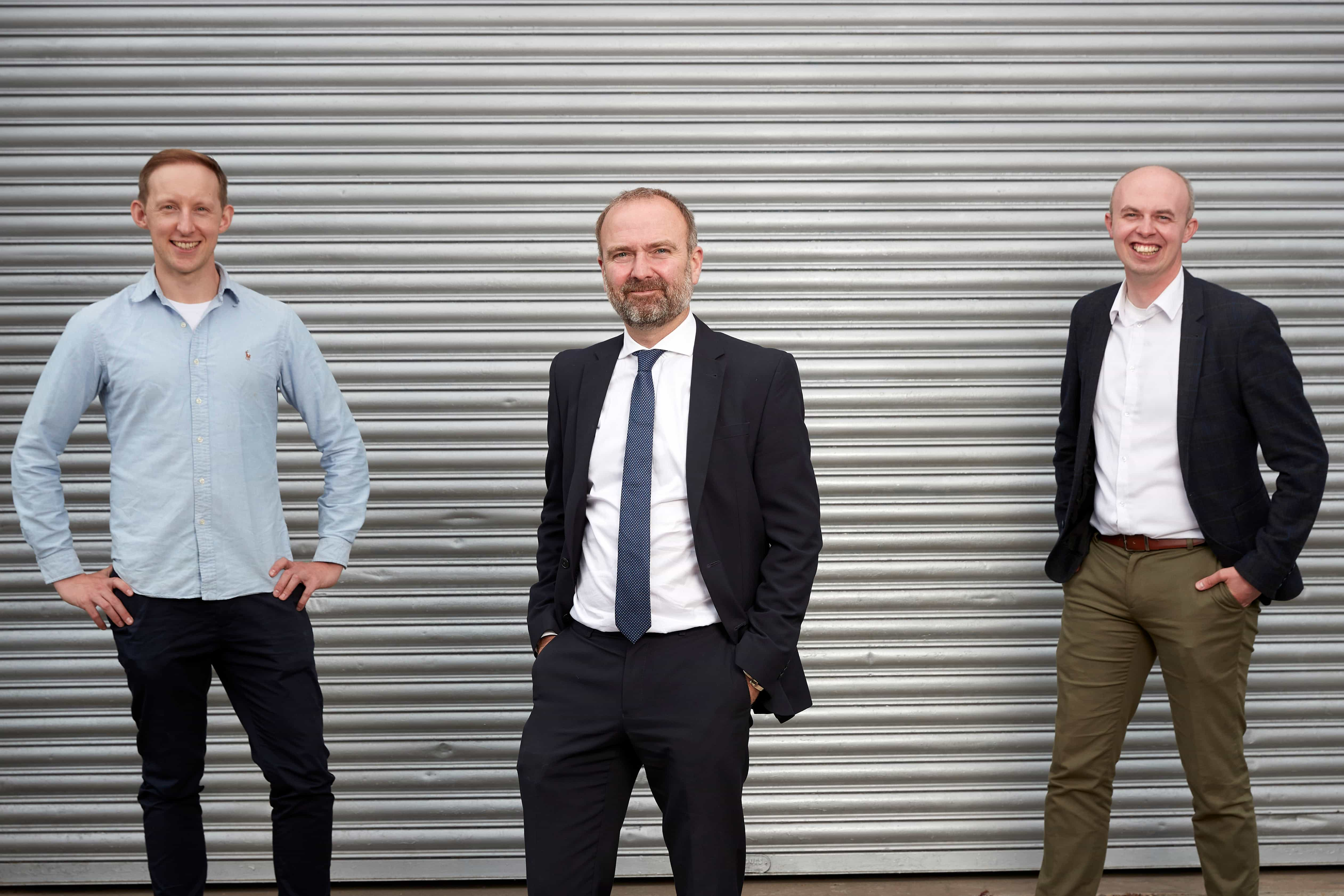 Reflecting on all that has been accomplished in the last few years and the achievements still to come, Erik has no doubt that Johnston Carmichael will continue to be a part of the Ecoanolytes success story.
"It's been a very holistic approach from Johnston Carmichael. From business planning to R&D to the EMI scheme, there's been a lot to do and it's been done well. I couldn't have predicted the last 18 months and I don't know what the future holds, but I do feel very confident in the management team at Johnston Carmichael. I know they will be able to deliver what we need, when we need it, and having them close by in Dundee is a bonus too. It's definitely the right firm for us and a great partnership to have."