Imagination brought to life
Picture a large box, nine metres high. Inside that box are numerous trays, stacked up 30cm apart. On each tray is a snooker-table sized field, with its own individual microclimate. Growing in each snooker-table sized field is a different type of crop. The same quality and quantity of that crop is guaranteed, every single time.
Everything inside the box is managed from a mobile phone.
Futuristic, right? Well thanks to Intelligent Growth Solutions, the future is now.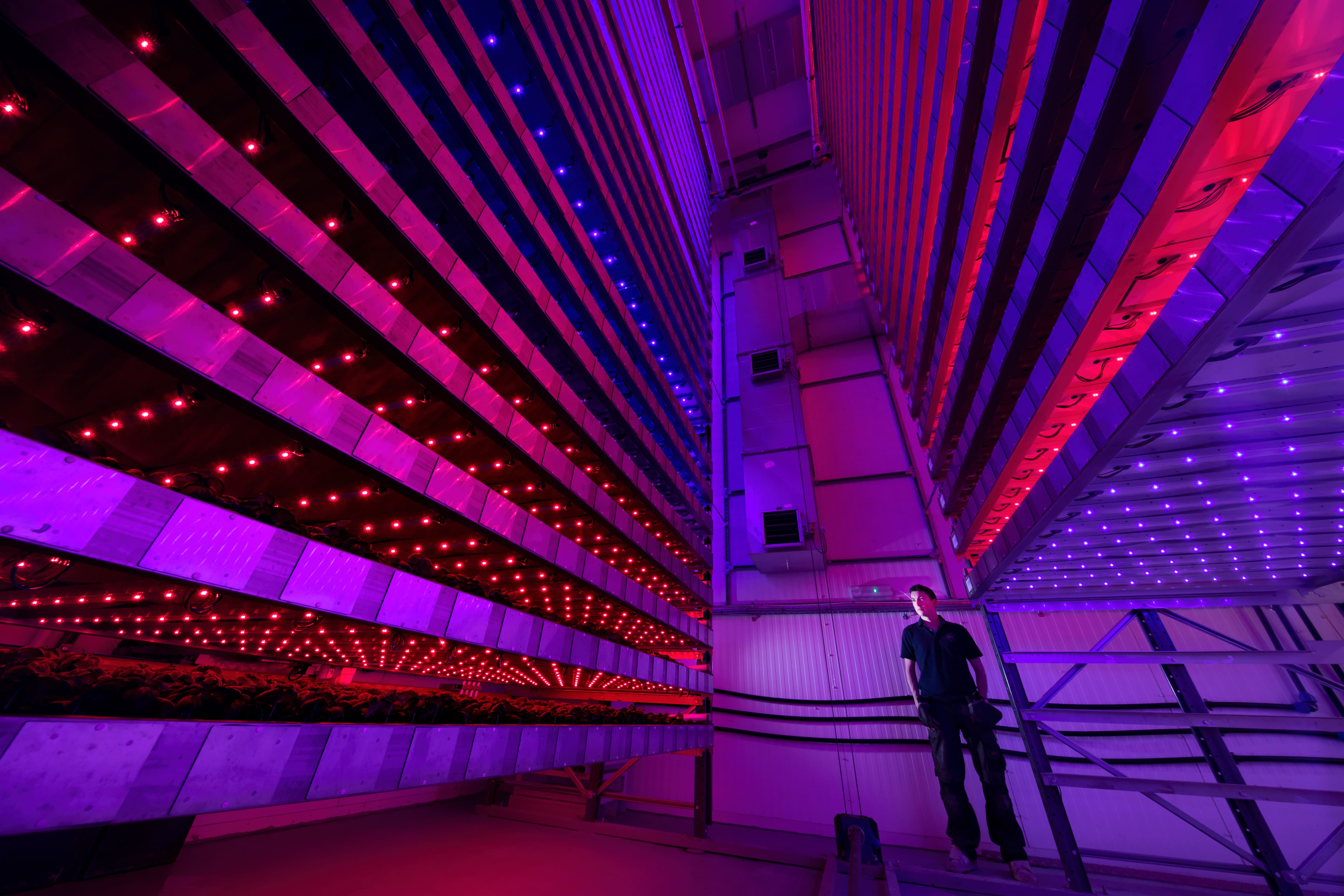 Life indoors: version 4.0
"Intelligent Growth Solutions is in the business of creating ideal climates and conditions for life indoors," says Chief Executive David Farquhar.
IGS has developed an 'Intelligent Grid', a system which can be suspended from the ceiling of almost any structure and encases an array of LED lights, cameras, sensors and monitors. All of these combine to create extraordinarily flexible and intelligent indoor environments.
In commercial buildings the grid can use human responses and behaviour to communicate with the building's inhabitants – on entering a car park, for example, available spaces can automatically illuminate to guide people towards them.
In horticulture and livestock farming, the Intelligent Grid enables what is known as 'controlled environment agriculture': the process of specifying every condition required for the growth or breeding of a particular crop or animal.
In the eight years since it was founded IGS has revolutionised the capabilities of controlled environment agriculture. It is for its work in vertical farming that the business has become most famous, introducing the first in Scotland; quite literally a fully operational, produce-growing farm, stacked up in a vertical tower.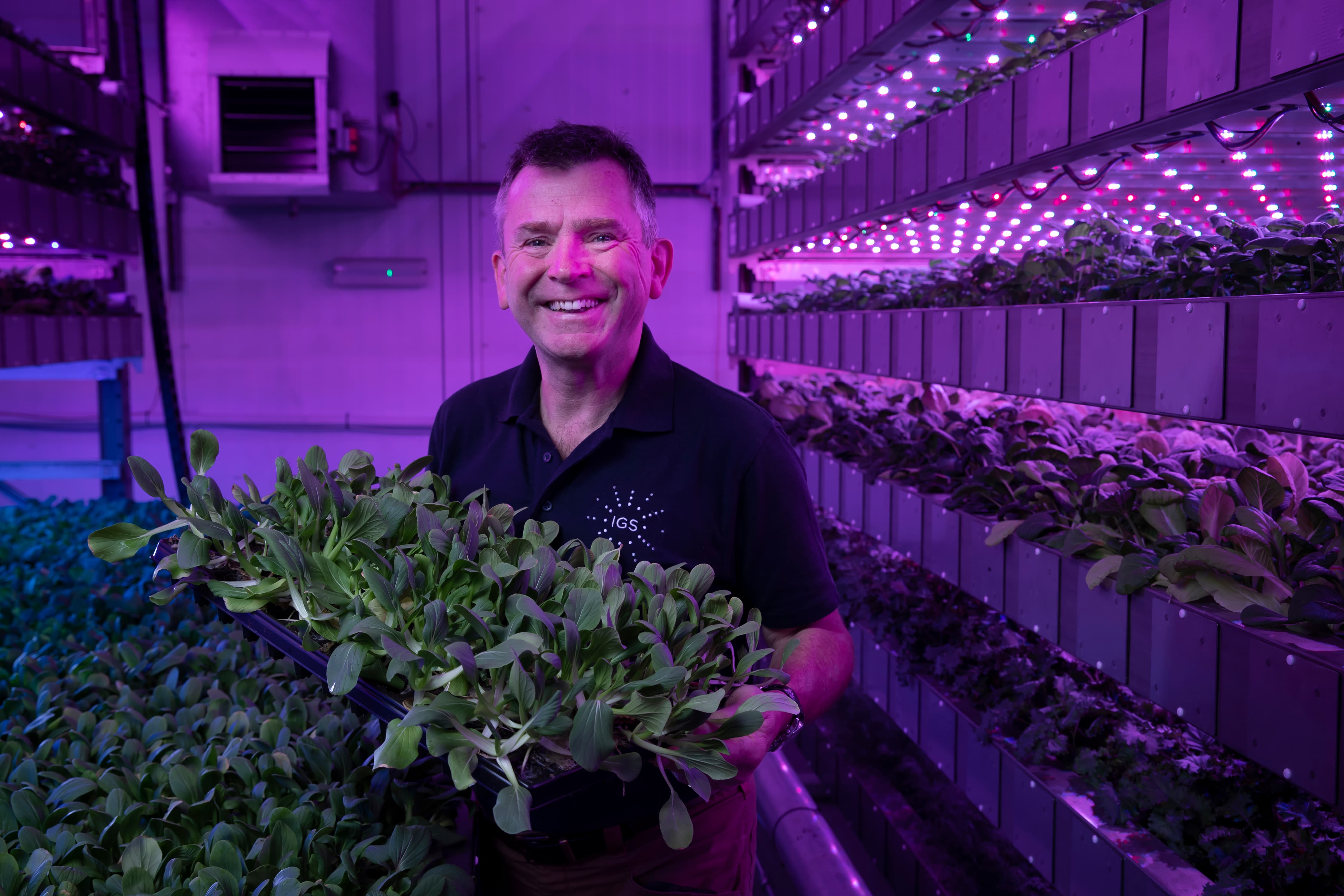 David Farquhar, Chief Executive of Intelligent Growth Solutions
Each layer in the tower is regulated to the nth degree. From the lighting to the temperature, humidity and irrigation, every aspect of weather is individually optimised into a holistic climate to create the ideal growing conditions for the produce on each tray. Vertical farmers can have two completely different crops growing in two completely different climates, merely a foot apart – and with IGS's advanced communications and power system, everything can be controlled entirely remotely.
As for the outputs, quality is guaranteed. "Our technology enables you to run Total Control Environment Agriculture (TCEA), and the result of this is crops which allow farming to change its relationship with the buyers of produce because they're so reliable, consistent and high quality," explains David. The yields are not subject to the whims of the wind, rain or sun - instead farmers can guarantee grocery retailers' shelves full of first-rate produce.
A model for success
IGS are widely regarded as pioneers in the field of agritech, and carry a reputation the business intends to maintain. Innovation is a constant state of being and IGS's Head of Presales, Douglas Elder, is responsible for overseeing all product development within the business. While Douglas focuses on the tech, he relies on Johnston Carmichael's Tax Director, Andrew McMillan, and the wider JC Innovation Taxes team to handle the R&D claims. From the technical experts assessing the extent to which the work undertaken by the business qualifies as R&D for tax purposes, through to the costing specialists assessing the level of relief available (including the associated tax and accounting considerations), Johnston Carmichael's specialists ensure that all available R&D tax relief opportunities are maximised. Having relief linked to innovative work flowing back into the business means having more cash to devote to enhancing the technology further, as well as making IGS more attractive to investors.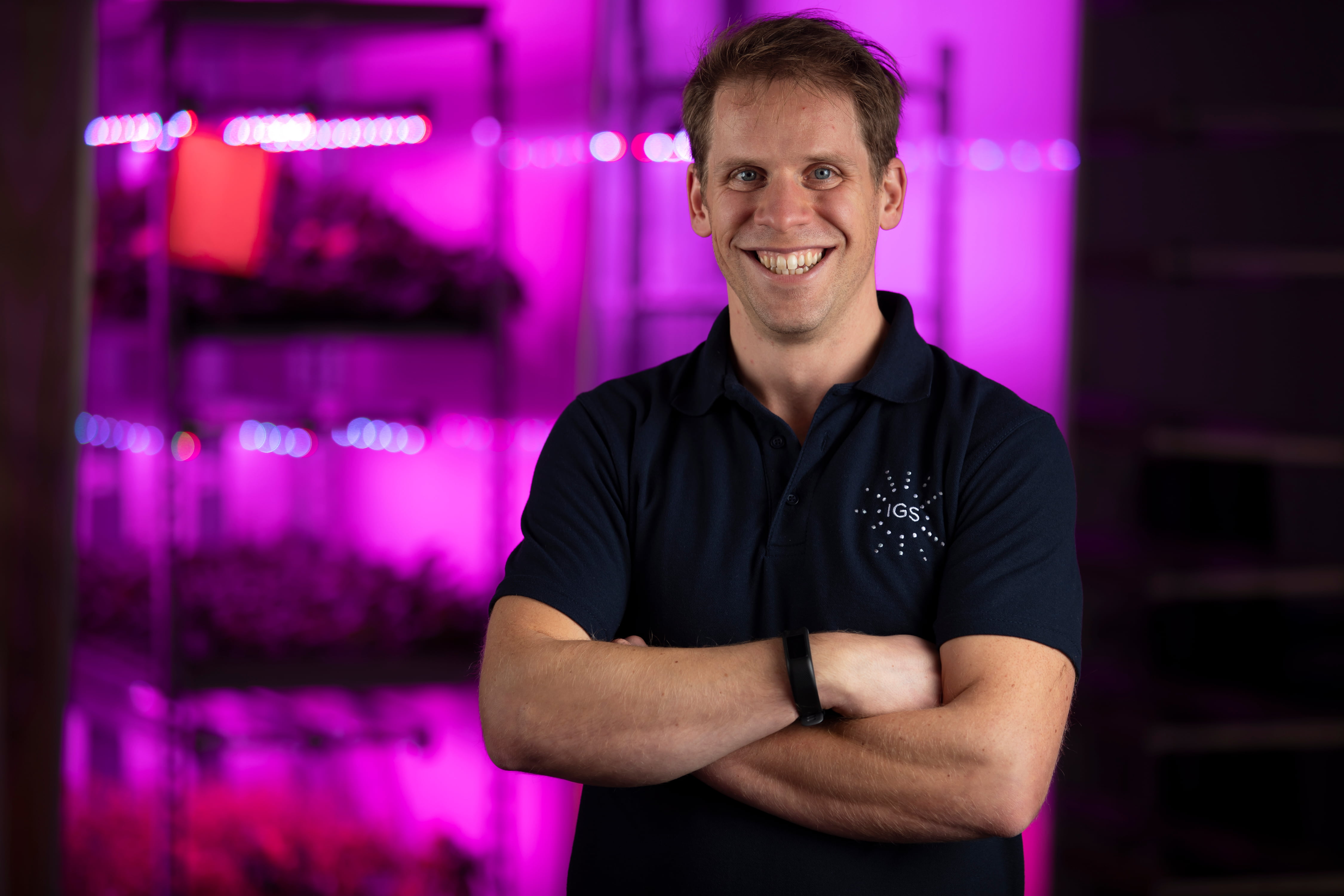 Douglas Elder, Head of Presales at Intelligent Growth Solutions
Investment is, of course, a key factor in the growth of any tech business. Vertical farming is still a very new concept, which can be a double-edged sword when it comes to seeking finance. On one hand, it's a game-changer with huge potential; on the other, it's an unknown - a risk. That same conflict can exist in the minds of customers considering purchasing, and so IGS turned to Johnston Carmichael for support.
As client relationship partner for IGS, Business Advisory Partner Shaun Millican is David's key point of contact. Shaun introduced JC's Corporate Finance team, who built two financial models for IGS; one for the business and one for their customers. With IGS having already raised Series A venture capital from three American venture capitalists and the Scottish Venture Fund in 2019, the first model serves to forecast the company's finances, provide comfort to investors, and lead on to the potential for more funding rounds.
The second model helps IGS demonstrate the value of the vertical farm and assist its customers in planning their own operations. "By using the model with the customer, we can show them the input costs of running the farm, the outputs in terms of the price they're able to achieve in a wholesale market for the produce they grow, and then work out their return on investment and payback period so they can take that to their investors," explains David.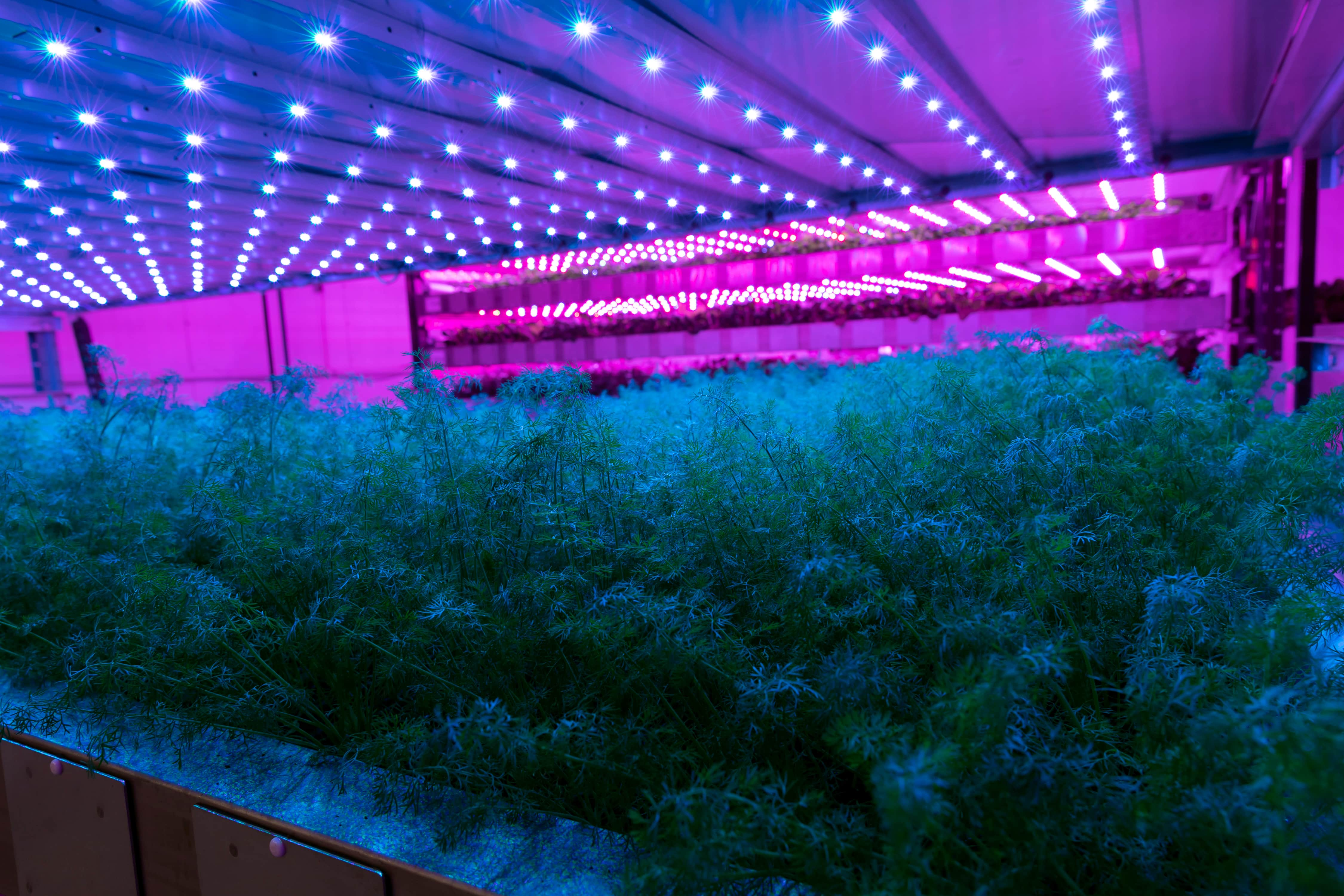 Johnston Carmichael's extensive reach in the tech, agri and food & drink sectors has also proven to be of benefit to IGS. "We've had great support from Adam Hardie and his colleagues in reaching out to various groups around the market, be they growers or users of produce such as food manufacturers and retailers, even distillers," David comments. "Johnston Carmichael looms large in the Scottish firmament so it's hard to be in business here and not bump into JC! That's a real benefit for us as a client; you're a national firm with wide-ranging connections, as well as that strong local presence."
Local focus
A focus on engagement with local businesses and communities is something JC and IGS have in common. At the outset of the COVID-19 pandemic, IGS stepped up to support those in need in their local area of Dundee.
"We were aware that there were a lot more food banks and community kitchens opening up to help people impacted by Coronavirus, so we reached out to them via the council and for several months now, twice a week, we've been providing them with supplies of fresh produce from our demonstrator farm. We've built up a really good relationship, to the extent that I think Dundee City Council would like to have their own vertical farm once the pandemic is over!" says David.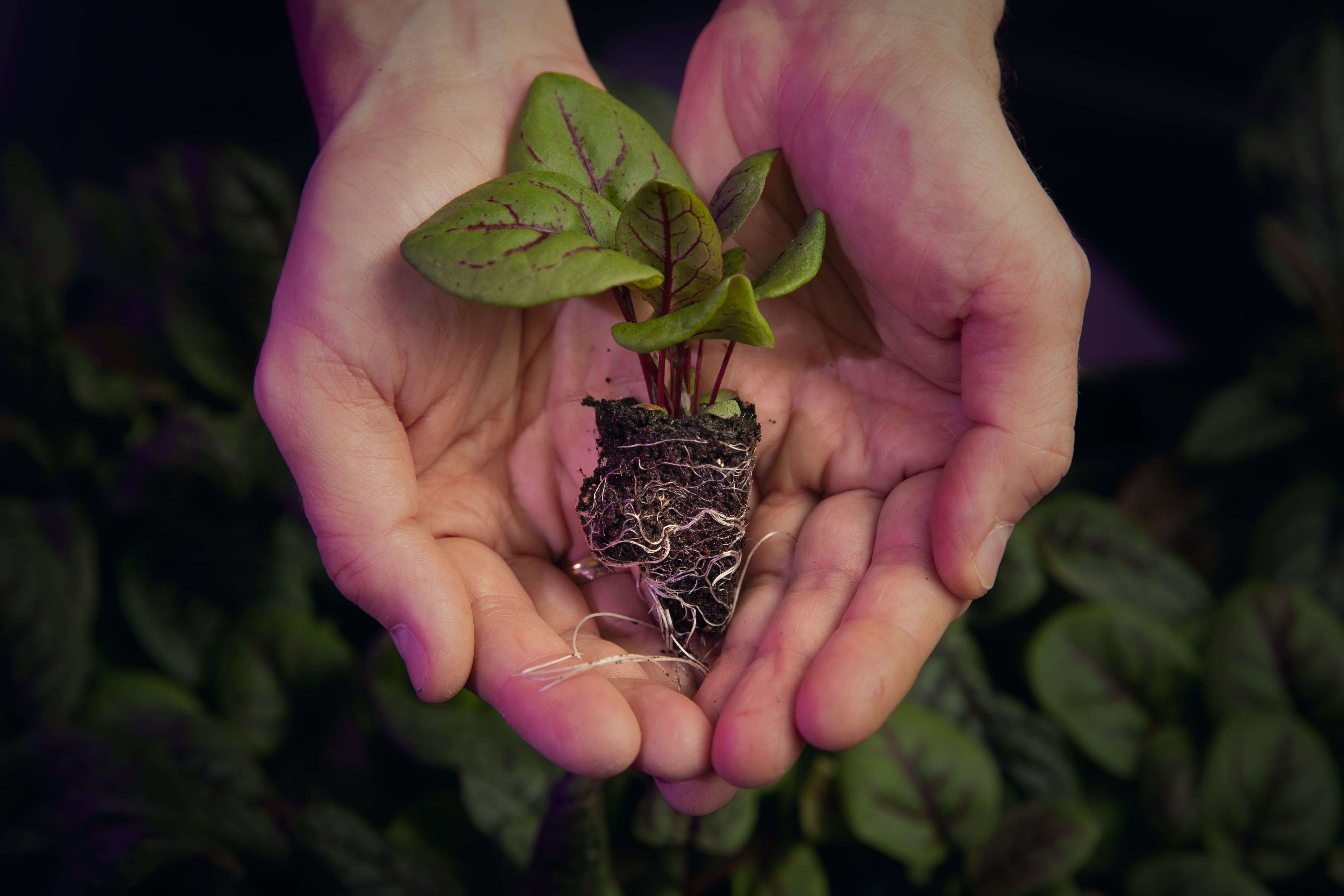 Branching out
Contemplating the impact the COVID crisis has had on demand generally, David comments, "It has got people thinking more about national food security, and re-localising the food supply chain to harness the environmental as well as economic benefits. In terms of our work in the buildings market, too – these spaces can't be used in the same way they were before. You can't change the bricks and mortar, but with the flexibility our Intelligent Grid can afford you, you can easily and continually repurpose the interior."
Systems have already been sold as far afield as Perth in Western Australia, and IGS has its sights set on further expansion into the Gulf and South East Asia. The business has opened an office in Chicago as a base from which to branch out into North America, with one major prospective US customer currently and another in Canada. Europe remains a key market too, with two or three locations already established, and the team is also in negotiations with the Singaporean government on setting up an operation there.
Overseas expansion can bring with it new and complex sets of regulations, so IGS has relied on JC's team of international experts for assistance with global mobility and international tax matters. "There are a lot of different things we're looking at in terms of international work, so there are correspondingly a lot of considerations we're seeking advice on from JC."
Scoring a try
With 2021 plans fast taking shape and growth showing no signs of slowing, it's an exciting time to be part of IGS. Over the last six months alone the business has boosted headcount from 10 people to 60 people, managing to bring them on board and assimilate them into the incredibly positive team culture that IGS has cultivated even in the midst of a pandemic.
"I always say that it takes 15 players to score a try, and I fundamentally believe that," David states.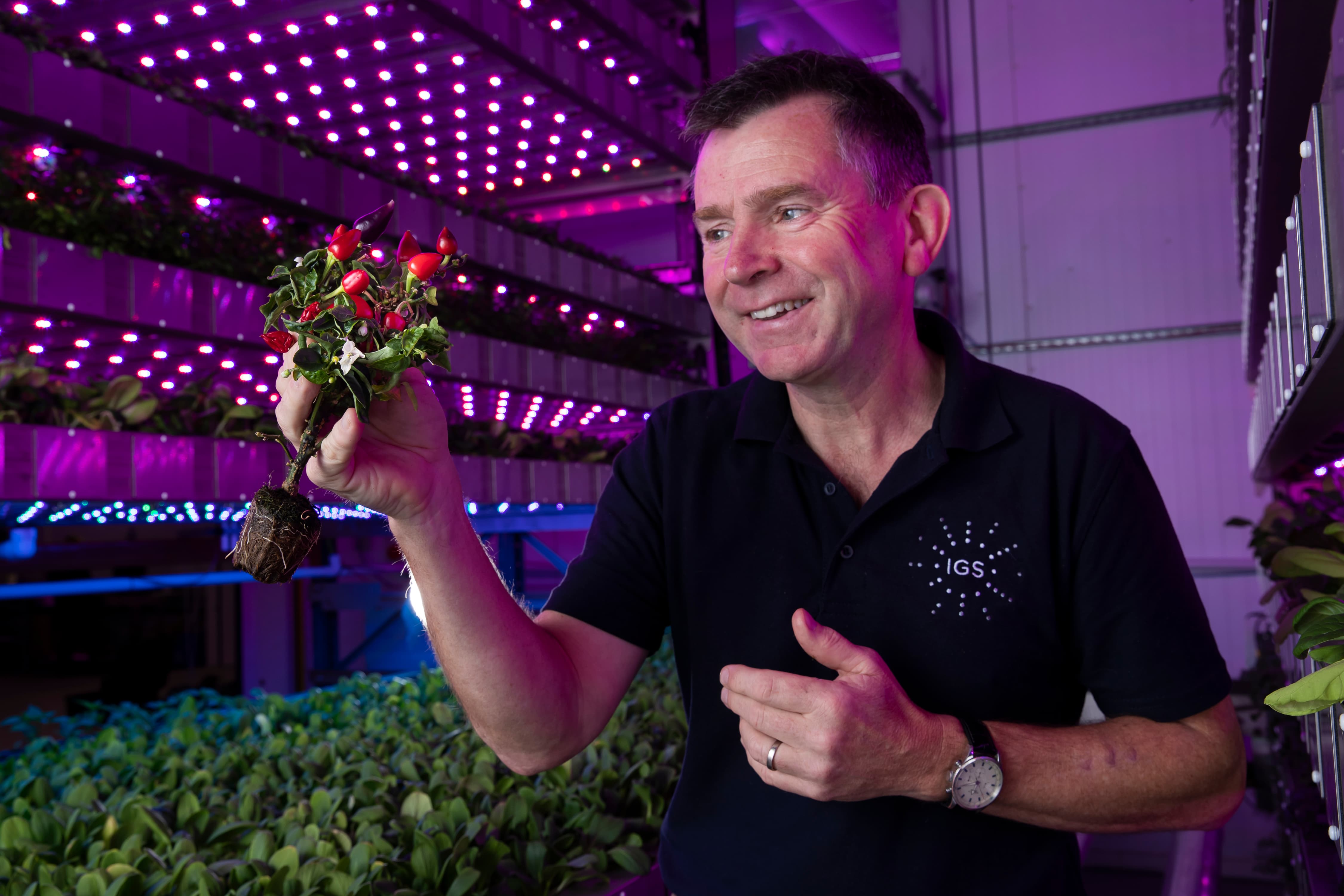 The best part of my job is bringing in these skills and talents. I make sure that it's absolutely clear to our team what their contribution can be and how valued that is. All this has to be based on a winning culture. I see the role of leadership as serving the people, helping them grow and contribute to the success of others as well as the success of the business.
David Farquhar
Chief Executive, Intelligent Growth Solutions
It's clear that creating an environment in which talented people can thrive is at the very top of David's agenda, and it's no surprise to see how successfully this has been achieved. Environments are, after all, what IGS do best.