The branch closure foxtrot – fast, slow, and then fast again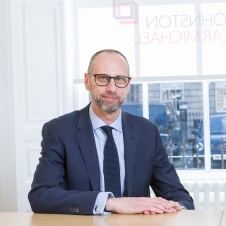 Ewen Fleming
London Office Head, and Head of Consulting & Financial Services
UK Banks are facing a post-COVID identity crisis, and it's essential that they think hard about completely discarding their physical outlets if they wish to stay relevant in the future.
It will come as no surprise that in the last 12 months, footfall in bank branches has fallen and digital banking has increased. After all, customers through the pandemic were told to stay at home.
Yet the recent acceleration of planned closures raises the question of whether the reduction in branches is an inevitable consequence of customer preference for digital banking - or a convenient cover story for the banks to cut costs?
In my recent White Paper, I take a look at lessons to be learned from the retail sector and argue that banks must take great care with every component of their brand, to make sure that their purpose, products, channels, and their marketing/PR are all aligned with the changing demands of their customers. A 'me too' strategy that follows the pack is unlikely to be successful long-term, and risks leaving large banks unable to manoeuvre fast enough to keep up with more nimble competition.
In March 2021, the US bank association (BAI) published a report entitled, 'What's next for Bank Branches', commenting that, "While some have predicted decimation of branch networks after COVID, many branch experts say evolution, not elimination, is the better path".
The report also suggests, "Financial institutions should view branches not as transactional business centres but as relationship-focused customer experience stores. Branches should be centres of more high-value activities; sophisticated services that are provided on a face-to-face basis can build customer bonds and enhance the brand".

The on-going debate of digital vs. physical raises two key questions about differentiation:
Channel Differentiation.
Are the same products and services being offered online and in-branch? And if not, then which channel(s) will customers choose for which services?

Brand Differentiation.
If traditional banks and building societies close their branches, will the loss of this key differentiator lose them ground to their digitally native, neobank competitors?
Since the 1980s, banks have been encouraging, or at times forcing, customers to use more cost-effective distribution channels – initially through telephone banking and more recently via online and apps. At the same time however, online retail behemoth Amazon recently announced plans to open on the high street. The resulting Amazon Fresh store in Ealing, West London, mirrors similar stores in the US, and suggests the digital giant recognises the value of a physical presence.
Interestingly, the store supplements rather than replaces its online offering, by providing fresh produce, a click-and-collect point, and a returns service. Also, in a unique customer experience, shoppers check-in to the store using their smart phone, pick up goods and then walk out, rather than check-out, being automatically charged for what they have picked up and packed.
Where might Banks sit on this digitally-enabled High Street?
In considering what customers really want from their banks, it's interesting to explore how recent decisions have created a set of paradoxes relating to the decisions taken to close branches:
Paradox 1: Financial systems integrity. More and more consumers are becoming digitally active, yet banks and individuals are more exposed to malware and banks to cyber-attacks than ever before.
Paradox 2: Guidance to cut through complexity. Face-to-face interactions are better, and sought by many, for handling complex queries or providing advice, yet few banks offer these services in branch.
Paradox 3: Access to cash. Bank branches have always been places to pay-in and withdraw cash, yet most of the UK population who are still reliant on cash are not the target demographics for banks and building societies.
Paradox 4: Reliable access to funding. Branches have typically seen larger deposits and 'stickier' customers, yet currently, with savings stocks high, banks are not competing for deposits to lend out.
Paradox 5: New Customer Acquisition. Big banks are better at retaining their existing customers than attracting new customers.
Paradox 6: Funding. In their current 'multi-purpose' format bank branches are not as attractive as they once were, yet face-to-face is still valued for other reasons.
Paradox 7: Differentiation as a brand beacon. In their haste to digitise the incumbent banks are mimicking digital-only neobanks like Revolut, Monzo and Starling, yet in doing so they are competing in an area that favours the newcomers rather than leveraging their own strengths.
In closing branches and not providing 'friendly and accessible' human contact, will the big 5 Banks lose the chance to differentiate their offering as a beacon for their own brand of customer service? Branches can enhance trust and a physical presence can make brand promises more tangible for customers.
Amazon think there's a place for them on the high street and are investing to prove it… and maybe they're right. Maybe the people who've drafted the obituary for bank branches have spoken too soon. The challenge for banks is to determine a clear purpose that makes branches a useful destination.
Read the full White Paper discussion on strategic bank closures here.