Cashless society - a brave new world?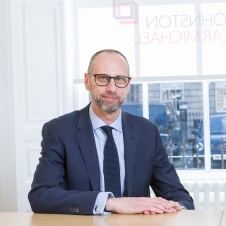 Ewen Fleming
London Office Head & Financial Services Partner
It seems we are on a march to a cashless society as we hear daily of the increased number of payments being made by card. Sainsbury's recently announced it is testing a till free store near its head office in Holborn, London. No cash or cards will be accepted, and shoppers will pay by using an app on their mobile phone.
Whilst some see such developments as progress, others have concerns about the impact of bank branch closures and shrinking free-to-use ATM networks as outlined this recently by Which? on access to cash, particularly in rural and deprived inner-city areas. There are fears that restricted access could penalise some of the most vulnerable in our society.
It has been suggested that banks may not see it as economic to provide cash and transactional services. Yet if not them, who?
According to UK Finance, which represents the banking industry, banks are committed to ensuring banking remains accessible to all with over seven million basic bank accounts in the UK, helping customers across the country access vital banking services.
However, providing proof of ID to meet the stringent anti money laundering standards represents a challenge for many to apply for bank accounts. Of those who do seek to open a bank account a significant number have their application rejected if they do not have enough forms of ID, or if their credit rating is poor.
Many countries are farther down the track to a cashless society. At the end of 2018 the World Economic Forum reported that the outstanding value of cash in circulation in Sweden had dropped to 1% of Swedish GDP. Norway is in a similar place with banks ceasing to offer cash services and refusal of cash by retailers increasingly widespread.
Scandinavians seem to be early adopters in adapting to new technologies. In Sweden the instant payment app Swish has been downloaded by more than half of the population and has become a popular way to share a restaurant bill, distribute pocket money to children, collect money for a birthday gift at the office and to pay for goods at street markets. The implication is that within a few short years, if the current trend in cash usage continues, Swedes could find themselves in a situation where cash is no longer accepted as a means of payment.
The learning from Sweden and other countries who are more advanced than the UK in relation to electronic payments, is that the march towards cashless is inevitable. Nevertheless, Philadelphia in the US is to ban cashless stores from 1 July 2019 to avoid discrimination of the unbanked and underbanked.
Perhaps rather than impose bans and regulations on retailers and banks to slow down progress, effort should instead be made to find solutions and to remove the barriers to having a bank account.
This raises some crucial issues regarding the state's role in the payment market. For time immemorial, the public has been offered central bank notes and coins, and if cash stops working it would leave all individuals to rely on the private sector alone to get access to money and payment methods. Whilst the financial crisis of 2008 looms fresh in the memory, this is unlikely and therefore alternatives will need to be found where the Bank of England retains some control.
Perhaps this is required for a state backed e-currency as well as a blockchain enabled utility for identity verification to make access to a credit only bank account a human right.
To chat more about the impact a reduction in access to cash may have, please get in touch with me here.