One for the books: Suzanne Adshead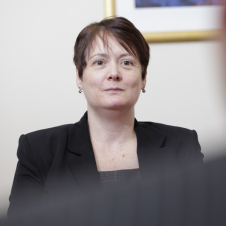 Suzanne Adshead
Restructuring Director
"'Tell me what you read and I'll tell you who you are' is true enough, but I'd know you better if you told me what you reread," said François Mauriac. At Johnston Carmichael, our people are characters not digits - and so to get to know our characters, we asked them about the characters they love. Here, Restructuring Director Suzanne Adshead tells us all about her favourite fiction.
What's the first book you remember reading?
I can't pinpoint exactly which story, but it was definitely an Enid Blyton book. I worked my way through her entire back catalogue; 'Famous Five' to 'Malory Towers' and everything in between!
Is there a particular book which has really stuck with you? What stood out about it?
I really enjoyed 'The Book Thief' by Markus Zusak. It's a very powerful book about World War II, from the viewpoint of ordinary German people who performed quietly heroic acts. It offers a new perspective on a period in history that's been depicted in a myriad of different ways, and it's a very moving story.
What book could you read over and over again?
I've read the Harry Potter series several times; first to my children and then just for myself! Every time I go back to them I'm amazed by the intricacy of the plotting, from the very first book right through to the end. Often you don't realise just how elaborate the storyline is until you re-read them - once you go back to the beginning, you recognise tiny references and realise there were seeds planted in the early books that turn out to lead to something much bigger in the later novels. The sheer amount of planning required to connect seven books in such a complex but elegant way is incredible.
Is there an author or character who inspires you?
When I was in my teens I really admired Jo March from 'Little Women'. She always seemed very contemporary for her time and didn't conform to what was expected of young women - she knew her own mind and wasn't afraid to speak it.
What does 'putting clients front page' mean to you?
Working in Restructuring, for me putting clients front page means listening first and foremost. Once we fully understand their issues and where they have come from, we can work out what we need to do to help make their story develop in as positive a way as possible.
I attended quite a few events over the course of the festival; a combination of authors I've seen previously, like Chris Brookmyre, and some I was seeing for the first time such as Markus Zusak. It was so interesting to hear about their new books and where they get their inspiration from, particularly Markus Zusak as I'm such a big fan of 'The Book Thief'.