One for the books: Wemyss Stewart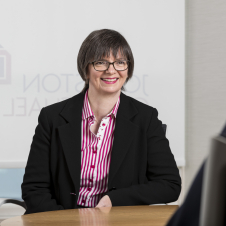 Wemyss Stewart
Business Advisory Director
Proud supporters of Edinburgh International Book Festival
At Johnston Carmichael we don't just balance books; we read them too. We're thrilled to be supporting the Edinburgh International Book Festival this year, the largest and most dynamic of its kind in the world. To celebrate a successful first few days of events, activities, and lots and lots of stories, we caught up with Business Advisory Director Wemyss Stewart to discuss the authors who inspire her.
What's the first book you remember reading?
I was a big fan of Enid Blyton's 'Famous Five'. I loved the concept of the five getting together every holiday and going adventuring! That's how I spent my own childhood - not that where I grew up was on the coast with my own island nearby, but my friends and I were always playing in the woods and fields behind our houses, having fun and pretending we were the Five getting embroiled in all their escapades. Hours and hours were passed like that; we were all waved off by our parents after breakfast each day and they knew they wouldn't see us again until we were hungry!
Is there a particular book which has really stuck with you? What stood out about it?
'I Know Why The Caged Bird Sings' by Maya Angelou, the first in her series of autobiographies. She really changed the way I thought about things and the way I understood the world. I was in my late 20s before I discovered her, but that was the first of her books I read and it had such a profound influence on me. You can never truly understand the impact of racism if you haven't experienced it directly, but Maya Angelou's writing is so powerful that it gives you a very real sense of what she and others suffered. It horrified me, and I was in awe of how forgiving she was towards the people who had treated her that way. That book started a lifelong admiration for her: her writing and her humanity. She experienced such hardship throughout her life and yet she remained strong and positive and loving - I think that's something very special. She's a true inspiration. I own a signed book of hers which is an extremely treasured possession - it stays in a plastic wrapper and only comes out on special occasions for special people!
What book could you read over and over again?
It's funny because I actually tend to read books only once, yet I can't get rid of a single one of them! Every time I think "right, I need to clear some of these out and donate them to charity", I set about it and end up keeping them all. I tell myself "oh no, not that one, I might read that again…" - and I never do.
What does 'putting clients front page' mean to you?
It's about knowing what's important to your clients and keeping that front of mind at all times. It's thinking about the bigger picture for them and their business, not just the specific piece of work you're carrying out. For example, if you're reading something - be that technical updates or industry news - if your client is front page for you, you'll instinctively think "This will affect my client" or "This would be of interest to my client" and be able to provide that added value for them.
What are you most looking forward to about this year's Book Festival?
I'm attending lots of different events this year, but I'm most looking forward to seeing Doddie Weir discuss his autobiography, 'My Name'5 Doddie'. He's a very inspiring individual. Since he announced his Motor Neuron Disease diagnosis I think the manner in which he's dealt with it and the way he's taken on the battle is amazing.
The charity he has set up for others affected by MND, the My Name'5 Doddie Foundation, is actually the Edinburgh office's nominated charity this year. The Foundation does incredible work and offers invaluable practical support, which I've seen first-hand through a friend of mine who suffered from MND. The way Doddie has used his platform and his voice has had a real, tangible impact on moving MND research and trials forward in the last 18 months, and I think he deserves a tremendous amount of admiration. I'm delighted to have the opportunity to hear from him in person.