One for the books: Craig Hendry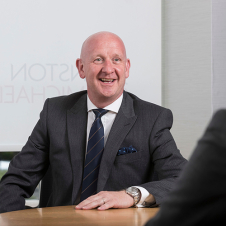 Craig Hendry
Managing Director & Chartered Financial Planner
It is said that "Reading is a basic tool in the living of a good life" - and helping clients to live life to the fullest is the core tenet of Johnston Carmichael Wealth's philosophy. We caught up with Managing Director Craig Hendry to find out more about his own reading habits and the books which have inspired him.
What's the first book you remember reading?
'The Adventures of Huckleberry Finn' by Mark Twain. I found my dad's old copy on the bookshelf and although it was a very thick book, which is daunting when you're young, since he'd obviously read it a few times I thought I'd give it a go - and I was riveted immediately. When I first read it I was just spellbound by what Huck and Jim were getting up to; I didn't understand the cultural themes and messages behind it until I re-read it when I was older, and it took on a lot more depth at that point.
Is there a particular book which has really stuck with you? What stood out about it?
I'll start by clarifying that this isn't as dark as it sounds! It's a book called 'The Profession of Violence', by John Pearson, and it's about Reggie and Ronald Kray. It was actually made into a film a few years ago - 'Legend', with Tom Hardy. I chose it at random from a wall of novels in an airport bookshop, and I was gripped as soon as I started reading. The art and music and fashion of 1960s London has always appealed to me, but I had no real knowledge of the gangster scene at the time and found it quite intriguing - East End becoming West End and the fusion of cultures.
Since picking up that first book, I've read several more on the twins themselves and offshoot gangster movements. What I find particularly curious about the Krays is how they operated less like traditional gangsters, and instead were almost like celebrities at the time. They held an immense amount of control over the community and were very well-respected and looked up to, despite the fact that they were ruthless criminals. It's an interesting story, but they're certainly not individuals I wish to follow in the footsteps of!
What book could you read over and over again?
At school I studied 'Animal Farm' by George Orwell, and subsequently I read '1984'. The way Orwell writes makes me want to read those two time and time again. I'm not particularly given to reading fantasy novels, the books that interest me tend to be non-fiction - but Orwell's are a very compelling combination of the two. I find it fascinating how he creates what are ostensibly fictional stories, but with these underlying, real-world messages which become clearer every time you read them. With '1984' for example, it's amazing how someone can have a vision of the world so far in the future and then have parts of it prove so accurate - albeit his timescales maybe needed pushed forward 15 years or so before you started to see it.
Is there an author or character who inspires you?
As I mentioned, it tends to be non-fiction books I enjoy most, so the characters that inspire me are actually real people. 'Playing The Enemy' by John Carlin is a biography of Nelson Mandela, specifically covering the events leading up to the 1995 Rugby World Cup. It tells the story of how Mandela worked to unify the racial divisions in South Africa after apartheid, recognising that supporting the South African rugby team might be the key to bringing a very troubled country back together. Against all odds he continued to back this team, he stuck to what he felt was the right thing to do - and in the end he was shown to be correct. It was a real turning point for the entire nation. It's probably the best business book you could read, even though it's not a 'business book', because from a leadership point of view Mandela is a true inspiration. Everyone, in all facets of life, could learn from his tenacity, how humble he stayed, the tactics he used, and the example he set for what can be achieved through collaboration. Without doubt he's influenced my own leadership style.
What does 'putting clients front page' mean to you?
For me, putting our clients front page means making sure that they can live life on their terms. It's important to us that whatever stage of life people are at, they make it count. Our job is to understand their situation and what they want to get out of life, and to help them maximise that based on their circumstances - whether that's encouraging them to save or encouraging them to spend. Essentially we want to take the misery out of money so that our clients can live the life they want to.
We sponsored the 'She's Got A Ticket To Ride' event at which Mariella Frostrup discussed her new book 'Wild Women'. It's an anthology of travel stories from women from all walks of life, all over the world, and Mariella was an incredibly interesting and engaging speaker. It was fantastic to hear more about the book and to spend a great evening in the good company of clients and colleagues.