My JC Path: From school leaver to graduate apprenticeship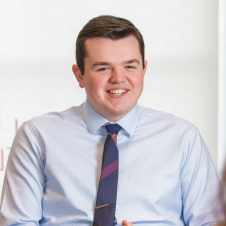 Robert Lamb
Business Advisory Assistant
Having joined our Inverurie team directly from school in 2018 on our JC Futures programme, Business Advisory Assistant Robert Lamb is now balancing work with study through a Graduate Apprenticeship with Robert Gordon University. We caught up with Robert on why he chose the apprenticeship route and what he loves about his role.
When did you join JC and what attracted you to the JC Futures programme?
I joined JC in February 2018. The JC Futures programme was an extremely attractive option for me when leaving school as it opened my eyes to the fact that you can still achieve specialist and professional qualifications without having to go in to full-time education – I could gain valuable working experience in the accountancy sector through work while still progressing academically.
What have you found to be the benefits of taking an apprenticeship route?
By working full-time whilst studying for my professional qualifications, I have been able to earn money and become financially independent at a young age, which would not have been possible had I decided to go in to full-time education upon leaving school. Jumping into an office setting has also allowed me to get a 'hands-on' education, which for me is the best way to learn. Joining the firm at a young age was quite daunting at first, but I quickly got into the ways of office life, and have met so many new people. It's given me a head-start on creating a network of contacts which will be of great value later in my career.
What do you enjoy most about working at JC?
One of the most enjoyable things has been working closely with and learning from my colleagues. Since I started at the firm I have met so many people, from different locations, with varying specialties. This has really helped me to see the things that I have learned in practice, and has also shown me the many different routes you can choose to go down within JC once you have attained your professional qualification.
Another hugely enjoyable part of my role is that, while working through my apprenticeship, as I progress further in my studies, the jobs I'm completing in the workplace become gradually more challenging. This keeps the role interesting and allows me to put my new-found knowledge in to practice.
Why would you recommend apprenticeships to other school leavers?
If you are interested in going into work straight after leaving school, and would like a role that has a countless progression opportunities and the option to gain professional qualifications whilst working, then an apprenticeship is definitely a good route to go down. Studying while in the workplace allows you to learn from professionals who have been working in the industry for years, and who have also been through the process of gaining their professional qualifications too. The knowledge and advice you receive from colleagues is priceless. It is also fantastic to be able to put what you have learned in to practice, as and when you learn it. If you go into full-time studying first, it may be a number of years before you can start putting anything into practice!
What are your top tips for staying motivated while balancing work and study, especially from home?
One of my biggest tips to stay motivated would be to take a break between finishing work and starting studying. Even if it is just for 20-30 minutes, take a bit of time to yourself to stretch your legs, get a drink and get some fresh air. I usually go out for a run at 5pm when I finish work, before coming back and doing an hour or two of studying. That makes it feel like there is more of a separation between working and studying.
Also, a change of scenery always helps. It can be quite demotivating thinking that you will sitting at the same desk working 9 to 5, then studying at the same desk for hours after work! Switching to a different room, or even going outside (if the weather allows), can really give you a boost and, again, help create a bit of differentiation between your work and your studies.
Lastly, if I am ever struggling for motivation, I tend to step back and look at the bigger picture. I know that studying and working at the same time won't last forever. Studying is only short term, but the rewards are life-long benefits (like your professional CA qualification) - so the hard work in the short term is definitely worth it in the long term!
For more information on JC Futures, visit our Careers page now.