My JC Path: From a chance encounter to a financial planner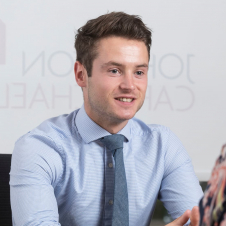 David Young
Financial Planner
David Young joined our Wealth team in February 2017, and four years later has grown his own way to become a fully qualified Financial Planner. Here, David tells us about his JC Path and how taking the initiative led him to a whole new career.
How did you get into financial planning?
I studied Economics and Business Law at Strathclyde University, which gave me some grounding in finance, but I was originally intending to go into the oil & gas sector - I had a role set up with a company in Aberdeen. Unfortunately, when the time came, the oil price had dropped substantially and the job fell through last minute. I worked in the bar of a local hotel while continuing to look for other roles. Through a mutual connection, I'd seen Craig Hendry, Managing Director of Johnston Carmichael Wealth, posting about the Wealth team on LinkedIn, and then by complete coincidence saw him in the car park of the hotel one day! So I seized the opportunity, introduced myself and started up a conversation, and managed to get an interview from there.
What had stood out to you about the Wealth team?
The energy and passion Craig had for the firm and the team was very clear even through his social media posts, and then when I joined the team I could see how that flowed from the top down. It's a very close team and we're not siloed into office-based divisions; everyone works together and supports each other.
It's a very close team and we're not siloed into office-based divisions; everyone works together and supports each other.
Tell us about your JC Path since joining
From the outset the senior team knew where they wanted me to grow to, so there was a fast-track plan laid out from 'day one' to 'financial planner' – almost like a graduate scheme. First and foremost was learning how the systems worked and getting a wider understanding of how the entire function came together. My first couple of weeks involved doing the mail, then I spent time with the Technical Support team dealing with the processing of the business and the background work there. Following that I moved into what would traditionally be known as a paraplanning role, so I was writing more complex reports and developing cashflow plans for clients. That was a good bridge between doing the background work while also starting to be involved in a client-facing capacity; sitting in on meetings and seeing how the planners talked the client through the cashflow plan that I'd produced. After that I shadowed Craig for 6-8 months, going around the country on a mini tour of JC's offices! I helped with the prep work for his clients, sat in on the meetings and got to know how he structured them and how he delivered advice, chipping in where I could. I was promoted to Financial Planner in October 2020, so I've now moved into doing that on my own and having meetings with clients myself – though virtually rather than face to face!
It's been useful to have that experience in so many different roles within the team as I have a real understanding of how everything comes together. I was the first person to trial the fast-track path, and there are now four others in Wealth following the same route, so we've been able to finetune it which is great.
How did you balance work and study?
I think I've done about 9 or 10 exams in the last three years! Because I had my path laid out with the end goal of being a planner, I was sitting them quicker than you might usually. It is hard to balance - it wasn't always a fun prospect having to stay in the office and go through a book when everyone else has packed up for the day. A couple of things did have to fall by the wayside, my fledgling amateur football career being one of them! But I had great support from the Wealth team. Over the last year or so we launched an internal training academy which has a lot of online courses, exams, videos and tutorials. A lot of work has gone into that and the whole team is really benefitting from it. My next goal is to obtain Chartered Financial Planner status, so I've more exams to come over the next few years too!
What's your favourite thing about your job?
Since becoming a financial planner, I'm building my client bank and developing relationships so I'm speaking to a lot of people who are not new to Wealth, but are new to me. Often people worry about having conversations and establishing relationships from zero, but that's been the most enjoyable part for me. It's something that was born out of working in a bar for a long time, as it's a similar scenario – you're meeting people you don't know, chatting to them, trying to keep them engaged. I would say that's one thing I would recommend to people who are 16 to 18 – regardless of what you want to do eventually, get some experience working in hospitality or retail, something where you have to talk to people you don't know. It brings you out of your shell and helps develop your conversational and language skills.
What keeps you busy outside of work?
During the warmer months I play golf – I've an ongoing rivalry with a member of our private client tax team! At the moment I'm listening to a lot of podcasts. It's a good way to unwind whilst still getting something useful out of it. There are a few I listen to on a regular basis; The High Performance Podcast - stories about sports stars and entrepreneurs that have gone from nothing to building big businesses and careers. I also listen to an investors podcast (We Study Billionaires) which I imagine would be quite dull for most people! And I like Joe Rogan's, which is probably one of the most popular in the world. I only tend to watch tv if Man United are playing, which is actually a positive experience at the moment for the first time in about five years. That's my shining light right now – we might be in lockdown again, but Man Utd are top of the league! (NB: This was the case at the time of writing…sadly no longer!)