My JC Path: Growing my confidence as I grow my own way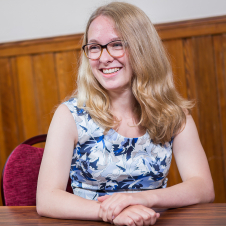 Jess Insall
Audit Assistant
Jess Insall joined our Glasgow Audit team fresh from school in 2019. Now nearly three years into her six-year JC Futures training contract, Jess explains how she's growing her own way with a confidence she never knew she had.
So Jess – how did you hear about JC Futures and what made you decide to go down this path?
I knew university wasn't for me so apprenticeships were the way to go, and I wanted something that would earn me really valuable qualifications. Accountancy seemed like a perfect choice because I'm fascinated by business and I love a good spreadsheet! JC Futures stood out to me as a very well-supported, interesting programme. I applied with no prior experience in accounting so I wasn't expecting to get an interview, but even the application process was such a positive experience. JC was one of the only firms to send a receipt of application, which seems like a small thing but when you're doing all of this for the first time, the small things matter! It felt as if they genuinely cared about the person on the other end of the submission and didn't just see you as 'next in line, applicant number 72'. Then when I was invited to interview, it really reaffirmed my choice that JC would be a great place to work. I never thought I'd say I enjoyed an interview, but it just felt like I was chatting to people I'd known for ages about what made me tick. It seemed like a really natural fit.
Would you recommend JC Futures route to other school leavers?
Absolutely. It does feel like quite a risk going straight out of school into work but I would definitely encourage people to take the leap. You don't know what's out there until you try it.
The qualification of chartered accountant opens so many doors too. You can work in practice, you can work in industry – every business needs their figures looked after, so there's no limit on your potential. This was definitely the right choice for me and I'm very thankful that Johnston Carmichael gave me that chance by hiring someone with no previous experience. I think that's a very powerful thing.
What's the best thing about working for Johnston Carmichael?
Working at JC really is a case of 'the more you put in, the more you get out'. People are so supportive if you want to push yourself. Being encouraged to come up with ideas and take ownership of those ideas has been so exciting for me; I love having the opportunity to explore different ways of doing things.
What part of your role do you find most enjoyable?
The variety of people that I meet. Going out to see clients gives you so much exposure to so many types of businesses in different sectors and at different stages in their life cycles. Learning new things from everyone I meet is a very enjoyable part of the job for me. If you really invest in learning about your clients and their businesses, it makes you a better adviser because you understand more about how they operate and what their goals and aspirations are, so you can give them a much higher level of assurance.
What is your greatest achievement so far?
I'm most proud of how much more self-confidence I've gained. When I first started I had quite low self-esteem, but being cheered through difficult study periods, or a balance sheet that won't balance, with the support of the most amazing teams, has really pushed me to realise what I can achieve. JC's approach is brilliant for building up your confidence because you feel like you're empowered to do the work yourself, but if you do need help, there will always be someone to ask. The mantra in the team is 'there's no such thing as a stupid question' - nobody judges you for not knowing!
How else has the JC Futures scheme helped develop your skills?
Starting off with the AAT bookkeeping certificate before moving onto ACCA has been really useful, because no matter how far you progress in audit, it all comes down to debits and credits! It really is such an important part of accountancy and it's so useful to have that grounding.
The approach of studying alongside work is completely different to what I'm used to as well. When you study at school from a textbook without having the context behind it, it can sometimes feel like learning by rote, whereas now I actually get up early so I can study before work! I have so much more motivation because the material feels so relevant and I know it's going to help my career. It's a huge help when it comes to problem-solving and understanding what's going on in a set of accounts. Although there are always people around me to ask, it's fantastic to feel like I have the technical knowledge to do as much of it as I can by myself.
Where do you see your JC Path leading?
If you'd asked me this when I first started, I thought I'd probably finish my qualification then move straight into politics or business – but now that I've been working in it for over a year, I've absolutely fallen in love with audit! I think it's amazing having the privilege of going into a business and seeing how it works and what's going on. Every business you go into started as someone's idea, and they had the drive and the passion and the confidence to make that into a reality; and then they had the trust in other people to grow it into something so big it needs an audit. Audit really helps you see how much a business impacts on so many different people. I find that so remarkable every time I talk to a client. It's great to have a job that I genuinely really enjoy.
For more information on JC Futures, visit our Careers page now.