My JC Path: Downsizing from Milky Ways to the World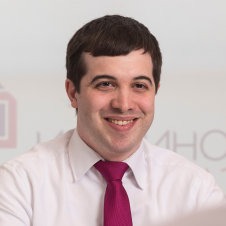 Jonathan Russell
International Tax Senior Manager
When you think of "student", a Tax Manager might not be the first person that comes to mind - but at Johnston Carmichael, our people never stop learning. Jonathan Russell joined our Edinburgh office in 2017 and is currently studying towards an Advanced Diploma in International Tax (ADIT). Here, Jonathan tells us more about his JC Path and how it helped him discover his specialism.
Have you always worked in tax?
Not at all, but I have always been surrounded by it. I owned and ran a convenience store for 12 years, which my mum and I bought when I was 16. My first exposure to the world of accounting was dealing with boxes of invoices once a quarter to complete my VAT returns. After getting my MA in Accounting and Business Management I studied a postgraduate degree in Forensic Audit and Accounting - and that was enough auditing for me! I then enrolled in HMRC's graduate scheme, and that's where I worked until I moved to JC.
I've found the experience of having owned a business really valuable when advising clients on theirs - it makes you more commercially-minded and you have personal insight into what a client is going through, which makes it much easier to stand in their shoes.
What attracted you to JC?
During my time at HMRC I'd liaised with JC on various enquiries, and always got on well with the team and found them very easy to work with. I also felt that I could learn a lot from the people here, given the extent of tax expertise within the firm. That certainly proved to be the case once I joined! There's a very collaborative atmosphere. Everyone's working towards the same goal and shares the mindset that it's not just about bettering yourself, but bettering the team around you too. People are willing to help each other and willing to learn, and that makes life easier for everyone.
Speaking of learning… how did studying for your ADIT come about?
I trained in pure corporate tax at HMRC, but the more exposure I had to international tax matters, the more I found it interesting. Once I moved to JC I worked with an increasing number of international clients, so I indicated to the team that I'd like to develop these skills further and identified ADIT as my next goal. The firm was very willing and open to helping me progress in an area I felt was a strength of mine. I've already passed two out of the three ADIT papers, with my final exam in December 2020.
I'm enjoying the course and I love working in this area. It's fascinating how businesses interact differently in different countries - commercially, culturally, and from a tax angle - and how that ultimately affects what's happening in the UK. International tax is an important specialism for JC - our Tech sector, for example, continues to grow rapidly, and a lot of tech firms go global very quickly so we're increasing our international tax expertise in line with that to make sure we continue to provide the best service.
Dealing primarily with international businesses, you must work closely with our fellow PKF member firms?
Absolutely, I'm frequently in touch with PKF colleagues from all over the world. It's fantastic having people on the ground in the locations our clients are working in, although sometimes it means very early or very late conference calls! I attended the PKF International Tax conference in Dubai at the end of last year, as I have for the last three years, and it's always great catching up with colleagues, making new contacts and discussing mutual clients.
I think it's reassuring for our clients to know that we do genuinely work very closely across the PKF network. We're not just picking names out of a contact list and passing them along - we actually know these people and we know they can help.
Take control of your career with a firm that helps you grow your own way - visit our Careers page now.