My JC Path as a graduate programme student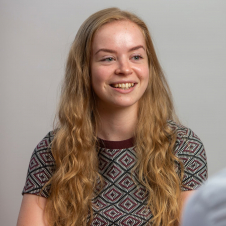 Aimee Milne
Business Advisory Senior
It's that time of year again where graduate programmes open for applications and post-university decisions need to be made! Someone who remembers this period well is Aimee Milne, Business Advisory Senior in our Inverurie office.
Aimee studied Accounting and Finance at Robert Gordon University, and after graduating enrolled on our graduate programme where she is now studying towards her professional qualification. Here, Aimee shares an insight into graduate life at JC and why she chose the firm.
What qualification are you studying towards at the moment?
I am studying towards the ICAS (Institute of Chartered Accountants Scotland) chartered accountant qualification. Thankfully, I have now passed all the exams and just need to sign off my logbook in October, after which I can sign off emails as Aimee Milne CA!
Have you always wanted to work in accounting? What made you decide to follow this path?
Honestly, no, I haven't always wanted to work in accounting. Up until sixth year in school I had no idea what I wanted to do. In sixth year, I completed Higher Accounting with no prior experience and my teacher suggested to me during the year that I was getting on really well with it and I should consider about applying for an accountancy-based university course. And now here I am!
What made JC stand out when you were looking for graduate opportunities?
Attending RGU, I was given the opportunity to go on a full year industrial placement during third year. Johnston Carmichael's team came out to speak to us at university first and I was really impressed with the presentation they gave. They explained about how the size of the company compared to other larger firms means you are not just another number and that there are endless opportunities to be involved with, so I applied and was lucky enough to be chosen for the placement. At the end of my placement year, I was given an exit interview and offered a graduate role on the basis of graduating university with a sufficient degree classification, which I did.
It was a no-brainer for me to choose JC to come back to as a graduate after my placement year. I was so impressed with how much time and effort was put into training me and making me feel like a part of the team.
What does your day-to-day look like?
My role is mainly to draft year end accounts and VAT returns, although I have recently started reviewing VAT returns and year end accounts prepared by my colleagues too. I'm also involved in client training, helping businesses move onto cloud software for their book-keeping. I really enjoy speaking to clients and getting to know the people behind the businesses that we do work for.
What's your top tip for balancing work and study?
My top tip on balancing work with studying would be to make sure you only set realistic commitments at work. Your line manager will help you manage your workload around studying - they are a great help in prioritising work, setting realistic deadlines, and re-arranging work where needed. Unfortunately for us people pleasers, you can't do everything you would like to and the sooner you realise that the less of a headache you will cause yourself!
What support do you have from your team and the wider firm?
The support from my team has been invaluable. Everyone is willing to help each other out. For example, colleagues that are no longer studying can offer to pick up your work if you are struggling to manage it all. The wider firm is also great at giving plenty of study time and with your out of office on, everyone knows not to contact you so you have peace to study – similar to an out of office for your holiday time.
What's your favourite thing about working at JC?
My favourite thing about working at JC is the social side of the company. We are a very sociable bunch, no stereotypical accountants here! There's a great culture - everyone is open to help one another across departments and offices. The opportunities that are available to you outside of your day-to-day job are also great. I'm involved in the CSR (Corporate Social Responsibility) committee which is really rewarding. We often have fundraising events like bake sales and sweepstakes but also organise social events such as our recent summer BBQ and trips to the Races. It's worth speaking to your local committee to get involved with suggestions for future social events and fundraising opportunities.
Why would you recommend JC to other graduates looking for opportunities?
I would recommend JC to graduates looking for opportunities because the approach to training is great. There are so many opportunities within the firm to learn and develop which can be entirely tailored to your circumstances and plenty time is given for you to study on top of your annual leave. It is also an incredibly flexible place to work with hybrid working which is a massive benefit.
Applications for our 2024 graduate roles are now open – to find an opportunity you can make your own, visit our Careers page here.