My JC Path: A day in the life as a Resource Planning Senior Manager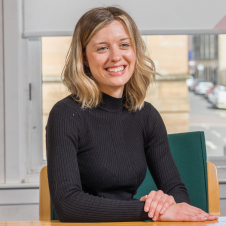 Caterina Zarzana
Resource Planning Senior Manager
Caterina Zarzana joined our Audit & Assurance team in 2021 and since then has been instrumental in growing the Resource Management function. Caterina tells us what she enjoys most about working within the Audit business line and the variety in her role.
When did you join JC and what made you want to join the firm?
I joined JC in 2021 as part of a transformation project within the Audit business line. I was brought in to establish a Resource Management function, create a resourcing process and policy, and to implement a 'one business line' approach across our numerous locations to maximise efficiencies. This was an exciting time to join the firm as I was able to create and mould a new team in a growing and expanding Audit department. JC showed its commitment to innovation by investing in a resourcing function with a strategic focus to support our business line, as well as our expanding client base. My role supports our entire Audit team of around 200 heads across five of our locations, and involves project managing around 700 clients within the audit cycle. The opportunity and forward-thinking approach of the firm made me want to accept the role and start my JC journey.
What interested you in the Audit field?
Audit is fast-paced and allows you to work across various sectors and industries. Although the Resource Management team are not client facing, we assist team members at all levels from Assistant to Partner, to effectively project manage engagements and deliver a quality audit to our client base. Resource Management acts as a central point for all planning activities, dealing with short-term changes as well as forecasting for the next 12 months. Audit as a business line is growing and focussing on key sectors such as Energy, Infrastructure and Sustainability (EIS), and Food & Drink. It's exciting to work with the team on tender opportunities and build team structures to support and develop our people.
Can you describe a typical day for you?
There isn't a typical day in the world of resourcing and that's what makes the job interesting. A key focus is to plan and forecast in advance. This involves driving the budgeting process within the business line from a resourcing and financial position. We then support the Engagement Managers to build team structures based on budgeting needs and client requirements, as well as considering development needs for our people. As a Senior Manager, I work with our Partner and Director group to understand the business line strategy and bring this to life within the resource processes and practices. We actively manage a lot of change as well as proactively adapting to a changing landscape and client base as our business line grows. This involves being proactive and thinking outside of the box for better ways of working within our department and beyond.
What do you enjoy most about your role?
I most enjoy the fast-paced nature of the role and working with a diverse range of stakeholders. Although I am not a fee earner or part of the audit engagement team, the Resource Management team is very much part of the running and strategic focus of the Audit business line. This makes the day-to-day role interesting as you learn about the range of clients we serve as well as understanding how resourcing can enhance and impact on audit quality, client service and team development.
What's been your most interesting experience or learning at work so far?
Since joining JC, Audit have won several high-profile clients within our key sectors, most notably in EIS and Food & Drink. It has been interesting working with the senior stakeholders from the tender process, to onboarding of the client, and then assisting with the project management of the audit cycle. It has been exciting joining a progressive and forward-thinking team which has allowed the Resource Management team to grow and build our strategic offering to the department and our clients.