Meet the cast: Jillian Stewart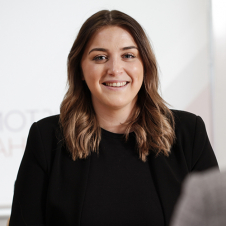 Jillian Stewart
Business Advisory Senior
Proud Partners of Edinburgh International Film Festival
The Edinburgh International Film Festival may be over for another year, but at Johnston Carmichael our focus is still on putting you and your business centre stage - and we have a certain member of our team who is very familiar with that particular spot!
Enter stage-right: Jillian Stewart. A Business Advisory Senior in our Glasgow office, Jillian's also a thespian of the King's Theatre with a real passion for amateur dramatics. We chat to Jillian about life in the limelight and how she got started treading the boards.
How were you introduced to theatre?
Theatre is actually in my blood. Over 30 years ago my youth theatre group (Harlequin Eastwood Theatre for Youth) was created, and it was through that my mum and dad met each other. My mum and her sister were actors whilst my dad played in the band and his two brothers also performed on stage. One of my uncles went on to become an actor in London's West End when I was younger and the other is a theatre director by profession. So, as you can imagine, there was really no question for me and my brother! We had to continue the legacy and join Harlequin, but I think I would have found my path to theatre even without the family ties. I can't imagine not being part of it!
What's your favourite stage show?
How could I possibly choose one?! Seeing Matilda on Broadway was an amazing experience. My other top picks would be Jersey Boys, Wicked and of course Les Misérables.
Can you still lose yourself in watching a play, or having been centre-stage do you find yourself analysing how it's all being produced?
I can absolutely still lose myself in a show. If I'm not performing, I'm watching musicals! I suppose I do tend to notice tiny things that maybe others wouldn't, like a slower staging transition than normal or a forgotten line being glossed over, but a good show makes you forget that you're watching actors on a stage no matter how well you know the mechanics.
What's your favourite thing about am-dram?
I love performing in general. I live for being on the stage! I also really treasure the lifelong friends I've made over the years in the different drama groups I've been in. It's such a tight-knit community of people.
Are there any skills you've gained through am-dram which you've been able to apply to your day job, or vice versa?
Performing has helped me become the confident and upbeat person I am today. I notice it particularly when I speak to clients or meet new people - I've never had a nervous feeling about going into a meeting and being the central point of conversation, or walking into a room at a networking event and not knowing anyone. I think anyone in the Glasgow office will tell you that you can always hear me before you see me!
What's been the highlight of your theatrical career to date?
Definitely performing on stage at the King's Theatre in Glasgow earlier this year. It's such an iconic venue and knowing all the different people that have performed in there over the years is a powerful feeling. To say I was rendered quite emotional by it all is an understatement!
Who are your acting inspirations?
I've always loved Meryl Streep. I think she is the most diverse actor out there and she is such a female icon. She has campaigned tirelessly for equality in the industry and I really admire that.
What would be your dream role to play, and why?
That's a tough one! I think I would have to say Anita from West Side Story. She is so sassy - quite like me! - and not afraid to stand up for herself. You can't beat her iconic song "I Want To Be In America" - I'd love to have the chance to sing that on stage.
If someone were to make a play of your life, who would you want to star as you?!
Emma Stone - she's another of my acting inspirations. She can cover the full spectrum from hilarious to serious all in one and she's superb in any role she tackles.