In the frame: Ewen Fleming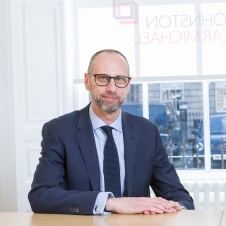 Ewen Fleming
London Office Head & Financial Services Partner
Proud Partners of Edinburgh International Film Festival
With just one week to go until the Edinburgh International Film Festival officially launches, movie-lovers from all over the world are gearing up for the 73rd edition of one of the oldest and most renowned celebrations of cinema. We're very excited to be sponsoring the In Person strand of this year's festival, with a fantastic line up of names from both sides of the camera sharing the experiences that have inspired them and their work.
Just as the experiences of the filmmakers shape their films, the films themselves can shape their audiences too. We chatted to our Financial Services Consulting Partner Ewen Fleming about his favourite films, and which one in particular led to a lifelong interest and almost a very different career…
Is there a particular film which has really stuck with you? What stood out about it?
Dr Zhivago is the first film I have vivid memories of; that was my first trip to a cinema. I could only have been 5 or 6 and would only have seen children's films up until that point, so it completely blew my mind! It still captivates me now the same way it did when I was 6; the history and the story and the cinematography. I've always been intrigued by history, and I think seeing Dr Zhivago at such a young age inspired that - coupled with the fact that my parents favoured holidays in Scotland wandering around castles! World War One and the Russian Civil War are particular areas of interest, plus I took Sixth Year studies on Scottish history and the Wars of Scottish Independence. I did actually consider becoming a history teacher at one point!
I also distinctly remember a scene in the film where the characters are being transported from Moscow to the Ural Mountains, and the ice breaks over the train cattle carriage to reveal this beautiful snowy landscape. It was a real "wow" moment amidst such a grim storyline. I've been a keen amateur photographer for years now, and it's always landscapes I'm drawn to over anything else - I cycle a lot, and often I'll stop to capture a stunning sky or an interesting configuration of fields or trees. It's funny what forms you; you don't realise at the time that a fleeting shot in a film can spark a real appreciation for something which then becomes a lifelong hobby.
What film could you watch over and over again?
Dr Zhivago, of course!
Aside from that, Gladiator is a firm favourite too. The war scenes are incredible, and contrast perfectly with the softer scenes - the flashbacks to the wife and son Russell Crowe's character, Maximus, has lost. As a parent, those moments have a real impact on you.
The strength of character shown by Maximus is another aspect I love - the will to stick to his purpose through all of the trials he endures so that he can claim justice. The whole film is absolutely gripping.
Is there a filmmaker or actor who inspires you?
Clint Eastwood - a boyhood cinema hero who has lasted in a fickle industry. He's kept reinventing himself to remain relevant, and that longevity and ability to adapt is really admirable. In a lot of his early films all you saw was good looks, so it would have been easy to write him off as 'eye candy' - but as the years went on, you began to realise than he's a very deep thinker, who knows what he's doing and has really mastered the art of filmmaking. He's evolved into someone who has enjoyed immense success both in front of and behind the camera, across a lot of different genres.
What parallels do you see between the world of filmmaking and the world of consulting and business advisory?
Consulting is about understanding how all the working parts come together to form the big picture, and so is filmmaking. It's millions of frames, hundreds or even thousands of individuals, all crafted together around the story and the relationships - and when that's done well, what you have is a finished film that means something to people. In both business consulting and film, I love the sheer complexity and how you find a way through it. You have all these different elements and you develop a methodology to weave them together, resulting in a successful project. If you have the right content, the right input and the right approach, then you're guaranteed a positive outcome.
What are you most looking forward to about this year's Film Festival?
I have worked predominantly in London and so for many years I've missed the Film Festival. Edinburgh is an incredible city - relatively small in size yet so rich in both culture and industry. I'm most looking forward to the injection it always gets at festival times with so many new people coming in; so many influences from outside the city and indeed outside Scotland. It makes it very cosmopolitan and I think cities always benefit from that.