In the frame: Alex Docherty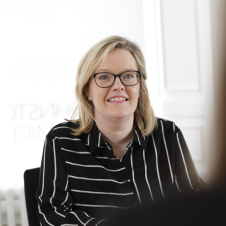 Alexandra Docherty
Partner and Head of Private Client Tax
Proud Partners of Edinburgh International Film Festival
And...action!
The 73rd edition of the Edinburgh International Film Festival officially launches today, with an incredible programme of film premieres, exclusive screenings, special events, workshops and masterclasses.
As sponsors of the In Person strand of the festival, we're particularly excited about hearing from the sharp minds at the forefront of filmmaking as they discuss their experiences in the industry and what they love most about cinema. In keeping with the theme, we sat down with one of our own sharp minds, Tax Partner Alex Docherty, to chat about her favourite Hollywood classics and her top pick from this year's festival line-up.
What's the first film you remember seeing?
The first film I can recall was back in 1985, a Walt Disney movie called The Black Cauldron. The story is about an evil King trying to secure a magical cauldron that will enable him to conquer the world. It was perhaps not the most light-hearted of viewings for me, a mere five year old at the time, to kick back and enjoy - I'm not sure what my mother was thinking! Thankfully, I wasn't too traumatised and the movie didn't put an immediate end to my enjoyment of the cinema.
Is there a particular film which has really stuck with you? What stood out about it?
Once Upon A Time in the West, directed by Sergio Leone. A young woman moves to the frontier from New Orleans to find her husband and his family have been slaughtered. Cheyanne (Jason Robards), who has been framed for the murder, offers to go after the real culprit in her honour. He's accompanied by a man referred to only as Harmonica (Charles Bronson), who is already on a quest to get even with the killer. It's a beautiful yet haunting piece of cinema, made even more memorable by Ennio Morricone's amazing soundtrack.
What film could you watch over and over again?
Gone with the Wind - a timeless classic. There's a lot to be learned from this film about appreciating what you have instead of always thinking the grass is greener on the other side. You have the beautiful Scarlett O'Hara (Vivien Leigh), capable of outwitting the best of men and headstrong to boot - until she meets her match in the experienced Rhett Butler (Clark Gable). The two, to my mind, are a match made in heaven. He's the only man who can handle her, yet - spoiler alert! - she continues her conniving until sadly it's too late. She ends up throwing it all away and losing what is her true love.
Is there a filmmaker or actor who inspires you?
My favourite has to be John Wayne. I spent my childhood watching Westerns and no fella is better as an on-screen cowboy than John Wayne! He developed a style and played to it very successfully.
What's particularly commendable is that even though he created that Western 'trademark' for himself, he didn't let it limit him. He proved his adaptability in the industry with a film called The Quiet Man, set in Ireland. It was a romantic role in a comedy-drama - he played a retired fighter who met the love of his life (Maureen O'Hara). Quite a departure from his usual genre, yet he carried it off perfectly.
What parallels do you see between the world of filmmaking and the world of tax?
The day job certainly doesn't scream Hollywood, however there are parallels within the sectors! Both work to tight timescales: one to get the movie to distribution, the other to get the tax planning in place pre-transaction. Relationships and collaboration are also a key aspect of both - just as you need a cast and crew to work together seamlessly to produce a successful movie, to become a trusted adviser you need to build a close relationship with your clients and truly understand their requirements.
Sadly a career in tax doesn't give you a pay cheque with quite as many 00000s at the end as a silver screen salary, but the work is very rewarding and when you 'nail' the tax problem, I'd be willing to bet it's a similar high to winning an Oscar!
What are you most looking forward to seeing at this year's Film Festival?
The Fury of a Patient Man, a directional debut by Raul Arevalo; I love a film that keeps me on the edge of my seat so it looks to be right up my street! It's a revenge thriller where a volatile criminal comes face to face with a man who is not what he first seems. The movie has already won big following its premiere at the Venice Film Festival, laying claim to 4 Goya Awards including Best Film. Not one for my two year old, as it's rated 18….I'll wait until she's at least five for this one!