My JC Path: From Business Advisory to Audit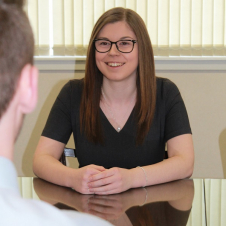 Jodie Stevenson
Audit Assistant
Jodie Stevenson from our Elgin team started on the JC Futures school leaver programme back in 2016. In this Q&A, she shares her journey.
How did you come across JC Futures and had you already considered the university route?
University never appealed to me and this meant I was put off accountancy due to the fact I didn't want to go down the university route but then I started looking into other ways to get into the career path.
When I started my research into firms I wanted to work for, I came across the JC Futures programme at Johnston Carmichael. I thought the only routes into accountancy were college or university, so I was delighted to find out opportunities like this existed! The idea of not only achieving the chartered accountant status but also being able to gain valuable experience sounded like the perfect way to become successful in my career and build up a strong understanding of the profession.
Would you recommend JC Futures to other school leavers?
I would 100% recommend it. I am so proud of my job and the knowledge I've built up in such a short space of time. Being 19 years old and knowing that I am paving the way for my professional accountancy career already makes me so proud and excited for the future. I have already sat some of my professional exams, so I've started the journey of achieving my CA title.
I would never have imagined I would have the opportunities and knowledge I do at this young age. There is so much support at Johnston Carmichael, in the workplace and with your studies, it gives you the confidence to trust in your ability.
It's not just a job you get here at Johnston Carmichael, it's a lifelong career if you want it to be. I love working in such an exciting, ever changing profession and I'm lucky to work with and be supported by a great team here in Elgin.
How has the JC Futures scheme helped you develop your skills?
Being part of the JC Futures programme has helped me build up my character in ways I'd never have imagined. I expected to just develop my general accountancy skills, but I've built on my personal skills too. I have become so much more determined and I am constantly striving for new achievements.
My problem-solving skills have become stronger too. I'm constantly looking for differences in reconciliations and analysing client numbers. You get a great sense of achievement when you're able to work back and solve differences that started out big and you manage to get them down to just a penny!
Also, I think my communications skills and confidence have improved since working for JC, from speaking with my colleagues at all levels in the office to find the best solutions and training new members of staff.
Tell us about your JC Path
I began my career journey in our Business Advisory team, now I'm working as an Audit Assistant and I'm confident the skills I've developed so far will take me from strength-to-strength while I start to build stronger technical knowledge as part of the Audit team. The most exciting thing about this next step in my JC Path is getting closer to the clients that make up Johnston Carmichael, and using my experience to one day achieve the CA qualification.
Interested in a role with Johnston Carmichael?! Every year we take on a number of JC Futures students straight from school. Visit our student pages or full details.