From Linguist to Adviser: Amy's Journey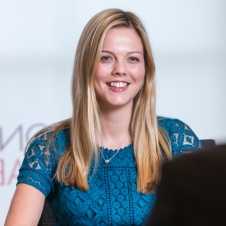 Following on from our last blog in this series on Ross's journey from Law to Accountancy, Amy tells us about her journey, from French to Accountancy.
Amy graduated from the University of Edinburgh having studied French and International Business; she then worked for a prestigious multinational bank before realising that wasn't the direction she wanted her career to take. Below, Amy tells us about her journey into Corporate Tax.
Why did you want to study International Business with French at university?
During my time at high school I really enjoyed French and Business Management and I knew I wanted to study both subjects further. I was very fortunate to be sponsored to travel to the European Parliament in Strasbourg to debate current affairs in multiple languages with students from all over Europe. It was an eye-opening experience that reinforced my interest in French, and awakened a curiosity in me around the international aspect of Business.
The need for an international perspective is becoming increasingly important as globalisation and integration intensifies in trade and commerce. My course involved a year abroad so I thought this degree would reflect that and be a great asset on my CV.
Where did your career take you once you'd graduated from Edinburgh?
After graduating from the University of Edinburgh, I worked in a graduate position at a multinational bank and financial services firm, but I realised that it wasn't for me. I took six months out to consider my future, during which I worked part time and volunteered. After a lot of research and thought I decided my skill set and career desires were better suited to accountancy.
Why Corporate Tax?
I've always wanted a respected career that was intellectually challenging but rewarding. The CA qualification with ICAS is the gold standard in Accountancy and I thought it formed a fantastic foundation for my future.
Furthermore, I desired a job that included variety. Tax legislation is always evolving and the ability to understand and apply it in the workplace is vital.
Corporate tax is obviously numbers based, but the development of client relationships and the soft skills required for this are often overlooked. I was really attracted to this balance of the intellectual challenge whilst leveraging my caring and interactive side.
What do you enjoy most about your role?
I am on a three year graduate programme to achieve the CA qualification with ICAS. I have my first stage of CA exams in December. It's been challenging with classes during the day and studying at nights and weekends but I'm finding it really interesting so that's definitely keeping me going! I'm just about to start 'CABLE blended learning' which involves self-study modules at home.
I have had two weeks in the office so far, which I have thoroughly enjoyed. Getting to grips with some client based work and putting into practice some of the things I've learned in class has been vital. Most of the JC team have been through ICAS before and there is a fantastic network of graduates in the same position as I am, so there is always help available if you need it.
What attracted you to Johnston Carmichael?
Johnston Carmichael is the largest independent accountancy firm in Scotland but despite this size, I feel like Amy here and not 'graduate A' or 'graduate B'.
One of the most important factors that attracted me was the culture. The firm are committed to playing a leading role in their local community, with charities supported firm wide and also locally in each office. I'm really excited to get involved in this aspect particularly.
Moreover, the core values of Johnston Carmichael aligned with the type of company I want to work for - personable, supportive and creative. 'The Best of Both' ethos that the firm promotes is not just lip service; the dedicated learning and development team are really encouraging and have been a great support so far.
I'm excited to see what the future holds with Johnston Carmichael.
Interested in a role with Johnston Carmichael? Every year we take on a number of talented young professionals within our offices around Scotland who each play a vital role in helping Johnston Carmichael grow. Visit our student careers pages for more info.