FCA Business Plan 2022/23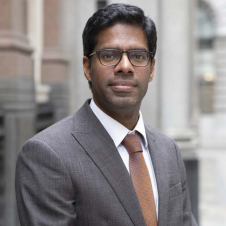 Si Mathavan
Business Assurance and Internal Audit Partner
The Financial Conduct Authority (FCA) recently set out its business plan for the 2022/23 financial year which explains the work it will undertake over the coming 12 months and how it aligns to its 2022-2025 strategy.
This year's business plan takes a somewhat different form, moving away from focusing activities against sectors and instead being aligned to the regulator's strategy and key outcomes it wants firms to deliver.
There are a number of areas of focus for the coming year which are in addition to the priorities set out in the 2020/21 Business Plan, which continue to remain important for the FCA.
We highlight some of the key themes below:
Reducing and preventing serious harm
The FCA's focus is on protecting consumers from harm which includes consideration of the following:
Dealing with problem firms - removing those who fail to meet the regulator's minimum standards. The FCA will seek to measure how effective its interventions are perceived and will also look to automate some of its processes around breaches of threshold conditions.
Improving the redress framework – making it fairer for consumers by looking to improve the timeliness of resolution of complaints and enabling them to better understand and being able to access the system.
Reducing harm from firm failure – avoiding contagion to the wider market, and by implementing a number of actions such as creating metrics to identify firms' resilience to stresses and acting quickly and decisively to start the insolvency process when required.
Improving oversight of Appointed Representatives (AR) – reducing poor conduct, which follows consultation CP21/34 on "Improving the Appointed Representatives Regime" which closed in March 2022. Part of this will include increasing scrutiny of applications for ARs made by principals at the point of authorisation.
Reducing and preventing financial crime – this will be achieved through the co-ordination of actions across sectors and working with external partners. This will include reducing the number of incidents of money laundering through regulated firms and looking to strengthen the financial promotions process as set out in CP22/2, "strengthening our financial promotion rules for high-risk investments, including cryptoassets".
Delivering assertive action on market abuse – by increasing the resilience of markets and taking action when required. The FCA will also be looking to improve relevant disclosures and for firms to be more resilient to market abuse.
Setting and testing higher standards
There is a focus on the actions that firms may have on consumers and markets which includes:
Putting the needs of customers first – this will be reinforced by the new Consumer Duty rules due by 31 July 2022 which will be a key piece of regulatory change over the coming 12 months. There will be a focus on consumers only being sold products that meet their needs and are fair value. Furthermore, there will be an expectation that they are provided with good customer support and are given sufficient information to enable them to make informed decisions.
Enabling consumers to help themselves – there will be a focus on ensuring financial promotions are clear, fair and not misleading, thereby reducing the potential for financial losses due to mis-selling. The FCA has also proposed new rules to increase the level of information received by consumers and it will be increasing its intelligence and analytics resource to better spot potentially fraudulent activity.
A strategy for positive change – the FCA will deliver its environmental, social and governance (ESG) strategy. This will be supported by taking ESG considerations into account as part of the authorisation process, monitoring firms' disclosures and strengthening stewardship.
Minimising the impact of operational disruptions – firms' operational resilience will be tested which will be supported by the FCA developing metrics to measure operational disruptions. Following publication of PS21/3, the operational resilience implementation period has just ended and the transitional period now started, therefore firms should ensure they have a programme in place to ensure they remain within their impact tolerances. The regulator is also expecting to publish a Discussion Paper in 2022 around Critical Third Parties with a consultation paper to follow in 2023.
Promoting competition and positive change
The FCA wants to use competition to deliver better consumer and market outcomes and will seek to achieve these through the following:
Preparing financial services for the future – it is likely that the Future Regulatory Framework currently being proposed by the Treasury will enable the FCA to better tailor rules to the UK market.
Strengthening the UK's position in global wholesale markets – it seeks the UK to be one of the leading markets of choice through the encouragement of innovation and with regulation aligned to new opportunities and risks. The aims also include ensuring the regulatory framework is clear, well-understood and trusted by all market participants.
Shaping digital markets to achieve good outcomes – the FCA recognises that the digitisation of financial services is changing the way consumers make decisions and markets operate. It is keen that consumers continue to receive fair value and consumers are able to take decisions in their best interests. It will be looking to publish a joint discussion paper with the Bank of England on Artificial Intelligence in financial services.
The FCA also made reference to changing how it operates and identified a number of ways in which it will help achieve its commitments:
Becoming a data-led regulator
There is a recognition that regulation needs to reflect changes in areas such as technology, innovation and climate change.
To support this, the FCA is investing in becoming a data regulator by using data to improve its understanding of what is happening in the market and to identify emerging risks.
Regulatory decisions
Changes have been made to the Enforcement Guide (EG) and Decisions Procedure and Penalties Manual (DEPP) to make the FCA's decision-making and governance processes more effective and efficient in stopping harm. 
Diversity and inclusion
The FCA has a role in the diversity and inclusion in the organisations it regulates and consequently, this approach should be reflected in the makeup of the regulator as well.
To this end, the FCA has stated that it has made significant progress towards its diversity targets with the aim of having 50% of its Senior Leadership Team identifying as female and 20% as minority ethnic by 2025.
National location strategy
To reflect its role as regulator for the whole of the UK, the FCA is building on its commitment to London and Edinburgh with the aim of doubling headcount in Edinburgh. Furthermore, it is expecting to have an office in Leeds by the end of 2022.
Next steps
The FCA has set out a lot of activities and initiatives that it will be undertaking over the next year and all regulated firms should look to how these are likely to impact them.
If you would like to know more, please do not hesitate to get in touch with myself, Ewen Fleming, or your usual Johnston Carmichael adviser.