Reasons to join
So - you've decided on the career path you want to follow. You've started researching accountancy and business advisory firms. There are a lot, right? How do you decide which is the one for you? We're all looking for something different from our careers, and at Johnston Carmichael our approach means you can follow the route that's right for you, in the way that's right for you.
Practical support
Our goal is for you to develop in line with your aspirations and needs. We want to you to grow your own way at Johnston Carmichael, and we do this by supporting you to build a wide variety of skills and knowledge that you can take forward to progress in your career.
You'll be learning on the job, so as well as earning a salary, you'll gain practical knowledge from working with real businesses that will really bring your studies to life. You'll benefit from the experience and advice of your colleagues, and our dedicated Early Careers team will be there for you every step of the way to ensure that you feel completely supported throughout your journey. Our structured training programme will help you develop the understanding and abilities you need to succeed, plus you'll receive paid study leave so that you can be as prepared as possible for your exams.
You'll also have a team of other students alongside you, all going through the same experiences as you, so you'll build invaluable friendships and relationships along the way!
A wider perspective
We're a full service firm here at JC, which means we offer a complete range of accountancy, tax and advisory services to clients all over the UK. It also means that you'll have the opportunity to explore the real breadth and depth of what being a business adviser can involve. From accounts compliance to audit, to tax advisory to corporate finance and more, you'll be able to learn about all aspects of how we help our clients achieve their ambitions, so you can decide what kind of work will help you achieve yours.
And speaking of clients, our client base is as diverse as they come. We support businesses of all different sizes, at all different stages, and across all different sectors. You'll gain exposure to a huge variety of business journeys, and some of the most exciting and interesting companies in the country – and even beyond, through our membership of Moore Global.
Over the course of your studies you'll also have the opportunity to join our specialist sector groups if there's a particular industry that piques your interest. Once you've qualified, you'll be able to take the experience you've gained of our services and sectors and decide where you want your path to lead next. Perhaps you'll want to progress further within your current team, or perhaps you'll want to try a transfer or secondment to a different area of the business. It's your JC Path!
Our values
Of course, the actual work you'll do is only part of choosing the right firm. What's equally important is a culture you'll feel at home in – and that's what we strive to achieve at JC.
Our values are really important to us. They unite us as a team and we all do what we can to live by them every day at work.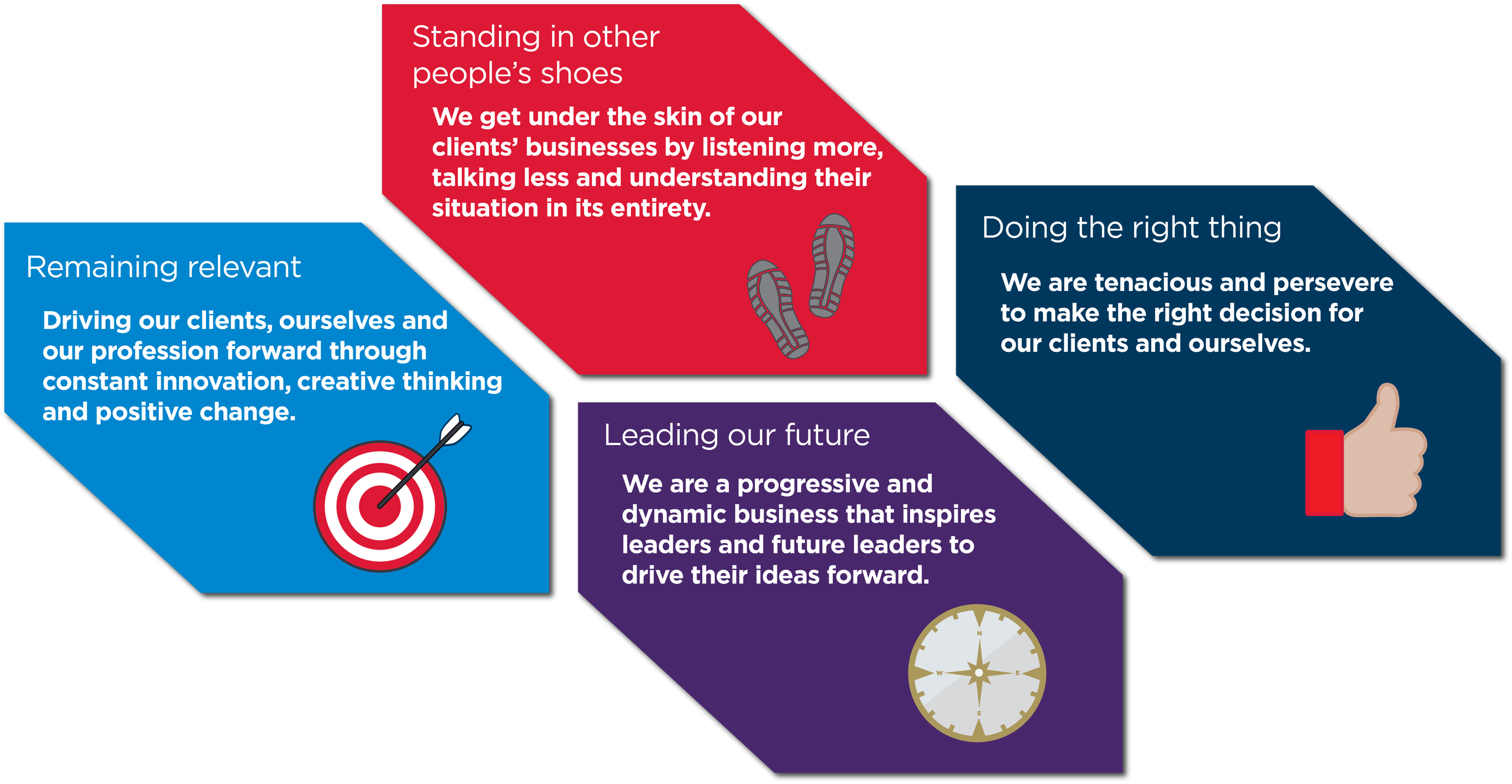 As a firm, embodying our values for our people means maintaining an environment where each of our sharp minds feels valued, appreciated, and heard. To help us achieve this, we have a People and Culture Forum which gives our staff an opportunity to generate, discuss and help implement ideas for positive change at Johnston Carmichael.​​​​​ The Forum also has several sub-groups focusing on important issues such as Wellbeing, Corporate Social Responsibility, LGBTQIA+ inclusivity, Working Environment and Gender Equality. Our offices also have Social Committees to organise events for our teams to get together and have fun!