Johnston Carmichael is swept away by junior curling stars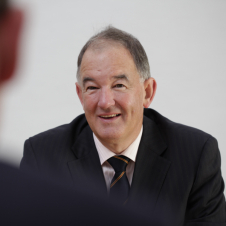 Niall Farquharson
Business Advisory Partner
Johnston Carmichael has praised the 2018 World Junior Curling Championships competitors for their ambition, drive and determination – and urged Scottish businesses to follow their lead.
Johnston Carmichael was headline sponsor of the Scottish Curling Junior Championships, 2018, held in Aberdeen from January 24-28, and principal sponsor of the 2018 World Junior Curling Championships, which ran in the Granite City from March 3-10.
Scotland's men's team won silver at the World Junior Curling Championships following a nail-biting final with Canada, who took gold. Canada also won the women's gold.
Niall Farquharson, managing partner of Johnston Carmichael's Aberdeen office, said: "I take my hat off to all of the young people who took part in this year's World Junior Championships. Their dedication, skill and competitive edge is truly inspirational.
"A few months ago some of our staff took part in a coaching session with some of the sport's top young players in Scotland and as a business we learned a lot from them about team work, employing the correct strategy, but being ready to react when circumstances change.
"With 2018 designated as the Year of Young People in Scotland I'd urge the wider business community to take note of these talented young athletes and their achievements. We can all learn from their energy, focus and commitment to achieving success."
Bruce Crawford, CEO of the Royal Caledonian Curling Club, said: "We'd like to thank Johnston Carmichael for supporting the sport and especially for its recognition of the next generation.
"Curling is a sport based on technical and tactical skills alongside strategy and integrity which reflect the professional credentials Johnston Carmichael have used to make their business a leading firm in Scotland."