Curling - A Strategy for Success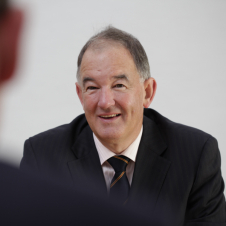 Niall Farquharson
Consultant
As proud sponsors of the recent World Mixed Curling Championship, as well as title sponsors of the 2018 Scottish Curling Junior Championships and World Junior Curling Championships, we consider why firms should look to the ice for insight into how to develop a winning strategy.
Curling is a game which is played and enjoyed in communities across Scotland and is renowned for its proud history, traditions and accessibility. Participating in the sport can not only improve the quality of life of individuals and communities, but it encourages social inclusion, and helps raise individual self-esteem and confidence. As a sport that involves team work, strategic thinking and tactics, we think it's also fair to say that the rules and ethics that govern Curling can be a template for success in the business environment.
Forward-planning, teamwork, constant communication and the flexibility to adapt to changing circumstances are the cornerstones of success in the rink as well as in commerce, and the winners will always be those who take those messages to heart.
Competition with integrity are the hallmarks of good curling and sound business strategy. It's about doing the smart thing and the right thing. It's about recognising your competitors' strengths and responding promptly to changing conditions.
Just as in curling, where the players must know where the Skip wants the stone to be placed and do what they can to make that happen, in business, team members need to be clear on the goals and understand what their role is in achieving that outcome. Consultation and effective working between team members is vital.
Johnston Carmichael carries this philosophy into our own business practice, working closely to support and advise our clients, whatever their needs. In recruiting, we seek people not only with the required technical skills but those who are team players with sound ethics. Outside interests and participation in a sport such as curling can very often be an indication that candidates have developed the sort of qualities that we look for in our employees.
Curling is open to everyone, there are no barriers to entry into the sport, and it can be a lifelong passion; but just as in business, succession planning is important, which is why the Scottish Curling Junior Championships and the World Junior Curling Championships, are so important and why we were proud to sponsor these.
Dedication, determination, focus and persistence are the essential attributes for success in the sport and Johnston Carmichael's support of curling is an extension of our ongoing commitment to the next generation of talent within our own profession.
"We have a track record of developing talent and building long-lasting relationships and our sponsorship of the World Mixed Curling Championship and the Scottish and World Junior Curling Championships came about because of the close affinity between the sport and our own core values."