Supporting entrepreneurialism in Scotland, we can all play a part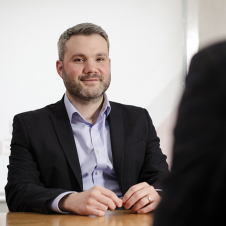 Neil Wilson
Business Advisory Partner
October is a key month for start-ups and entrepreneurs in Scotland with two headline events in the diary – EIE, the largest investment event outside of London and Start-Up Summit, the leading thought-fest and networking event for growing businesses. When we talk about investment in entrepreneurs, clearly funding is key, but the importance of trusted professional advice and a good network of peers and mentors should not be overlooked. Often this can bring a different perspective to challenges, as well as helping to present opportunities for the taking.
Sandy Kennedy, CEO of Entrepreneurial Scotland, says it best: "it's about the support network for entrepreneurs and the importance of being surrounded by peers across sectors that have 'been there and done that'. The biggest influence on a person is their peer group and role models. This lets them see first-hand what's possible." Although Sandy wrote this in a guest blog for us back in 2017, three years on these words have never been truer. And in my experience, working with businesses ranging in size and scope, that need for a strong network of mentors is important at all stages of your business growth.
Opportunities to build your network at EIE
Events like EIE and StartUp Summit are prime opportunities to make new connections, build your network and hear from some of the leaders in their fields. I'm really looking forward to EIE this year, if a little intrigued to see how it will run in a completely digital format - especially the networking!
One of the major benefits of the event being held online this year is it opens it up to a wider audience and range of speakers from across the world. This will be the first year EIE has been truly global, and that's exciting.

"Nice to virtually meet you"
I enjoy the networking part of the day the most. The chance to speak to the entrepreneurs pitching and hear their passion and ambitions for the future first-hand - their energy is infectious! And when it comes to planning their finances for growth, having the opportunity to chat through options that can help tackle some of their challenges now, and take their business to next level in the future, is really rewarding. But I also enjoy introducing new connections to my network. I'm lucky to work with a range of inspiring businesses at all stages of their growth, and there's always someone within the wider JC client base I feel others can learn from. Being able to put business leaders in touch with each other, to kick off that relationship always gives me a buzz.
The change makers are still our engine for growth
Back in 2017 Sandy Kennedy reflected that we are experiencing an entrepreneurial revolution not just in Scotland, but across the world: "It is the entrepreneurs, the change makers, the innovators who are the engine for growth and the job and wealth creators." Never a truer word spoken and in these challenging times, it's more important than ever we continue to support and nurture our entrepreneurs.
Let's make sure we dedicate time to rally round and offer the time to listen, support and develop these change makers in any way we can.
See you at EIE!
I'll be at EIE on 14 October. I can't wait to hear this year's pitches, learn what these inspiring businesses are developing and a global spotlight being shone on the talented Scottish community. If you're attending and have time for a chat, I'd love to say hello, drop by the virtual Johnston Carmichael stand!
Neil Wilson is a director within our Business Advisory team in Glasgow. He looks after a varied client portfolio of SMEs, in particular a number of young and fast-growing businesses particularly in the Food and Drink and Life Sciences and Technology sectors.