My JC Path: Off to a flying start with a summer internship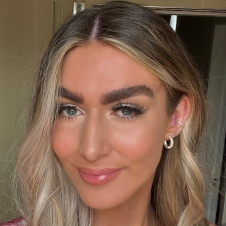 Laura McKenna is currently in the final year of her MA (Hons) Accounting and Finance degree at the University of Aberdeen. Last year, she completed a 12-week internship in Johnston Carmichael's Audit team – and now she will be graduating this summer with a permanent role in the team already secured.
Laura is also a campus ambassador for Johnston Carmichael, helping students at Aberdeen Uni learn more about the opportunities for internship and graduate roles and the benefits of these. Here, she shares her experience.
What inspired you to apply for an internship at Johnston Carmichael?
Applying for internships can be a daunting task, especially at the start of third year when you can feel there are a million other things on the horizon and graduating into full-time work seems miles away. Coming from a family with a financial sector background, I knew that an internship was always something I wanted to do, as I had been working retail for the past few summers which, as much as I loved it, wasn't providing me with the same skills that I was learning through my accountancy degree. In October/November of 2021 I started applying to various firms across Scotland. My preference was for a central belt office due to commuting, and jobs within audit as I was undergoing an audit practice module at university which had piqued my interest, so I knew it was something I would enjoy putting into practice. In January 2022, an audit intern position with Johnston Carmichael came up, and with the firm having offices in Glasgow and Edinburgh it seemed perfect. I put in my application and was offered an interview in February, which all went well, and I was offered a place as an audit intern in Edinburgh for 12 weeks starting in June. I was over the moon as I had had my heart set on an audit-based opportunity and Edinburgh is a city that I am familiar with.
How did you prepare for your arrival at JC?
I researched further into their core values and began following them on social media, specifically on LinkedIn to see what their recent activity and achievements involved, and what was to be expected for my summer in the Edinburgh office. I was invited to a bowling social night with the audit department on the Friday before my internship started, which was a great way to meet my peers and get to know them in a casual setting before starting on the Monday.
What did you do in your first week and who supported you?
In our first week at JC, we were assigned a line manager. I was to be reporting to Holly Wilkie who was a fantastic help throughout my whole time at JC. The first few days were scheduled for training purposes, where we learned how to use the systems and software. We were assigned a buddy to guide us through logging on and getting started which was beneficial. After these first few days of training, we began starting work on the clients we had been assigned to.
What sort of activities did you undertake in your internship?
Throughout the internship, we were scheduled to work on a variety of clients where we would typically be reporting to an assistant, senior and manager(s). I would have a daily check-in with whoever I was reporting to, and we would discuss what was needing to be done for that day. Once I had been filled in, I would get on with completing my tasks which involved casting accounts and using Excel to complete various sections of the audit.
The new, long-lasting connections and ties that I made with my co-workers and fellow interns were what I took away most from the experience and were a real highlight of the whole internship.
What did you learn on your internship?
During my internship, I learned about the skills and planning that go behind the audit, which will aid me in writing my dissertation on information technology and audits. Also, my understanding of the audit sector deepened, and this has aided my career planning. Through the internship, I was able to gain a firmer grasp of an auditor's professional path, which assisted me in deciding that it was a career I want to continue working in.
What was the highlight of your time at JC?
The new, long-lasting connections and ties that I made with my co-workers and fellow interns were what I took away most from the experience and were a real highlight of the whole internship. I was able to go on-site for one of the clients I was working on which was also a definite highlight - during the pandemic, systems and communications have mostly moved online so it was exciting to get a day out of the office to do a fixed asset evaluation.
What is next in your permanent role at JC?
I was lucky enough to be offered a position as an audit assistant in the Edinburgh office starting in August 2023 after I have graduated, which I am ecstatic about. I can't wait to begin my professional career with Johnston Carmichael.