My JC Path: From Accounts Assistant to Business Advisory Manager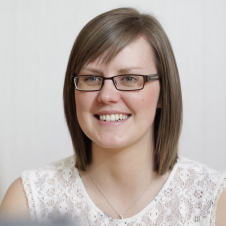 Susan Fowler
Business Advisory Manager
Susan Fowler joined JC directly from school, and now 18 years later is a Business Advisory Manager in our Huntly office! We caught up with Susan to discuss her career path and why she loves working in the rural sector.
When did you join JC, and what attracted you to the firm?
I joined JC straight from school in 2004 as an Accounts Assistant. After studying Higher Accounting in sixth year at school, I knew this was the career route I wanted to take. I didn't want to go university and liked the opportunity that JC offered to study while getting on-the-job experience.
Tell us what you do for businesses and how your role has developed since joining JC
I started off as an Accounts Assistant dealing with unincorporated Accounts preparation. After being with JC for a year, I started studying for my AAT qualification. As I progressed through my AAT studies I moved across to our Corporate Accounts department and started dealing with Limited Company Accounts preparation and assisting on company audits. Once I'd completed my AAT qualification, I knew I wanted to continue studying and began working towards my ACCA professional qualification.
After qualifying I made the decision to move back to our Business Advisory team as I wanted to have more involvement with clients. I began to develop a client list, which over the last five years has continued to grow.
What led you to having a particular interest in working with Rural businesses?
I come from an agricultural background and grew up helping my dad on the family farm. After school and during the holidays there were always plenty of jobs to do and even to this day, I continue to take my holidays at the lambing time to help out.
What do you enjoy most about working at JC?
The variety each day brings. I really enjoy meeting and working with clients, and seeing their businesses grow and develop. No two businesses are ever the same.
What goals have you set yourself for the next five years?
To continue to build and develop relationships with clients. The last two years have been a real challenge for businesses and the lockdown measures meant that we often were unable to visit and meet face-to-face with clients, so it is really important that we continue to support our clients.
I also love working with the next generation coming through the office, passing on knowledge and experiences and seeing their careers progress and develop.
What keeps you busy outside of work?
I enjoy socialising with family and friends and spending time with our nephews and niece. I also enjoy walking and lockdown inspired me to cook more and to take back up baking.
What's been your best meal ever?
The meal at our wedding. Planning a wedding is stressful and after being nervous about the menu choices, we couldn't have asked for anything better.
We're currently looking for more sharp minds to join our Rural team. Find an opportunity you can make your own on our Careers page.