My JC Path: From Agriculture studies to rural accounting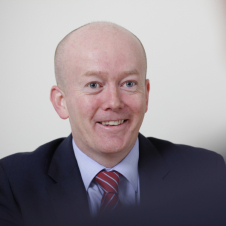 Peter Innes
Business Advisory Partner
Peter Innes joined Johnston Carmichael in 2004 after completing his CA training with a firm in Inverness. Having worked across Johnston Carmichael's Elgin and Stirling offices over the last 18 years, including establishing the successful Stirling Office, Peter is now back in the Inverness office working with a range of businesses in the Highlands and Moray and across Scotland. Peter has a particular focus on looking after a number of the firm's Rural clients.
Rural is a key sector for Johnston Carmichael, bringing together agriculture, agritourism, rural businesses and landed estates. We work with over 2,000 Rural clients across the country, with a significant proportion of these based in the Highlands and Moray. Our Rural team helps advise farming and estate businesses on a variety of matters affecting their businesses, including becoming more tax efficient and maximising opportunities in their sector in the face of wider policy, sector and land use change.
Many of our rural specialists, such as Peter, come from rural backgrounds themselves so we really understand the industry issues that impact farmers and estate owners in the sector. Here, Peter tells us more about his background and what led him to specialising in the Rural sector.
Why did you join JC and what led you to having a particular interest in working with Rural businesses?
I studied Agriculture at the University of Aberdeen before moving into accountancy. I had enjoyed studying accountancy at Standard Grade and Higher level at secondary school, and there was a farm management aspect to the Honours year of my degree course at university, which further piqued my interest. The knowledge that this profession offered good career opportunities was another key attraction.
I was originally attracted to Johnston Carmichael because of the reputation of the firm and its profile in the rural space. Given my background as a dairy farmer's son from Nairn, working with a firm who could give me experience in this field (pardon the pun) appealed.
Tell us what you do for businesses and how your role has developed since joining Johnston Carmichael
Working mainly with rural businesses and farms in particular, unlike some businesses, you tend to be involved in a range of accounting and taxation aspects that you may not typically see regularly in other business types.
Farms are quite unique in that they often cover all the key taxes and have something going on all the time; whether it be routine annual trading and exposure to income taxes, or capital gains tax when selling a plot for housing or development for example. Succession in farming businesses, which brings in inheritance tax and capital gains tax, is also regularly on the table in our discussions with clients.
Throughout my time in practice I have seen significant change - in particular the developments that we see annually to the tax system, with initiatives such as Making Tax Digital for VAT and digitisation, real time reporting for payroll, devolved tax systems and so on.
What has stayed constant however, is the fact that our clients still need the ongoing reassurance and support that they always have from their advisers.
What have been the highlights of the agri show season for you this year?
Johnston Carmichael have been out and about at a number of shows this show season. Personally, attending the Royal Highland Show and Black Isle show with our stand has been great to see our clients and contacts again. The weather really did help boost the "return to normal life" feeling for both our clients and staff following the absence of the show circuit from our calendars over the last couple of years. Price inflation is hitting us all hard but it was encouraging to hear the positivity in outlook from those attending. Roll on show season next year!
What do you enjoy most about working at JC?
Our clients and the relationships with them and the colleagues that I work with and introducing these colleagues to our clients is a real benefit. Having the ability to cross-refer work to the many specialist teams we have within the firm, for example the Construction & Property Incentives team, is great and it is always well received when you introduce more JC names to the client relationship.
What professional learning are you doing at the moment?
In my area of practice, participating in events with other professionals such as lawyers and land agents is always a great learning piece. I recently participated in a webinar with a land agent, lawyer and Head of Agriculture at Virgin Money, which had over 300 attendees. Although it's not always in one's comfort zone to do these things, these events do encourage continual research to expand your knowledge and keep up to date with an ever-changing sector!
What keeps you busy outside of work?
I have just built a new house at the family farm in Forres, so getting moved in and getting the landscaping done is a priority – it helps to have some farm machines to do this! I am also kept occupied on the farm during the busy periods – unsurprisingly, to date I have not yet managed to find a volunteer on the farm to take on the monthly bookkeeping!
For more information on what we can do to help your Rural business, get in touch with Peter or another member of our Rural team.
We also have opportunities available to join our Rural team - visit our Careers page to find out more.