My JC Path: Business adviser, rural board member and Master's lecturer!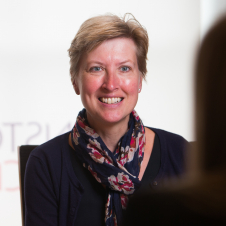 Jane Mitchell
Business Advisory Director & Rural Specialist
To say Jane Mitchell lives and breathes her rural expertise is an understatement. Having joined Johnston Carmichael in May 2017, Jane juggles her role as a trusted adviser to our rural clients with not one, not two, but five additional positions in the rural community! Jane shares her story here.
Tell us what you do for businesses and how your role has developed since joining JC.
The firm has a great reputation in the rural market and that's what attracted me to joining. I spend my time at JC advising rural businesses on their plans for the future as well as reviewing their past performance through provision of annual accounts. My role has changed quite a bit from what I started out doing at JC five years ago – initially it was quite strategic, and I now have a portfolio of external clients.
What led you to having a particular interest in working with Rural businesses?
I was born and brought up on the family farm near Inverurie so rural business is in my blood. That then developed onto studying agriculture at University both at Aberdeen and Cornell. When I realised that I could combine my rural background with a career in finance, accountancy was an obvious choice.
What do you enjoy most about your role?
Meeting our clients, learning about their businesses and making a difference to them through the advice that we give.
What goals have you set yourself for the next five years?
I have set the personal goal of having our clients knowing at least three of our rural team within the next five years. Now that we are back out at the agricultural shows and local events, we have many new members of the team that we can introduce to our clients and contacts to help foster connections and share our expertise and insight to help benefit businesses.
What keeps you busy outside of work?
Having a bit of a portfolio career of six jobs, I seem to overfill my week! I have Board positions with ANM Group, the Scottish Agricultural Organisation Society (SAOS) and the Royal Scottish Agricultural Benevolent Institution (RSABI) along with some time lecturing MSc students at SRUC and of course, the farm books! I still have time to get out walking in the summer though, and in the winter months I curl at the Aberdeen curling rink.
What's been your best meal ever?
Corrour Station House Restaurant about eight years ago – it's only accessible by train or a 20 mile hike and I chose the train option. It was a very a small menu, but everything came from within a 20 mile radius, so it was very rustic! Amazing food, with the added anticipation of whether the train home would appear.
We're currently looking for more sharp minds to join our Rural team. Find an opportunity you can make your own on our Careers page.