My JC Path: From Team GB Paralympian to Business Advisory Manager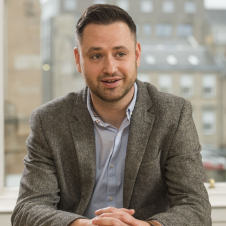 Keiran Martin
Business Advisory Manager
At Johnston Carmichael, our people never fail to amaze us. Not only are they talented accountants and business advisers, but many are also at the top of their game in the world of sports, from touch rugby to athletics to football.
At the end of May, Business Advisory Manager Keiran Martin will be digging out his football boots as he makes a triumphant return from retirement to represent Scotland in the Football European Championships.
Here, he reflects on his incredible sporting history (he's a Team GB Paralympian if you didn't know!) while looking ahead to what the future holds for him, both professionally and personally.
Tell us about your history with Scottish football.
In 2006, I made my debut at 15 years old at the Dublin European Championships and went on to represent Scotland in several world tournaments as well as Team GB in the Beijing Paralympics in 2008 before calling time on my playing days in 2010 to focus on my professional career. After 13 years out I'm heading back to the latest European Championships in Sardinia at the end of May 2023.
Can you tell us about how your Cerebral Palsy affects you?
Cerebral Palsy affects my left hand-side in both my arm, hand, leg and foot. I walk with a slight limp and have little to no feeling or dexterity down this side of my body. I also have one leg shorter than the other by roughly 4cm. I live with mild pain on a daily basis.
What are you looking forward to most about the upcoming Football European Championships?
I pulled out of the European Championships squad in 2010 to focus on work, and it's something I've regretted ever since. This is a chance at redemption for me and there's nothing quite like pulling on a Scotland jersey, singing the national anthem and hopefully I can get a goal or two for the team.
How will the challenge of playing for your country this year compare to when you have played previously?
The last time I played I was still a teenager and fearless. Now, I'm in my early 30s and I'm a bit out of practice. I also must adapt to an entirely new team, with the exception of two people who I played with previously. I have to learn how they play and what makes them tick as well as focus on my own abilities and getting up to speed.
Playing for your country must have taken you to some interesting places – where is your favourite place you have competed and why?
In 2007 I played in the World Cup in Rio De Janeiro. Our hotel was right on the Copacabana beach and the FIFA Beach Soccer World Cup was on our doorstep. I got to play football on the beach with Eric Cantona, who at the time was manager of the France National Team. We also reached the quarter finals in the tournament, and beat Argentina on the way. No other Scotland team has reached this stage or beaten Argentina in a major tournament before. I finished the tournament as top goal scorer for Scotland too. Beijing was also incredible! It's the pinnacle of any sportsperson's achievements, however Rio holds a special place in my heart.
I've been to a Paralympics where I've seen people achieve incredible things that I never thought was possible. Your mind is the only barrier to your success. Work hard enough and the talent will come.
What skills from your sporting background have helped you in your professional career at JC?
Playing in major tournaments across the world at such a young age taught me how to deal with pressure. We had to walk out in front of TV cameras and 91,000 people in Beijing. When in challenging situations, you can draw on that strength and know you can get through it. In the past six years I have been refereeing football at various levels and this teaches you to embrace mistakes, learn from them and strive to be better by having that growth mindset. Likewise in a professional environment, mistakes are inevitable, however the mistakes are unimportant, what defines the outcome is how you react, learn and grow as a person and a professional.
How have JC helped support you?
JC have been fantastic in supporting me. The call from the Scotland coach came out of the blue and when I spoke to my line manager and team members regarding the tournament, they were as excited as I was and did what they could to make it work around our schedules. Lynne Walker, Head of Business Advisory, has been incredibly supportive too. I couldn't have asked for a better reaction from JC.
What advice would you give to other young adults with Cerebral Palsy that might be keen to pick up a sport?
Turn your disability into ability. I've been to a Paralympics where I've seen people achieve incredible things that I never thought was possible. Your mind is the only barrier to your success. Work hard enough and the talent will come. Find your passion and fully commit. There's nothing quite like representing your country. Millions can only dream of it, so don't let your disability hold you back.
What goals have you set yourself for the next five years?
Personally, I'd like to continue my refereeing career and become a specialist assistant referee in the professional leagues in Scotland. Football is a passion of mine and to be involved in the professional game after all I've achieved at International level would be fantastic. Professionally I see myself continuing to grow into my role and would hope to be climbing the ladder within JC. Continuing to learn and absorb as much as possible as well as providing our clients with a service which adds value and facilitates growth.