A step ahead: top tips for taking on the Kiltwalk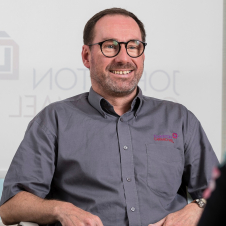 Brian Gotch
IT Systems Engineer
At Johnston Carmichael, our people never shy away from a challenge. And with not long to go until this year's Aberdeen Kiltwalk, we're shining a light on one impressive member of team 'Chartered Akiltants' as he tackles his fourth Kiltwalk.
IT Systems Engineer, Brian Gotch, shares his top Kiltwalk tips that he's collected along the way – from what to pack in your Kiltwalk bag, to how to train (or not, in his case!) for the challenge.
Brian, how do you go about training before each walk?
This definitely isn't a top tip, but I didn't train before any of my Kiltwalks! I wouldn't recommend this but as I walk to work most days, and at this time of year I play golf twice a week, I feel like that gives me the warm-up that I need.
In the past, I walked a lot more - whether it be caddying at the local golf course when I was younger (sadly much younger than I am now), or when I lived in Bournemouth, I could get out into the summer sunshine and enjoy some leisurely walks.
Any top tips on what to wear on the day?
Anything that's comfortable and lightweight. I tend to wear walking trousers that can turn into shorts if needed - very high fashion! Over the years I've participated in the Kiltwalk, I've worn layers on the top half as, being in Scotland, conditions can change very quickly so our JC t-shirt and hoodie do the trick and are perfect. Personally, I don't wear a jacket or waterproof top as once you're wet, there's not much else you can do and often it helps cool you down.
What would you recommend walkers should pack in their Kiltwalk bag?
Over the years I have packed less and less – to be honest we always tend to over pack! Generally, I will have a spare pair of socks, plasters, some water, and a selection of fruit. The Kiltwalk volunteers do such an amazing job looking after you along the way that really, you don't need to pack too many supplies. I would definitely recommend having someone meet you at the finish line with some spare socks and comfy shoes. One year I had slippers waiting for me – it was all I needed! Don't forget, the heavier the bag, the more weight you have to carry around with you.
Do you have any other words of wisdom for those taking on the challenge this year?
For me, there is only one tip I would give anyone taking part and that is to have FUN.
Yes, you may feel some pain along the way but remember the charities you are raising funds for. Our pain is often fleeting but for some people it's a lifetime.
And finally, which incredible charity have you chosen to raise funds for this year?
This year, I'll be walking for Dementia UK – a specialist dementia nurse charity who's aim is to increase the number of nurses across the UK so that no-one has to face dementia alone.
I sadly lost my mother in February of this year after she was diagnosed with vascular dementia five years ago, and I know the incredible level of support and care that dementia nurses put in to their patients and their families.
Sign up for 2023
There is still time to sign up for this year's Aberdeen, Dundee and Edinburgh Kiltwalks. From the Wee Wander, the Big Stroll and the Mighty Stride - pick the distance which suits you best. Full details can be found on the Kiltwalk website.
Put your best foot forward in 2023 and walk with us! We look forward to seeing you there!