A step ahead: taking on my first Kiltwalk challenge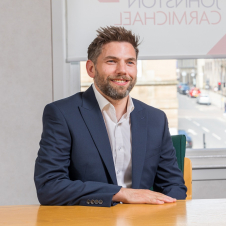 Roger Campbell
Tax Senior Manager
The Kiltwalk is back again for 2023 and we're marking our seventh year as proud sponsors!
Last year proved to be an exceptional year for our team of Chartered Akiltants as we had over 130 staff and partners who signed up and took part in the walks, raising over £21,500 for 46 charities. We're pushing our people even further this year as we aim to have our highest walker record.
For many in JC, this will be the first time they've taken on the mighty challenge of completing a Kiltwalk. We caught up with Roger Campbell, Tax Senior Manager, as he explains what inspired him to take that first step, and sign-up for the Glasgow Kiltwalk.
Roger, what inspired you to sign-up and get involved?
I joined Johnston Carmichael just over a year ago but wasn't able to get involved in last year's walk. So, when the opportunity came around again, I thought it would be a great chance to get to know some of the team a little better. Not to mention that it's a great opportunity to raise money for charity. I've chosen to walk for Kiltwalk, meaning that every penny I raise will be donated to the STV Children's Appeal.
Who are you walking with?
I'm walking with my husband Stuart and our two-year-old cockapoo, Mabel – she'll definitely be leading our pack! She loves people, so I'm hoping that some of my fellow Chartered Akiltants will share the load and take the lead from us for a while!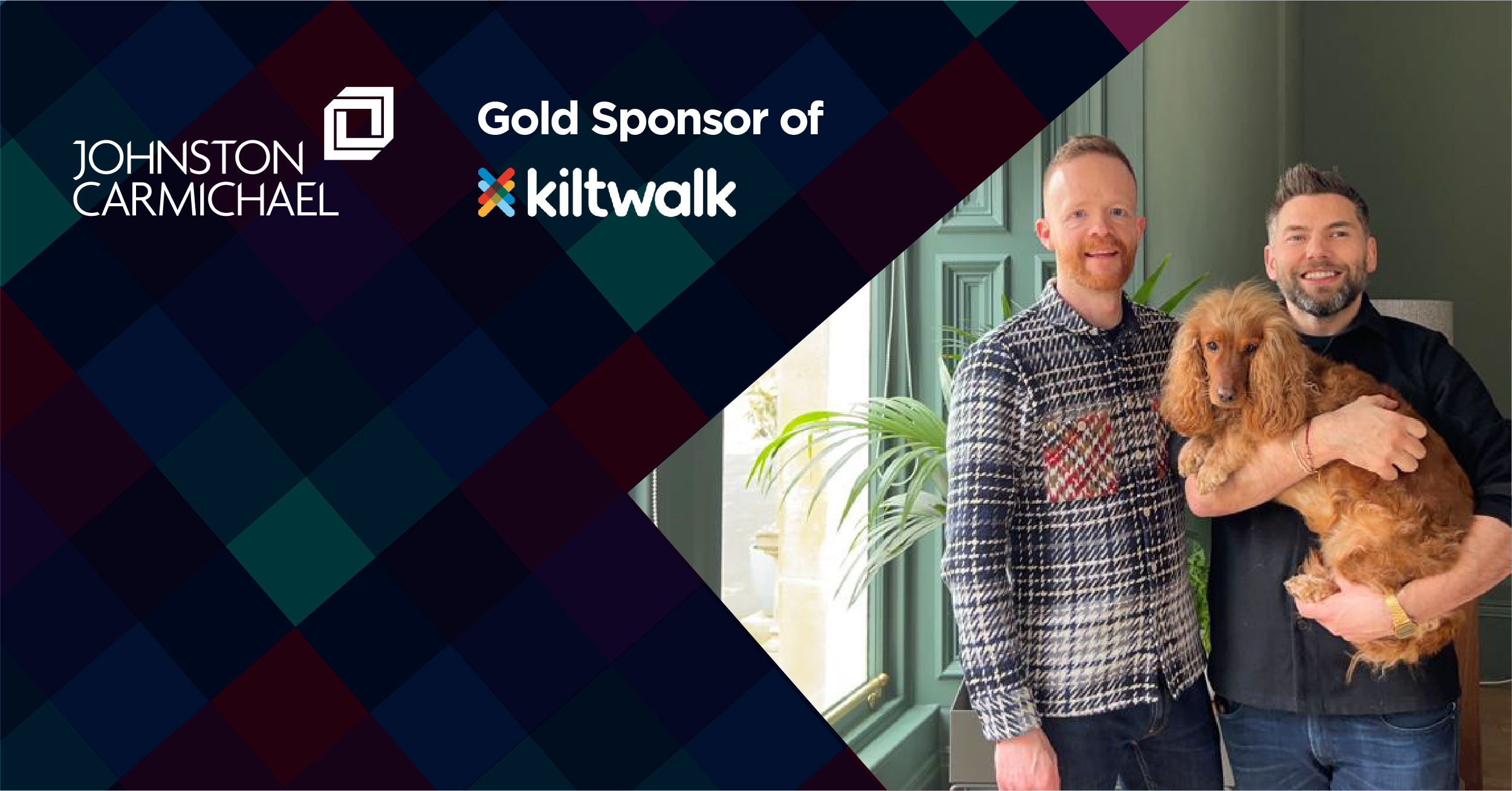 Stuart, Roger and Mabel
How have you been preparing?
We've not done a huge amount of preparation just yet (is this a rookie error?!), but we do try to get out for a couple of decent walks a day. Mabel definitely encourages us to get out and about! We need to get in some longer walks and are planning to get some walking done while we're on holiday this month.
How has the Glasgow office rallied together to build participation for the walk?
I've been hearing lots about other people's experiences and enjoying previous year's events, it sounds like it's going to be a great, fun, day. There are posters dotted around the offices and lots of communications from our CSR team on the big event – being driven by Michael McAllister, who took part for the first time last year.
What are your must have items that you'll be bringing along for your walk?
Hopefully not waterproofs…but water, sweets, blister plasters and possibly a few treats for Mabel.
Do you have any playlist/Podcast recommendations which you'll be listening to?
I love Josef (a Glaswegian) who I saw at the Barrowlands recently. For the Kiltwalk, I think it should be something upbeat, so I'd say the Abba Voyage setlist (on Spotify) - if you're thinking of going, do it! I know JC have a few big Abba fans already so hopefully we'll all be bopping along together as we walk.
Sign up for 2023
So, if you're looking to set yourself a challenge in 2023, it's not too late to get involved! There are different distances to choose from in each city (Glasgow, Aberdeen, Dundee and Edinburgh) - full details can be found on the Kiltwalk website.
Put your best foot forward in 2023 and walk with us! We look forward to seeing you there!