The Mighty Stride: A mighty effort and a mighty achievement!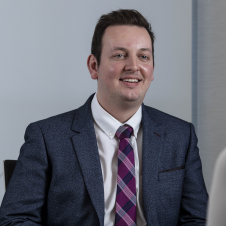 Michael McAllister
Partner & Head of Payroll Services
It's amazing to hear that 10,000 Kiltwalk walkers took part in the Glasgow Kiltwalk - what an incredible day it was!
Walking with around 30 others from JC, I managed it… although there were points where I had visions of being air lifted via an emergency helicopter to the local A&E department! The Kiltwalk is tough, both physically and mentally, but boy is it rewarding.
Why did I take part?
Since joining the firm in 2019, I have always been keen to get involved with the various initiatives that we run across our 13 offices. The Glasgow Kiltwalk quickly became an office talking point and before we knew it, we had 30 keen walkers.
I was walking for St Margaret of Scotland Hospice in Clydebank – a charity very close to my family. Their support on the day was great, with lots of volunteers helping support their trusted team of walkers.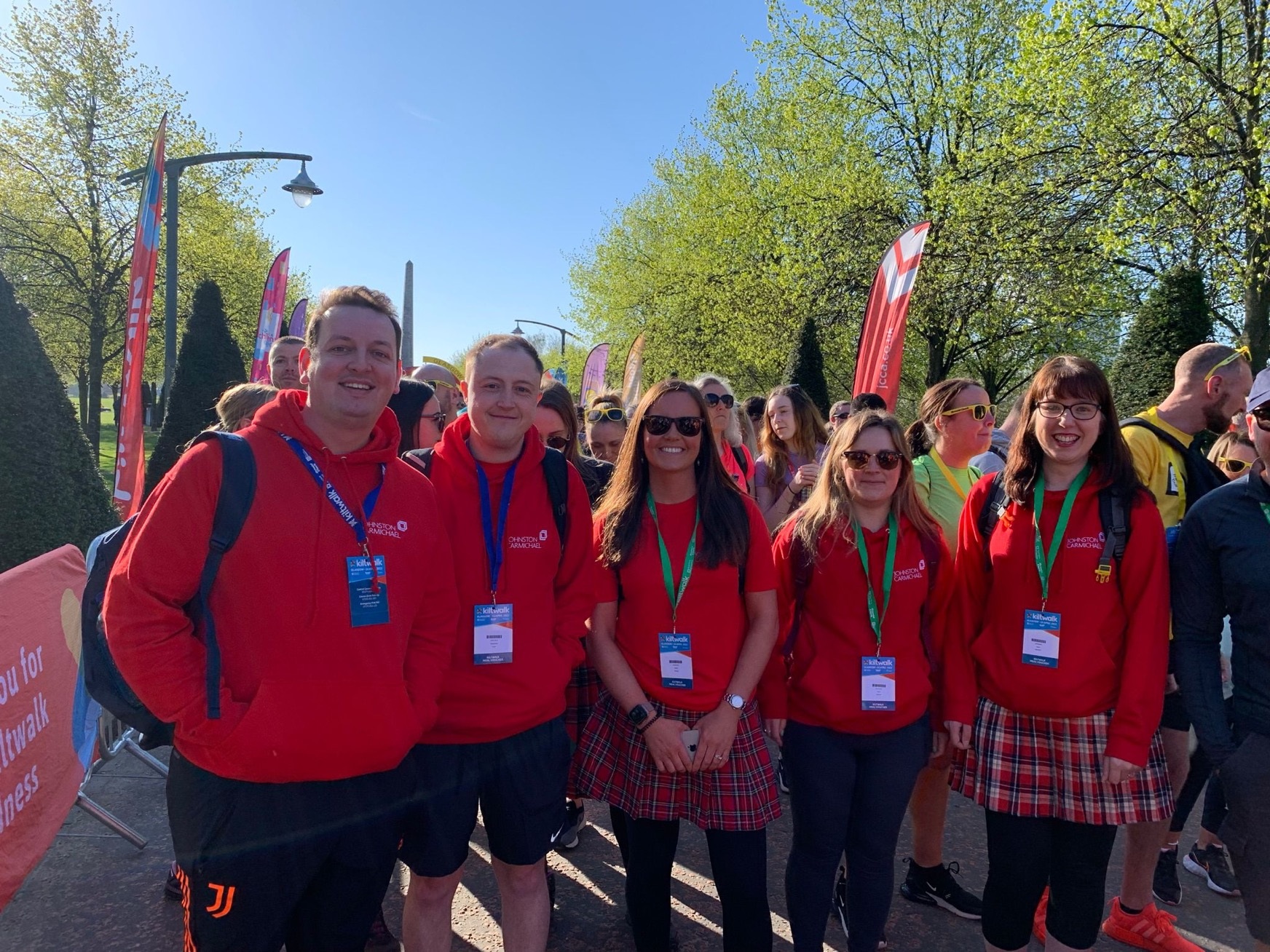 Michael (pictured far left) at the start line of the Glasgow Kiltwalk.
Did I struggle?
Yes! I had almost reached the finish line when I spotted the first aid tent, although I was worried that if I were to sit down with a paramedic then I wouldn't get back up! Whilst I had completed some team training with the Glasgow Payroll team, my body wasn't prepared to walk 23 miles! The Payroll team in Glasgow has a real team culture and it was Raymond Ford, Payroll Specialist, who stayed with me throughout the final five miles (and kept telling me it was almost over). Thanks again Raymond, I won't forget that! For my other colleague and friend Dale Kelly, thanks for walking on without me!
Was it worth it?
Absolutely - I would recommend the Kiltwalk to anyone! A hugely rewarding day, and quite emotional when you see the support for charities across Scotland and the difference you are making. With the generous 50% top-up from Sir Tom Hunter and The Hunter Foundation, I managed to raise a total of £1,350.
What would I recommend?
Don't buy new shoes the day before (just because they were on offer at Livingston Designer Outlet). I'd encourage you to wear old shoes and be prepared with blister plasters (thanks Jack Baxter, Business Advisory Assistant Manager!).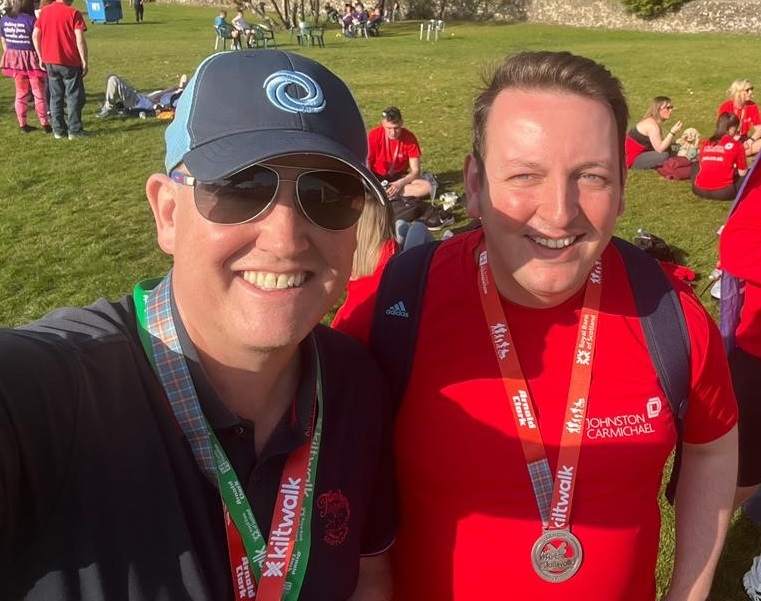 Michael (pictured on right) with Mark Houston, Glasgow Office Head.
How did we motivate our team on the build-up to the walk?
I created a WhatsApp group for all of our Glasgow walkers, and we used this to communicate with each other, confirm our meeting points, motivate each other and also share photos from the day. Despite everyone being part of the group, Hugh Boyle, Business Advisory Partner managed to forget his branded JC wear – hopefully he remembers for next year or he won't be part of the group!
Mark Houston, Glasgow Office Head, snapped a great selfie as I missed the earlier team photo (as I was too slow!). Thanks, Mark, for making sure I was included.
Sign up!
So, if you're looking to set yourself a challenge in 2022, it's not too late to get involved in Aberdeen, Dundee or Edinburgh! There are three distances to choose from, the Wee Wander, the Big Stroll and the Mighty Stride, full details can be found on the Kiltwalk website.
Put your best foot forward in 2022 and walk with us! We look forward to seeing you there!