My JC Path: From summer intern to Audit Assistant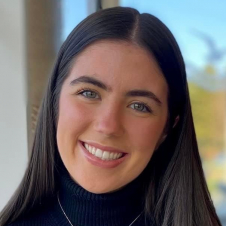 Abbie Dickson
Audit Assistant
In the summer of 2022, Abbie Dickson joined Johnston Carmichael as part of our summer internship programme. Now, after graduating from the University of Strathclyde, where she was also one of our JC Campus Ambassadors, Abbie returns as an Audit Assistant in our Glasgow office. Here, she reflects on her JC Path so far and how she's enjoying being back, working as part of our Audit team.
How does it feel to be back now after you've graduated? What were you most excited about when returning?
Since completing my internship at Johnston Carmichael last summer, I've been looking forward to returning as a graduate. I was so excited to integrate back into the friendly and social working environment, where I knew it would be a cohesive atmosphere to meet the other new starts. I was also eager to meet and engage with the wide variety of clients from different industries, start building meaningful professional connections, and to increase my knowledge of each business served by JC. Since starting back, I have seamlessly fitted in as part of the team again and I've really enjoyed reconnecting with colleagues from my time as an intern, whilst also getting to know the new graduates.
What has the induction back into JC been like?
The induction during our first week was a great opportunity to network with our own office and other regional offices within JC. It included various training exercises and activities, and a two night stay in Aberdeen. We heard from a variety of guest speakers and JC employees, which improved our knowledge of the company and our understanding of future career paths within the firm. I felt the first week was a good opportunity to meet everyone and build relationships between offices, it made the transition into working life smooth, engaging and fun.
Has your summer internship experience proved to be beneficial?
I found the internship incredibly beneficial as I was offered a graduate role at the end of it, therefore, during my final year of university I was able to put all my focus on achieving the best grade possible whilst knowing I had a job in place for after university. Furthermore, the internship gave me a better understanding of the role and the firm before starting as a graduate, which I feel has given me a unique head start in my professional life.
I would encourage anyone interested in a career in Audit to apply to the Johnston Carmichael internship. It offers a unique chance to work in a high performing team and firm, as well as the good fortune of spending each day amongst colleagues willing to support and encourage your own professional development before you graduate.
You were a Campus Ambassador for JC at your uni. What did that involve and what do you feel the benefits were for you?
As a Campus Ambassador for JC, I was responsible for planning and delivering various activities such as organising a graduate and internship event, and presenting to other year groups about Johnston Carmichael's career opportunities. During this time, I promoted JC on social media to help raise awareness about their events and job opportunities. I also wrote a blog about my internship experience [LINK]. As an Ambassador, I attended virtual meetings to help plan, discuss and share ideas for these events with other ambassadors and with the help and support of the JC People Experience team. Overall, I felt that becoming a Campus Ambassador allowed me to strengthen my own personal development as I had an opportunity to lead various events and deliver presentations in front of large audiences. Furthermore, as I was returning to JC as a graduate, it was helpful to stay in touch with our People Experience team, as they kept me up to date on events at the firm.
What's next for you – what professional qualifications are you studying towards? Looking at what's in store over the coming months and years, what are you most looking forward to?
I start studying towards my ICAS qualifications next year, as I am exempt from the first round of exams. After that I will be working and studying for the rest of the ICAS exams for the next three years to become a qualified chartered accountant!
I am thankful that I will have the first few months of working without exams to get used to the structure and workload of my new job role before integrating studying back into my timetable! I am excited to see what my future career holds at Johnston Carmichael, and I am very excited about continuing to build strong connections both internally and externally, with colleagues and clients.
To take the first steps on a career path that you can make your own, visit our Careers page here.