My JC Path as an Outsourced Finance Services Manager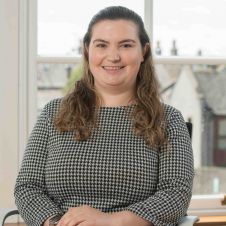 Catriona Love
Business Advisory Manager
At the beginning of 2023, Catriona Love joined our busy Outsourced Finance Services team as an Assistant Manager. Fast forward to October, Catriona is now a Manager looking after a client portfolio to help businesses improve their efficiencies and achieve their goals. Here, Catriona reflects on her first nine months with Johnston Carmichael and what she enjoys most about her role.
What did you do before joining JC? Did you always plan to be an accountant?
Growing up, both my parents were chartered accountants, albeit that they work in very different fields. I knew from the time that I was at school that I wanted to be an accountant, and people often joke that I am just carrying on the family trade. I studied accountancy at Robert Gordon University and joined a mid-tier firm to complete my ICAS qualifications. Once I had finished my exams, I was looking for a change of scenery and so I moved into a job in the oil & gas industry, before being recommended JC by a previous colleague.
What attracted you to the firm?
I joined JC in January 2023, so I have been with the firm for just over 9 months, but it feels like I have been here longer as I really feel at home and like a key part of the team. What initially attracted me to the firm is the great reputation that it has as a good place to work in the local area, as a company which promotes wellbeing of its people and enjoying a good work-life balance. I also really enjoy getting out and about and the role that I was offered allowed me to work with clients across the country, which is really appealing to me.
I have been with Johnston Carmichael for just over 9 months but it feels like I have been here longer as I really feel at home and like a key part of the team.
How has your role developed since you first joined?
When I first joined JC, it was as an Assistant Manager based in the Aberdeen office for the Outsourced Finance Services team. My role was initially focussed on showcasing our service offering, so it involved a lot of speaking to potential clients and getting to know the wider Business Advisory team. I have since built my own client portfolio and so now I spend more time servicing my clients and exploring how the team can continue to add value to our clients.
What do you enjoy most about your job?
I am originally from the West Coast so chattiness is in my blood. I love speaking to my clients and building relationships with them, which is why I chose to work in the Outsourced Finance Services team. I also enjoy working with lots of different people which I am able to do at JC, whether that is collaborating with our sector specialists or people in different locations. I enjoy that the firm gives everyone the opportunity to pursue what they are interested in. For me, that is business development, so in the past nine months I have had lots of opportunities to get out into the local market.
What do you think makes JC a great place to work?
It's a cliché answer, but I think that the people who work at JC really make a difference and make it such a great place to work. The people you spend so much of your day with can really make the difference, and I am thankful to work in a supportive environment that encourages people to pursue their goals. Joining as an experienced hire, it can be more difficult to slot right into the working environment, but the staff in the Aberdeen office have welcomed me with open arms. The flexibility that the firm offers is also a great benefit.
What has been your proudest moment or greatest achievement over the last 9 months?
I think that I have achieved quite a lot in my first nine months at JC, so it is quite hard to pick just one thing. I think that my promotion in June would have to be my proudest moment, not just because it's a promotion, but as it shows that the hard work that I have put in since I started has been recognised by the team. I feel like I have put a lot of effort in to add value, so it's rewarding to get the recognition for that.
What goals have you set yourself for the next five years?
I am not a huge personal goal setter, as I prefer to simply ensure I enjoy my job and have a good work life balance. I hope that we are able to build the Outsourced Finance Services client base in the North East, and that I can continue to make a difference to my clients.
Find out more about our Outsourced Finance Services team here.
If you're interested in joining a flexible and forward-looking firm with opportunities you can make your own, visit our Careers page.