My JC Path: A Day in the Life in Outsourced Finance Services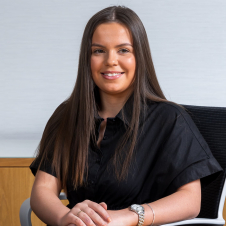 Caitlyn Buchan
Business Advisory Assistant
Caitlyn Buchan joined Johnston Carmichael straight from school in July 2021, on our JC Futures Programme. Caitlyn is currently studying towards her ICAS qualification whilst working full-time in our busy Outsourced Finance Services team. Here, she shares how she spends a typical working day.
How did you get into Outsourced Finance Services?
I wanted to work whilst I learned and joining Johnston Carmichael on the JC Futures programme was a great opportunity for me to do this. When I first started I was originally part of the wider Business Advisory team before moving to specialise in Outsourced Finance Services. I thoroughly enjoy having good, close relationships with clients and being a first port of call for them - this has helped me grow and gain experience and confidence in communicating with people.
Can you describe a typical day for you as an Assistant in the OFS team?
I always have a rough schedule of work to do for the day. Often this will include payment runs to set up and complete, and processing and keeping my clients' bookkeeping up to date. Depending on the time of the month I will have sets of management accounts to complete.
Within my day I will often respond to and help clients with any queries they may have and work they would like completed. I enjoy the consistency of work and how there's always something new coming up in the day as well as my set tasks. No average day for me is the same! I really like this about working in Outsourced Finance Services, as I always have something interesting and different to do.
OFS is a very close team. I work alongside many members of the team to help complete tasks right from the start of the processing stage all the way through to the final review and completion stage. I also often liaise with members of the payroll team to complete tasks such as making payroll payments and gathering reports to complete management account packs.
During my lunch break I will often go out on a walk to get some fresh air and exercise - and often the walk leads to the shop for some chocolate (so healthy!).
Joining client meetings to learn more about their businesses has been a great experience.
What kind of sectors and businesses do you work with?
I work mainly with clients in Food & Drink, Renewables, and Oil & Gas, and thoroughly enjoy the range of work.
What do you enjoy most about your role?
I enjoy the variety of different work and clients I have; I get to speak and liaise with many people in and out with JC.
What's been your most interesting experience or learning at work so far?
Last year I attended the firmwide internal Business Advisory conference. This was really good and something I've never experienced before. Coming straight from school into a workplace, it was really interesting for me to see what the future holds for JC and for my future career within the firm.
I've also really enjoyed interacting with and getting to know my clients. Joining client meetings to meet them and learn more about their businesses has been a great experience.
What keeps you busy outside of work?
I enjoy walking my dog (when the weather lets me) I also enjoy catching up with friends and family having a cheeky cocktail. As I'm currently completing my degree and qualifications as well as working, studying often keeps me busy too.
Find out more about our Outsourced Finance Services team.
If you are interested in finding out more about our JC Futures programme, visit our Careers page.