My JC Path: From Campus Ambassador to Audit Assistant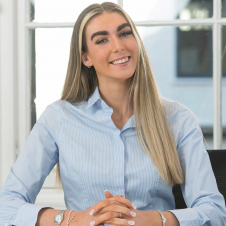 Laura McKenna
Audit Assistant
There's no one path when it comes to starting at Johnston Carmichael. Originally joining us as part of our summer internship programme last year, Laura McKenna has since returned to JC as an Audit Assistant in our Edinburgh office.
Whilst completing her degree in Accounting & Finance at the University of Aberdeen, Laura took on the role of Campus Ambassador, representing JC at different student events throughout the year. Here, she chats us through her career so far and reflects on how her role has changed since coming back as one of our new graduate students.
Welcome back to JC! How does it feel to be back? What were you most excited about when returning?
It feels great to be back! After a hectic fourth year and then a relaxing summer, I was excited to get into a corporate routine and to see some of the familiar faces I'd met last year. During my summer internship, I had grown fond of the collaborative atmosphere at JC, and the prospect of returning as a full-time graduate was something I had looked forward to.
What has the induction back into JC been like?
The induction process upon my return to JC has been nothing short of welcoming and comprehensive. The firm has a well-structured onboarding process for its new employees, which ensured that I was quickly up to speed with the latest developments, policies, and tools within the organisation. Our firm-wide induction to Aberdeen was insightful, with a variation of talks at the conference over the two days. It was great to see that JC had maintained its commitment to providing a supportive environment for both interns and full-time employees, as I was paired with a buddy who helped guide me through the transition.
Have you noticed many differences between your previous day-to-day at JC on your summer internship and your day-to-day now as a graduate student?
Yes, there have been a few differences between my day-to-day experiences during my summer internship and now as a graduate student. As an intern, my tasks were more focused on learning and assisting with various projects and I got a taste of working on many different clients. As a graduate, I feel like my knowledge from last year has aided me in completing different tasks without assistance.
Additionally, my understanding of the firm's workflow and the complexities of client engagements has deepened. During my internship, I had an introductory understanding of the firm's methodologies and tools, but now I'm diving deeper into these processes, which has been an exciting and challenging experience.
Returning to JC full-time as a graduate student is a momentous step in my professional journey. The warmth and support I received during my internship and now as a permanent team member have made it a truly exceptional experience.
Has your summer internship experience proved to be beneficial?
Absolutely, my summer internship at JC has proven to be incredibly beneficial. It served as the ideal preparation for my transition to a full-time role. I came into my graduate position with a foundational knowledge of JC's work culture, practices, and expectations. This background has helped me adapt quickly and effectively.
Moreover, the relationships I built with my colleagues and mentors during my internship have continued to be a valuable resource for guidance, support, and collaboration.
You were a Campus Ambassador for JC at your university. What did that involve and what do you feel the benefits were for you?
Being a Campus Ambassador involved representing JC and making my university peers aware of upcoming positions within the company, which included speaking in my classes and attending the university careers fair on the JC stall. I thoroughly enjoyed this role as it was extremely flexible to my fourth year timetable, and with my time with JC from last summer's internship, I enjoyed giving insight into my experiences to inspire others to do the same.
What's next for you - what professional qualifications are you studying towards now?
I will be working towards my ICAS qualifications, which seems like a very structured and interactive program, as well as JC being extremely accommodating to our studies with study leave.
Looking ahead at what's in store over the coming months and years, what are you most looking forward to?
The dynamic nature of the accounting and finance industry means there's always something new to learn. I'm eager to dive into new projects and challenges, honing my skills, and growing professionally.
Returning to JC full-time as a graduate student is a momentous step in my professional journey. The warmth and support I received during my internship and now as a permanent team member have made it a truly exceptional experience. Looking ahead, I'm eager to embrace the challenges, opportunities, and growth that await. With an unwavering commitment to excellence and a passion for the work we do, I can't wait to see what the future holds for both me and JC.
To take the first steps on a career path that you can make your own, visit our Careers page here.