My JC Path – from law student, to CA, to CTA!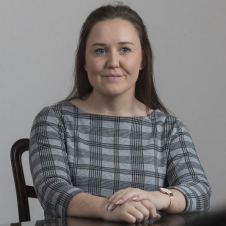 Hannah Robertson
Tax Assistant Manager
You don't need to study accountancy at university to become a Chartered Accountant – and once you become a Chartered Accountant, you don't need to do accounts!
Hannah Robertson, Tax Assistant Manager in our Elgin team, is a shining example of how you can create your own path at Johnston Carmichael, finding the career that fulfils and works for you. After graduating in 2017 with a Law degree from Robert Gordon University in Aberdeen, Hannah explains how she achieved her CA qualification, and is now working towards becoming a Chartered Tax Adviser:
What made JC stand out when you were looking for opportunities?
Between third and fourth year of university, everyone on my course was desperately looking for summer placements with a law firm in order to try and secure their traineeship following graduation. When thinking about doing this myself I realised the only area of my law course so far that really piqued my interest was tax law. In the Aberdeen area there were very few (if any) law firms that focussed solely on tax law and therefore I realised if I wanted experience in this area it may not be from a legal perspective.
I then turned my attention to other opportunities and was presented with the opportunity of a summer placement at JC in the tax department of the Elgin office. I jumped at the opportunity as I really thought this was what I would be interested in pursuing as a career in the future - and I was right.
Following completion of my summer placement, I was lucky enough to be offered a permanent part-time job in the Aberdeen office, working two days a week during my fourth year of university.
After graduating I decided to move back to my hometown and therefore transferred back to the Elgin office.
The flexibility offered by JC during this time was unbelievable and really allowed me to pursue my own path and continue furthering my career while finishing my university degree. This was so beneficial to my early career progress.
You originally joined as an ICAS student and are now working towards your CTA. Can you tell us how your role has developed since you first joined the firm, through qualifying as a CA, through to your role now?
After moving to the Elgin office full time on a permanent contract, I worked in a joint Private Client and Corporate Tax role so I got a broad range of tax experience when I first started.
I knew I wanted to further my learning and my work in Corporate Tax had a strong link to the accounts side of JC. Therefore, I thought ICAS would be a great way to learn something new (accounts knowledge) while continuing to link into my current role and being relevant. I am really proud of my CA qualification.
After completing my ICAS qualification, I decided that the area of tax which really interested me was Private Client. In 2021, I therefore made the move away from my joint role to Private Client only, and really focussed on progressing my career in this area.
Since then, I have gained more and more experience in the advisory side of the role and this is when I decided gaining my CTA, focussing on individuals and the other areas I advise on regularly, would be a great support.
What made you choose to stay with JC after obtaining your original ICAS qualification?
The flexibility offered by JC just makes it a great place to work. From flexible working, to really allowing you to choose your own career path in terms of role and studies, there really has not been anything I have not been able to experience at JC.
Having now completed the grad programme, is there anything you know now that you wish you'd known when you started, or any tips you'd offer your past self?
Although cliché and also already coined by JC, the "create your own path" has really been so true for me and I just wish I had trusted my journey from the very start. When making the early decisions not to get a legal summer placement, not to do the legal diploma, which all of my friends from university were doing, it really made me question whether I was doing the right thing and whether I would regret it later in life.
I can safely say I have no regrets and have achieved the same level of success in my career than I could have wished for as a solicitor. I would say to myself looking back now, to really trust yourself and the choices you make. Know that you are making the right decisions for you even though they may not be the same as those around you.
What motivational advice would you give to grads starting out on this next stage of their journey?
I think it would be to just really go on your own journey. I know when you start something with a large group of people (like university or a graduate intake) it can be easy for everyone to follow the same path that you think is the "right" one - but don't be scared to deviate from this if you think it is right for you. The flexibility I have experienced first-hand from JC is unbelievable and they really will try and support you in anything you think might interest you – such as a secondment to another department for example.
To take the first steps on a career path that you can make your own, visit our Careers page here.