My JC Path: From Financial Planner to Managing Director of Johnston Carmichael Wealth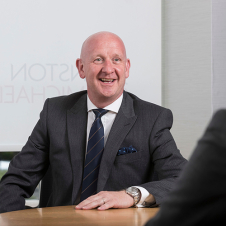 Craig Hendry
Managing Director & Chartered Financial Planner
In 2001, Craig Hendry joined what was then Johnston Carmichael Financial Services as a Financial Planner. Nineteen years, four office moves and one company name change later, Craig is now Managing Director of Johnston Carmichael Wealth. Here, he shares his JC Path and how he ensures both he and his team continue growing their own way.
Tell us about your JC Path
I was introduced to Johnston Carmichael and Johnston Carmichael Financial Services through my previous role - I used to call on the team to persuade them to use my company's products. In 2001 I was offered an opportunity within the firm; I knew the team well and was keen to get back into a client advisory role so I joined as a financial planner in the Inverurie office. In 2002 we moved to Aberdeen, and four years later I was made a Director. The following year I transferred to the Inverness office to look after our more northerly client base, and with that move came a promotion to Partner, so I was running Johnston Carmichael Financial Services in conjunction with the Managing Director at the time, Mike Clark. In 2013 Mike became Chairman and I became Managing Director. Then, after nearly 10 years in Inverness, in 2016 I moved back to Aberdeen, Carden Place, just before we relocated to Albyn Place - and that takes us up to present day in 2020!
In 2013 we renamed the business from Financial Services to Wealth. I felt that the terminology 'Financial Services' was associated primarily with the banking industry, so 'Wealth' is a distinction and a more accurate representation of what we do.
The Johnston Carmichael Wealth team has grown significantly since you joined. As Managing Director, what has been your approach to building this up?
We spent time restructuring the way we worked so that we had the right people in the right roles, and from there we identified where we needed to grow. Retention is very important to me and one of the main things I focus on as MD is the culture of our team. I do a "Meet the boss" annually, where I catch up with every single member of the Wealth team to chat about how they're feeling, whether their career is progressing the way they would like it to - and I can tell that when I speak to people, they're genuinely engaged and not just telling me what they think I want to hear. I've ensured we have a variety of routes to feed back through to encourage a really open dialogue throughout the whole team. That creates a positive, collaborative environment where everyone feels heard, which is the key to attracting and retaining excellent people. I'm extremely proud of our team and they make the job what it is.
You mentioned career progression - how do you bring 'Grow Your Own Way' to life for your team members?
As well as realigning our structure to create more opportunities for people to take on a role that best suits their talents, we've also overhauled our systems so that everything is online. That's allowed much more flexibility. We continually analyse role profiles and speak to the team frequently so that we know where people want to be in their career and ensure we're doing the right thing to help them get there.
Within Johnston Carmichael and Johnston Carmichael Wealth we also encourage people to branch out and try new things. Team members have moved over from JC to Wealth and vice versa - some on a permanent basis, and some on secondments so they can test the waters with something different. Seeing your team progress and grow into roles they've made their own is very rewarding.
Pre-coronavirus, you championed regular social events in the Aberdeen office - why do you think these are so important?
Before coronavirus restrictions and lockdowns were put in place, we were regularly involved in events both internally and with clients.
There's a lot of value in having people from different departments getting to know each other away from the workplace. If you have a close team then people will enjoy coming to work, they'll be more open with one another, and ultimately it will lead to better collaboration overall which means better outputs for clients as well.
Social events with clients can really strengthen the relationship you have with them. Our corporate client events are also very important - I've driven us to raise the bar with these and they've been so well-received. There's been a shift in financial planning as a profession, in that our role is increasingly of an advisory and educational nature rather than a sales pitch; it's imperative that we reflect that by hosting these events and giving clients the opportunity to learn so they can make informed decisions. We had feedback recently from a client who said Wealth had changed their lives. Hearing that your work has had such an impact on someone - you really can't beat that feeling. Hopefully, once a little bit of normality has been restored, we can go back to face-to-face events, as much as I've enjoyed Zoom!