Auditing around the world: Karen McBride's career journey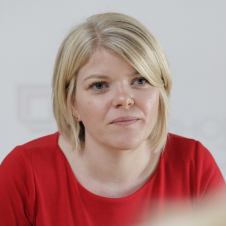 Karen McBride
Audit Senior Manager
As Freshers' Weeks draw to a close and the students of 2020 begin to settle in to a new way of studying, we caught up with Audit Operations Senior Manager and ICAS Top 100 Young CA Karen McBride to find out about her time at university and where her career path has taken her.
Which university did you go to and what did you study?
I went to the University of Glasgow, studying Business and Management.
What made you choose that?
I actually always wanted to be an accountant - I guess I just like to do things the hard way! Controversially I didn't take Higher Maths, which a lot of universities require for entry into an accounting degree. I was set on going to Glasgow University because it had such a good reputation, and I knew that if you sat extra exams, you could still complete an ICAS qualification without an accountancy degree. So I decided that Business and Management would be a good fit as it would give me a very rounded perspective. There's a bit of finance, a lot of strategy, some marketing; I'd get a good commercial sense of business.
I was selected as an ICAS Top 100 Young CA this year, so it all worked out alright!
Where did your post-uni career path take you?
Because I had a firm idea of what I wanted to do, I took a year after university to go travelling around the world. I went to Malaysia and Singapore, spent eight or nine months backpacking around Australia, then went to New Zealand, Fiji, and America.
When I came back to Scotland I had just missed the ICAS graduate recruitment window, but I got a year's placement at an accountancy firm in Edinburgh, then moved on to do my CA qualification the next year. Once I qualified, I was offered a six-month secondment in New York, which I jumped at! At the end they asked if I would stay there but the constant frenzy of the city was too much for me. I did still want to live abroad though, and I had loved New Zealand when I was travelling so I upped sticks again and worked out there for almost a year. Eventually I decided it was time to come back to Scotland, and that's when I joined JC as an Audit Senior.
How has your role developed since then?
I'm now an Audit Operations Senior Manager, working with our Head of Audit, Graham Marjoribanks, on improving processes and information management. I don't have a client portfolio anymore; my role is very much focused on how to manage the business line better. I really enjoy getting to apply my audit and finance knowledge in a different way, and having studied Business and Management has helped with being able to think about things from a more commercial perspective. I feel like what I do has a real impact on moving things forward and making a difference.
What do you remember most about your Freshers' Week?
The Freshers' memory that always springs to mind first for me is Shack record bags! The Shack was a club in Glasgow that was really popular for students, and they used to give out these branded record bags full of freebies every year. They always symbolised Freshers' for me because everyone you'd see was walking around with one and even when you were in second and third year, you'd still be trying to get a bag and the discount vouchers that went with it! That and SnapFaxes!
What was your favourite part of university life?
Student discount! No, really I look back on the whole experience as such a great time. You learn so many life skills as well as the academic side of things. It's the first time you've really got to put yourself out there and meet new people, rather than being friends with whoever you're sat next to at school! I met some very close friends at university and really enjoyed it.
What advice would you give the new intake of 2020 freshers?
Whether you're going to university or straight into a job, my advice is the same: try to always take learning from the experience. Make sure that whatever you're doing, you make the most of every opportunity to learn as much as you can. It's really easy to get stuck in the mindset of "just get this assignment finished" or "just get this task completed", but try to stop and think of what value it could have for your personal development and growth too.
And above all – remember life's short. Take the chance, do the work, get where you want to be, and make sure to have fun along the way!
If your university journey is coming to an end and you're considering options for your future, check our Careers page for information on our graduate positions.