Johnston Carmichael secures over 20% growth in new audit and assurance wins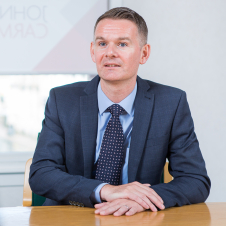 Graham Marjoribanks
Partner and Head of Audit & Assurance
Leading independent accountancy and business advisory firm Johnston Carmichael has confirmed a series of new business wins for its audit and assurance team, which has grown revenues by over a fifth this year to date as it continues to expand its services.
The team added £400,000 in new business in the first four months of the 2019-20 financial year, securing more than 20% growth when compared to the equivalent period of 2018. Among the best performing regions were Glasgow and Aberdeen where the firm recorded increases of 52% and 28% respectively. The firm's Edinburgh office is also on track to have doubled its audit and assurance fee income over the last four financial years.
The audit and assurance team provide expert advice to hundreds of businesses across the UK, helping them to negotiate, often complex, regulatory requirements.
Johnston Carmichael's approach includes a range of "non-traditional" services to assist businesses in the audit process. These include a risk advisory service, designed to highlight any potential future risks based on analysis of the traditional business cycles, as well as data analytics and digital consulting, which makes it easier to provide ongoing health checks throughout the year, rather than just at the point of audit.
The audit and assurance team is now led by partner, Graham Marjoribanks, who joined the firm in September following 10 years working in both Alberta and the Greater Toronto Area of Canada. Graham replaced David McBain as Head of Audit with David continuing to play a leading role in the firm's audit division as chair of its audit leadership team.
Since joining the firm, Graham has been keen to further emphasise that companies shouldn't treat audit merely as a regulatory tick box. He believes Johnston Carmichael's more rounded approach to audit is behind the sharp growth in business.
Graham said: "The growth we have seen since the start of the financial year is a clear indicator that businesses are approaching the audit process in a different way. More and more businesses are recognising that a strong and comprehensive audit can add so much value beyond simply ensuring compliance."
He welcomed the recent scrutiny of audit, which is the subject of an independent review being conducted by Sir Donald Brydon and suggested that it had led to businesses re-evaluating their audit processes.
Graham added: "With a number of high-profile insolvency events hitting the headlines over the last 12 months, the spotlight is on the audit profession more than ever before. Ahead of the publication of the Brydon Report it is therefore encouraging that businesses are looking to engage in a more holistic approach to the process.
"Our focus is on providing a high-quality audit service for our clients that moves beyond merely ticking the compliance box. Rather than just jumping through the regulatory hoop, we aim to provide advice that will fully support the company and see them in a stronger position 12 months down the line.
"If more companies had taken a broader approach to the audit process in recent years, it is conceivable that some of the headline grabbing insolvency cases may not have happened."
Andrew Walker, CEO of Johnston Carmichael is encouraged by these additional client wins in the audit and assurance business which are likely to have wider positive implications as the business looks to further expand the team.
With such a strong start to the financial year we want to ensure that the trend continues and, to do that, we will need to look at expanding our team further, hopefully bringing new jobs to the sector. With Graham on board and the industry continuing to change it's an exciting time for our firm as we adapt the services we offer to best meet the needs of our clients.
Andrew Walker
Chief Executive
Johnston Carmichael has 13 offices across the UK, including the recently opened London and Dundee offices.
With our audit team growing, we have opportunities all over Scotland - could you be the next sharp mind to join us? Head to our careers page for more information.